Most Moscow legislators forgo state salary for private income
Published time: 25 Jun, 2014 15:01
Edited time: 27 Jun, 2014 04:56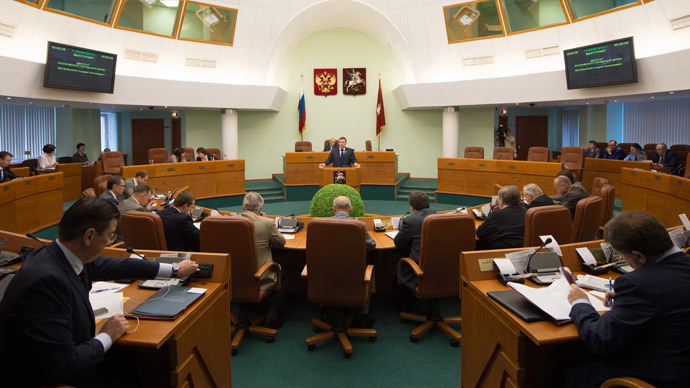 Moscow city parliament has passed a bill allowing ordinary deputies to work for free, but keep their previous jobs and businesses.
The bill will come into force after the next elections that are scheduled on September 14. Communist deputies opposed the suggestion, but the majority of the legislature voted in support of it on Wednesday.
The Communists also held a small protest rally near the Moscow Duma building, but failed to persuade any of their opponents.
According to the new rules, the chairman of the Moscow city legislature, his deputies and the heads of parliamentary commissions will be working as they are now – they will receive a salary from the state but be banned from working in other places, or running their own businesses. Only fees for artistic or educational work are exempted from these restrictions. As the number of the commission in the city legislature will be reduced from the current 19 to just seven the number of professional deputies in the new Moscow Duma will be 10. The total number of deputies in the city legislature is 45.
The deputies who will keep their jobs will be allowed to skip six days at work every month, which they will devote to parliamentary activities. They will also have the right to use chauffeured cars that belong to the city Duma, but only on a preliminary written request.
The 10 professional deputies will have permanent access to the Duma car fleet.
Each deputy of the Moscow City Duma will also get an office and four aides, who receive state salaries.
The amount of obligatory work for legislators could decrease – according to new rules the sessions should be called at least once a month, while now they are held every week. The sponsors of the bill explained this by the fact that, in 20 years of its existence, the city Duma passed 95 percent of all necessary laws and frequent and lengthy sessions were simply not needed.
The bill was approved in urgent mode, on the day after it was submitted by Moscow Mayor Sergey Sobyanin.