Communists seek official 'terrorist' tag for Ukrainian extreme right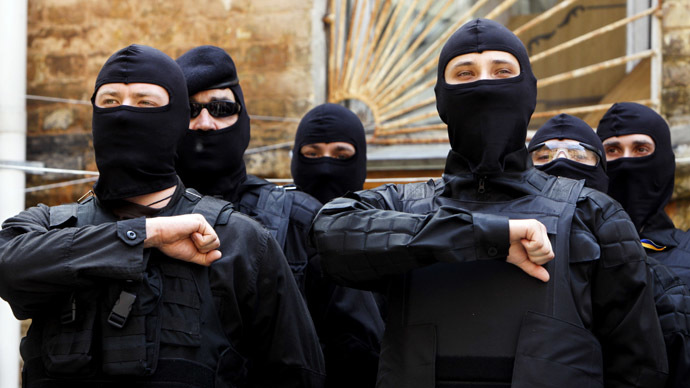 Communist Party MPs are asking Russian prosecutors to recognize infamous Ukrainian nationalist group Right Sector as a terrorist organization, along with the pro-Kiev professional military units that are currently taking part in eastern Ukraine fighting.
The lawmakers write in their official letter to the Prosecutor General that in March this year Russia's Investigative Committee already started a criminal case against Right Sector leader Dmitry Yarosh over suspicions of public calls for extremist activities.
"I support the harshest and fastest measures against persons, organizations and even states that pose a threat to security of Russia and its citizens. We should not be troubled or perplexed by any sanctions, notes of protest or lamentations about our country's alleged aggressiveness," MP Valery Rashkin said in an interview with Izvestia daily.
MP Sergey Obukhov noted that the recognition of the Right Sector and the Dnepr, Donbass and Azov units as terrorist groups in Russia would allow the Foreign Ministry to press for their ban on the international level, in particular through the United Nations.
He added that if the United States authorities decide to send aid to the Right Sector under excuse of 'promoting democracy' the USA must be recognized as a sponsor of terrorism.
The Right Sector is an association of the Ukrainian far right and extreme nationalist organizations known for its role in the street fights in Kiev in late 2013–early 2014 that eventually led to displacement of President Viktor Yanukovich and the installment of the current Ukrainian regime.
Right Sector activists also took part in suppression of protests that happened all over Ukraine after the 2014 coup, including the May tragedy in Odessa in which dozens of protesters died in a fire caused by Molotov cocktails hurled by nationalists.
The Dnepr, Donbass and Azov battalions are volunteer units within the Ukrainian military force, the National Guard, that are largely manned by members of extreme nationalist organizations. The battalions were formed and are funded by Ukrainian oligarch Igor Kolomoisky, who was appointed by the Kiev authorities as governor of the eastern region of Dnepropetrovsk.
In mid-June Russian law enforcers instigated a criminal probe against Kolomoisky over charges of using the banned methods of warfare, organizing killings and kidnappings and obstructing the lawful activities of journalists.
In May this year, a group of activists launched an Internet petition to the UN Security Council asking to recognize the Right Sector a terrorist organizations "similar to Al-Qaeda." The petition has been signed by about 50,000 people, but no official movement has been launched in the United Nations so far.
You can share this story on social media: