'I have never been tried by criminals' Russian communist leader mocks Ukrainian probe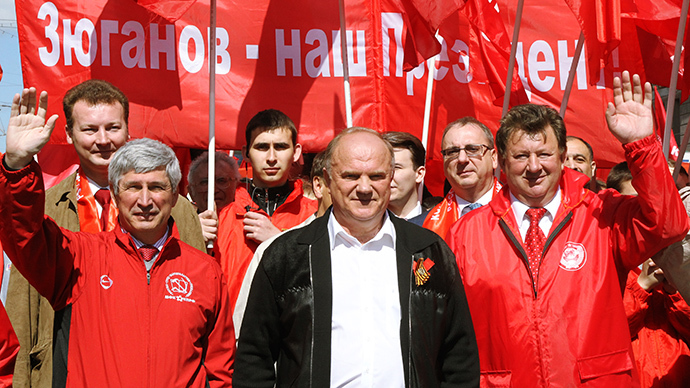 Gennady Zyuganov has attacked the Ukrainian criminal case against him, saying that Kiev authorities were contributing to the country's breakup much more than himself.
"For the first time some criminals decided to put me on trial. The criminals who have usurped the power in Ukraine and who are now raping their country, who issue orders to fire at their compatriots and who burned dozens of people in Odessa," the head of the Russian Communist Party told the RIA Novosti news agency on Friday.
The statement was made after Ukrainian Interior Minister, Arsen Avakov, announced that his agency had instigated criminal cases against Zyuganov and the head of Russia's Liberal Democratic Party, Vladimir Zhirinovsky, over suspicions that they were financing the federalist forces in the southeast of Ukraine and thus contributing to the breakup of the country.
"People who are really contributing to the breakup of Ukraine are Avakov, [State Rada speaker Aleksandr] Turchinov, [Prime Minister Arseniy] Yatsenyuk and [President Petro] Poroshenko, whose hands are covered in their countrymen's blood and who fail to listen to the voice of the southeast or to the laments of the soldiers' mothers," Zyuganov told reporters.
Zyuganov's deputy Ivan Melnikov ironically noted that the Ukrainian probe would do as much harm to Russian politicians as birdshot does to an elephant. He also said that leading Ukrainian officials were waging a war against their own people and warned that "in future, when the Ukrainian people eventually awake their current leaders will be tried by a court martial."
On Thursday Russian Communist Party officials also made a number of harsh statements against Ukraine's decision to dissolve the Communist caucus in the country's parliament, the State Rada.
"The joy of the current State Rada leaders stinks of impertinence resembling of death squads. But this is just a temporary triumph. By such actions they will incite all nations of the world against them," Ivan Melnikov told the ITAR TASS news agency.
The senior Russian communist politician said that the leftist faction of the European Parliament had already condemned these events and called it a violation of human rights in the official statement.
Melnikov said the head of the Russian Communist Party had addressed the leftist parties and movements of the world with a request to react to the arbitrary actions of the Ukrainian authorities. "We feel that the support will grow because the outrage there is obvious. We will continue our fight through the international institutions," the politician said.
You can share this story on social media: