Russia to boost defense budget by 2017 - newspaper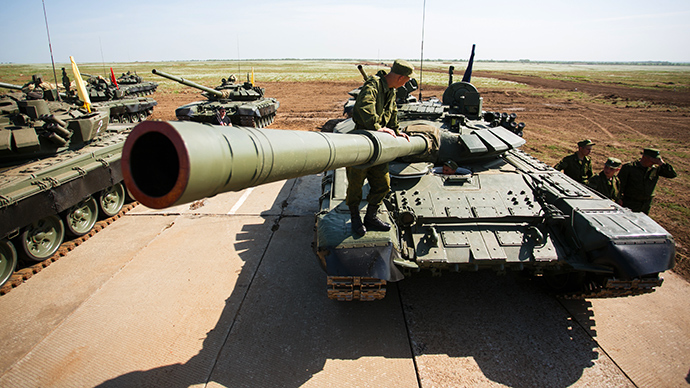 Money put towards defense could reach 21 percent of the Russian budget by 2017, as the industry switches to independent domestic production from imports, a popular daily has reported.
Mass circulation daily Izvestia quoted an unnamed source in the Russian government as saying that the cabinet had already given a preliminary approval to the budget plans for the next three years. If this draft is passed, up to 21 percent of all state money would be spent on defense in 2017.
The budget income is not increasing and the rise of defense spending is only possible through redistribution from other state projects, the source said. The official explained that the defense industry would have to undergo major reform in order to become independent from imports and secure Russia from the threat of foreign sanctions.
Currently Russia spends 17.5 percent of GDP on defense.
The government official was quoted by Izvestia as saying that the move was not caused by the ongoing conflict in Ukraine and increased tensions near Russia's western borders. "The defense expenditures are being planned for years ahead; this is a strategic issue… The state must consider the security of its citizens," the source noted.
Lower House MP and the leader of the nationalist party Rodin (Motherland), Sergey Zhuravlev, welcomed the changes, saying that though a socially oriented budget is a very nice thing, reality shows that changes can be fast and unfavorable and it is always better to be ready for them.
Prime Minister Dmitry Medvedev also addressed the issue at the Thursday government session, saying that the ongoing standoff between Russia and the West could end in relations similar to the ones of the mid-1980s and force the Russian government to spend even more on national defense and security.
"In connection with these decisions we now have to rewrite the economic models of development, shift to import replacement and use more of the internal sources for growth, including the financial resources," Medvedev told the cabinet members. "This is normal and there are even certain benefits in this for our economy."
At the same time, the PM stated that sanctions could not inflict "the so-called unacceptable damage" to the Russian economy. "International experience shows that sanctions have never put anyone to their knees," Medvedev said, adding that in his view, the sanctions would not be helpful to Ukraine in its current situation.
You can share this story on social media: