Top investigator wants to restore death penalty 'as preventive measure'
Published time: 30 May, 2014 09:20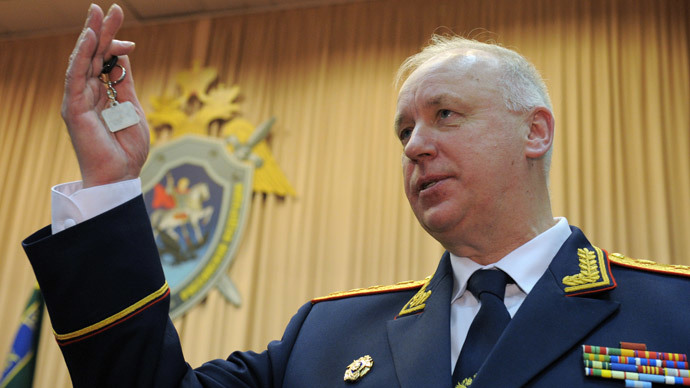 The head of Russia's Investigative Committee has asked MPs to consider the return of capital punishment in Russian law, but noted he wasn't seeking actual executions, but the psychological effect that such a threat could have on potential criminals.
"The topic of execution is currently a taboo in our country," Aleksandr Bastrykin told a group of MPs he had invited for a conference in his office. "I am not suggesting to restore the actual death penalty, but I think that it must be present in our legislation as the hypothetical possibility of such an outcome can stop a potential criminal," he added.
The death penalty is currently present in the Russian Criminal Code, but legislators introduced a moratorium on it in 1997, when the country signed the Convention on Human Rights and Freedoms, a necessary step for entering the Council of Europe.
However, some politicians and law enforcers have repeatedly called for the return of capital punishment, especially in response to heinous crimes and large-scale terrorist attacks. In February last year, Interior Minister Vladimir Kolokoltsev said that it would be "society's normal reaction" as he was commenting on the brutal murders of two small girls. The top Russian policeman stressed that this was his personal opinion.
Kolokoltsev's words prompted comments from top officials, who assured the public that there were no plans to reintroduce the death penalty. Vladimir Putin's press secretary, Dmitry Peskov, said the president's position on the issue is established, fixed and consistent, adding that in his view Putin was more in favor of a total abolition of the death penalty.
Lower House Speaker Sergey Naryshkin told reporters that he was against the return of capital punishment and the press service of the Prosecutor General's Office noted that Russia had obligations to the Council of Europe and therefore the moratorium would remain.
According to a poll conducted by the Public Opinion Foundation in September 2013, 68 percent of Russians thought that death sentences were acceptable in principle, while 24 percent answered that the measure was totally inadmissible. According to the same poll, 91 percent of citizens described suicide as completely unacceptable, and 34 percent said the same about medically-assisted euthanasia.
The head of the International Institute of Political Expertize think tank, Yevgeniy Minchenko, told the Kommersant daily this week that he considered the return of the death penalty was a possibility, as the moratorium was introduced in order to please Europe and today most Russians no longer want to heed European opinion.
The government representative in the Supreme, Constitutional and the Supreme Arbitration Courts, Mikhail Barshevskiy, told the RBC news agency that as a lawyer he could not understand Bastrykin's position. "If he wants it to be applied, this is impossible because of the Constitutional Court ruling, if he wants it to be present in the criminal code – it is there already," the agency quoted the lawyer as saying.