LibDems urge execution for bureaucrats co-operating with terrorists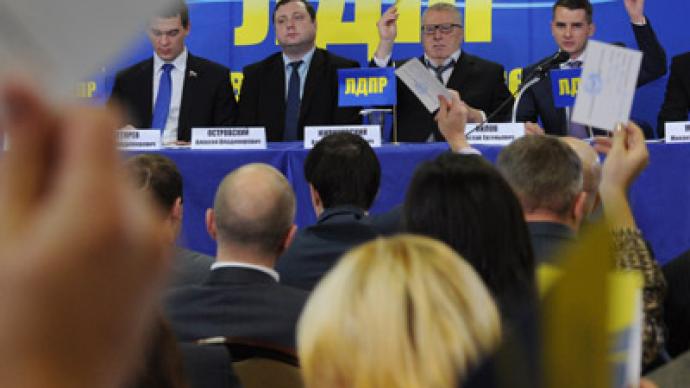 Russian Liberal-Democratic party (LDPR) has suggested introducing the death penalty for corrupt officials who aid terrorists.
The LDPR insists that Russia should lift the moratorium on capital punishment imposed in 1996 when it comes to corrupt top level officials who play into the hands of terrorists. The initiative was put forward as part of a large-scale fight against corruption which poses a threat to Russia's "national interests." In addition the Liberal-Democrats propose to ban corrupt bureaucrats from holding state posts and confiscate all their property.All civil servants must also be obliged to report to law enforcement agencies on all cases of corruption, the party said in a resolution adopted at its 25th Congress on Thursday.The LDPR is one of four political parties represented in the Russian lower house, the State Duma. It gained 56 seats in the 2011 parliamentary elections getting 11.6 % of the votes. The party is set to increase its presence in the Duma and hopes to get support from up to 30 per cent of voters in future, the delegates of the convention stated. For the 20 years since its founding, the party was led by Vladimir Zhirinovsky – one of most charismatic Russian politicians. The veteran politician presented a report on Thursday and vowed that the LDPR's next congress, scheduled for March, will take place at the country's best congress hall at the Kremlin, or at least at Moscow's Manege – right next to Red Square.