Russia must help Syria if US supports rebels - Zhirinovsky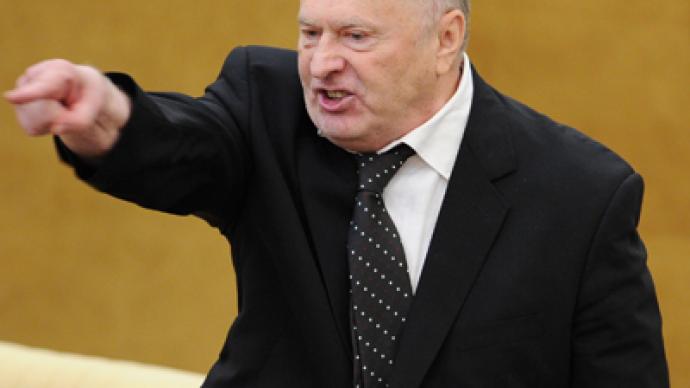 Vladimir Zhirinovsky has labeled calls by US senators demanding Barack Obama directly support the Syrian opposition "absolutely unacceptable," saying his party would demand a Russian response.
In an op-ed piece that appeared this week in The Washington Post, three influential senators called on the Obama administration to "directly and openly provide robust assistance to the armed opposition, including weapons, intelligence and training."Senators John McCain, Joe Lieberman and Lindsey Graham employed rather loose logic when they argued that by sitting on the sidelines of the Syrian battle, "we are jeopardizing both our national security interests and our moral standing in the world."The leader of Russia's Liberal Democratic Party (LDPR) and its parliamentary faction, Vladimir Zhirinovsky, described the article as a call for "violently toppling the current government in Syria, which included the use of aviation and other US assets.""If President Obama…follows the advice of Congress and acknowledges the need for armed support for the Syrian insurgents, the situation will become irreversible," he said, as quoted by the LDPR press service.In the event of US military intervention in Syria, Zhirinovsky warned that "Syria will follow the fate of Afghanistan, Iraq, Libya and other countries, whose sovereignty remains a status only on paper today."Although his party is opposed to outside military interference in the affairs of independent states, "if the US senators' calls for supporting the Syrian opposition 'with fire and sword' are put into practice, the Liberal Democratic Party will insist on a Russian response.""If the Republican senators succeed in persuading the US president (to provide military support to the Syrian rebels), we (LDPR) will demand that the Russian leadership openly side with the Syrian government," the firebrand Russian politician added.Meanwhile, Zhirinovsky believes there is no real opposition in Syria, rather international terrorists are acting there."Gangs of armed terrorists are acting in Syria under the guise of opposition status," he said. "It is they whom Senator McCain says should be supported."Zhirinovsky stressed that "Russia should support the legitimate Syrian authorities, be it [President] Bashar al-Assad or his successor, elected according to the will of the Syrian people."The government of President Assad has been struggling for over a year to prevail against armed rebels who seek to bring down the government.Moscow has called on the West not to take sides in the conflict.