Putin and Cameron take gold medal for diplomacy in London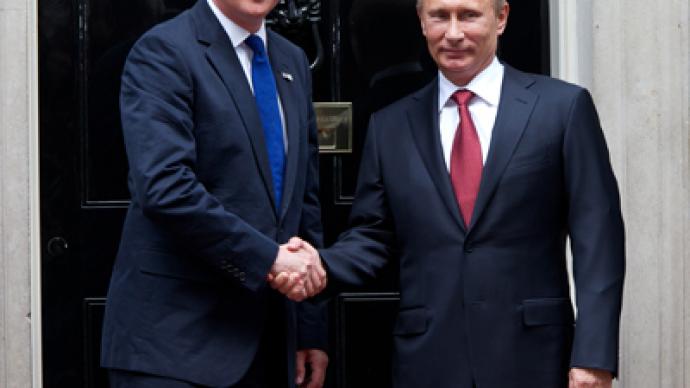 In his first trip to the UK in nine years, President Vladimir Putin met in London with UK Prime Minister David Cameron to discuss the increasingly volatile Syrian conflict, and to catch some Olympic gold action.
Despite the recent history of diplomatic spats between Moscow and London, Putin and Cameron – with time to watch an Olympic judo competition – found common ground on the issue of Syria.Following their meeting at Downing Street, the Russian and British leaders said they share a common understanding of the Syrian problem and will instruct their ministers to continue to search for solutions acceptable to both sides. "We agreed to cooperate in looking for solutions to this problem and to give our foreign ministers an additional impetus to joint efforts and the search for mutually acceptable solutions," Putin told reporters after the talks.The two leaders' assessment over some aspects of the Syrian crisis remain "identical," the Russian leader added. Cameron said that, despite differences in their positions on resolving the crisis, both agreed they wanted the Syrian conflict to end and that Syria would once again become "a stable country."He repeated Putin's pledge that discussions on Syria would continue.Russia and the West have frequently clashed over how to handle the ongoing conflict in Syria, where rebel forces are determined to remove President Bashar al-Assad from power. Moscow, which has played host to both sides of the conflict, has warned the West against taking sides.Judging by some of the scathing articles in the British media, however, many commentators clearly resent Russia and China for not towing the Western line on Syria. Although differences of opinion remain between the two countries, the Olympics are a perfect opportunity for Moscow and London to turn the page. Yet a number of nagging issues continue to haunt Russia-UK relations, which will not disappear overnight. The biggest setback to bilateral relations occurred in London in 2006, following the mysterious death of Alexander Litvinenko, a former federal security agent who succumbed to polonium poisoning. In light of the failure to solve the murder, harsh new visa restrictions between the two countries were enacted, which resulted in fewer meetings between Russian and UK leaders. In 2011, David Cameron became the first British PM to visit Moscow in seven years; Cameron and Putin last met in June at the G20 Summit in Los Cabos, Mexico. Meanwhile, economic cooperation between the two countries may help melt the political frost. Russia is now the UK's fastest growing export market, with heavy focus on the energy sector.Following their talks, Cameron joined Putin at the Olympic judo competition in London's ExCel Centre, where Tagir Khaibulaev of Russia won the gold medal in his match against defending champion Tuvshinbayar Naidan of Mongolia.
You can share this story on social media: