Urals prison riot: Governor blames 'corrupt jail system'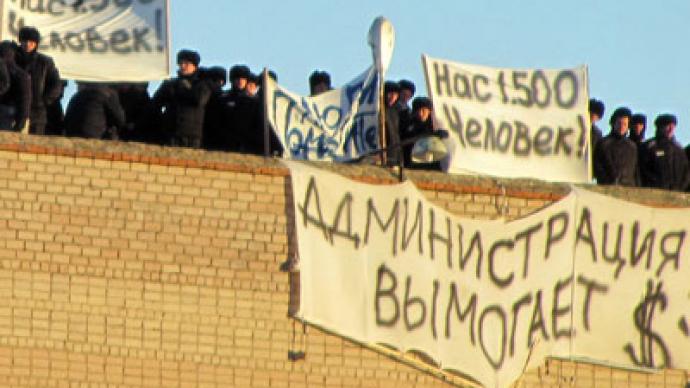 After a two-day riot in a Russian prison ended with injuries and arrests, the local governor has confirmed inmate claims of torture and extortion at the penal colony in the Urals Region.
Mikhail Yurevich, the governor of the Chelyabinsk region, blamed the uprising in Penal Colony No. 6 on a "flawed" system which "should be changed.""The situation in [regional] prisons is tense," the governor stressed. "Now it is tough to clarify all the details of the incident," he added, in any case noting "numerous cases of beating and tortures, suicides." He maintained a "need to investigate seriously."Yurevich added that there are constant riots in local prisons – with no break in sight, even though human rights organizations are investigating the cases.Commenting further, he confirmed reports of extortion in the local facilities, stressing that the old, corrupt prison system was established by Vladimir Zhidkov, the ex-boss of the local FSIN, Russia's penal system administration. Too little time has passed since the new head was appointed, he said, and so it is too early to judge any recent reforms.Penal Colony No. 6 in Kopeisk, in the Chelyabinsk region, made headlines on November 24, when 250 prisoners walked out, demanding better conditions and the immediate release of some inmates from solitary confinement.Putting an end to cruelty and extortions in prisons in particular were the main demands laid out by rioters and their relatives.Eight riot police officers were injured in an attempt to rein in the two-day riot, and 39 people were arrested.
'They don't touch those who give them money'
Olga Belousova, the sister of one of the inmates, was allowed inside Penal Colony No. 6 along with two other relatives. As a witness, she was able to speak to the press about the situation there."There were 60 people in the room; all were standing quietly," Belousova said. "I told them that we support them and came to make sure that everything is fine, and that we want to make their voices heard outside the colony."The complaints, which were mainly communicated by the prisoners, include extensive extortion, inappropriate use of force and numerous other humiliations, Belousova says."They don't touch those who give them money, but against those who can't they use force to make their relatives pay," she added.Former convict Mikhail Ermuraky believes that this system of exploitation was the main reason for the riot.His mother said her son was tortured multiple times, sometimes even including sexual abuse."They start beating those who don't want to pay," said Ermuraky in a recent interview with the RIA Novosti.The father of another convict, who spent three months in colony No.6, told Russia's Dozhd television that he has twice paid off prison staff."Every month… If you don't bring money, there will be problems," a man who wasn't named told Dozhd.Payments in prison are typically euphemistically termed "voluntary contributions." Local human rights ombudsman Aleksey Sevastianov has noted complaints from relatives that such "contributions" can sometimes reach up to 200,000 rubles – more than US$6,400. By comparison, the average Russian's annual income is just over $10,000.For convicts, such sums are impossible to pay – roughly half the prisoners in the colony are not employed. Those who do have jobs in the prison are paid extremely little – less than 100 rubles, or just over $2, per month. Such a wage is not enough even to buy food in a convenience store in the territory, where prices are said to be higher than in the town.The head of the detention facility met with inmates' relatives after the uprising, assuring them that he is willing to abolish "the system of contributions." However, relatives now fear that this change could bring retaliation from the prison staff.When asked if such a system could be considered as criminal corruption, Human Rights Ombudsman Sevastianov agreed that it is illegal, and should be investigated.He explained that with the scheme working in the facility, relatives wire money to a bank account given by the colony's administration. Thus, for example, millions of rubles sent by convicts' families were spent to build a new church on the territory.