Putin appoints new children's rights ombudsman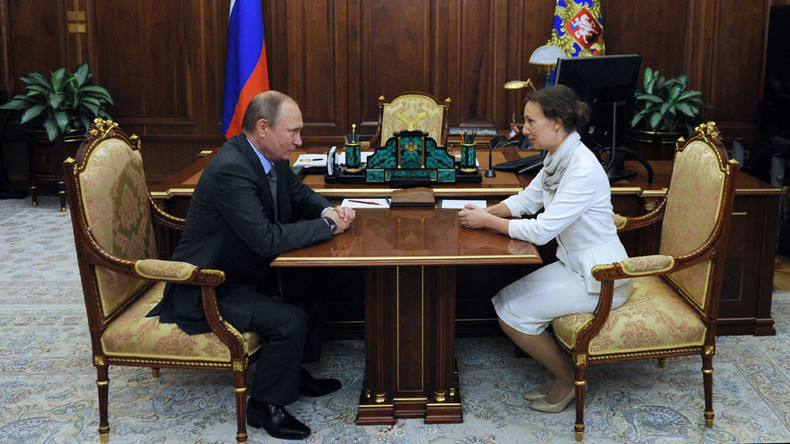 Russian President Vladimir Putin has appointed the head of the association for the protection of family, Anna Kuznetsova, as his plenipotentiary for children's rights, replacing lawyer Pavel Astakhov.
Before the appointment, Kuznetsova, 34, worked as the head of the Pokrov fund for the support of family, motherhood and childhood in Penza Region, central Russia. She also headed the Penza regional branch of the Mothers of Russia movement and the regional branch of the United Public Front movement. The newly appointed ombudsman has also held places in the women's council with the regional governor and the regional public chamber.
READ MORE: Russian ombudsman supports creation of state agency for orphans
According to the Pokrov fund website, Kuznetsova has six children – four sons and two daughters.
Putin's press secretary, Dmitry Peskov, told reporters on Friday that prior to making the appointment, the president had a conversation with Kuznetsova in the Kremlin.
Kuznetsova declined to immediately comment to the press on her appointment. "Many candidates have been considered, proposals have been made to me and to other people. I don't think it is possible to make any comments right now," she told TASS. "It is very difficult to re-format from a public activist into a civil servant, but I think that all the options have been looked into," she added.
READ MORE: 'Leave children alone' – Putin on gay rights in Russia
Kuznetsova's predecessor as ombudsman, Pavel Astakhov, congratulated her with an Instagram post. "I congratulate Anna from the depth of my soul and wish her God's help in this difficult position. She is a very worthy person and a very wise choice by the president," he wrote. He also expressed hope that there will soon be no homeless or abandoned children in Russia.
Russia introduced the post of ombudsman for children's rights in 2009. The ombudsman can make enquiries into the work of any federal or municipal bodies of power, and can file complaints in the event any violations of children's rights are discovered. The occupant of the post also provides expert conclusions for lawmaking bodies on issues concerning children's rights.
Astakhov, a professional lawyer, filed his resignation in summer following a string of scandals caused by his controversial comments. In May 2015, he said that "in certain places in the world women get all wrinkled at age 27 and they look 50 by our standards," causing a storm of angry responses and "wrinkled" selfies from women on social networks. In June this year he greeted a survivor of the tragedy in which 14 children drowned during a camping trip with the words "how was your swim." The ex-ombudsman later explained that he sought to make contact with children by making a friendly joke and his phrase was taken out of context.
READ MORE: 'Best Sex Ed is Russian literature' – children's rights ombudsman