'Leave children alone' – Putin on gay rights in Russia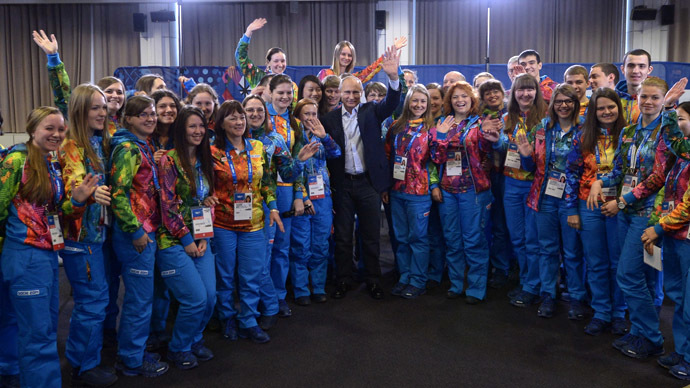 President Vladimir Putin explained to Sochi-2014 Olympic Games volunteers the difference between the ban on gay propaganda among underage minors in Russia and criminal prosecution of homosexuals in some countries.
"There is no ban for homosexual relations in Russia, yet propaganda of homosexuality among minors – and pedophilia in particular – are prohibited," Putin said during a Q&A session with volunteers at the Sochi Winter Olympics.
The president stressed that a ban on certain kind of relations and an interdiction on propaganda of such relations are "totally different things."
"We neither disallow anything [homosexual] nor bust anybody [who's gay], we have no criminal liability for such relations – as opposed to many other countries of the world," the president emphasized.
"So you can feel calm and relaxed – but leave the children alone, please," Putin demanded, recalling that in some countries the issue of legalizing pedophilia has been discussed openly.
"We're not going to take up that lead towards unknown consequences like weak-willed underlings," the Russian president stated. "We have our own traditions and our own culture. We treat with respect all of our partners and we anticipate that our traditions and culture are respected."
The so-called "gay propaganda" law introduces fines for propaganda of non-traditional sex relations to minors, including in the media, on the internet and via viral adverts. The law stipulates fines for giving children propaganda about homosexuality.
Earlier in January, a group of 27 Nobel laureates wrote an open letter to President Putin urging him to repeal the so-called "gay propaganda law" as it "inhibits the freedom of local and foreign" LGBT communities.
But the International Olympic Committee says that Russia's legislation doesn't violate the Olympic movement's rules.
Moreover, on Friday a senior Italian member of the International Olympic Committee has urged "not to let politics interfere with the Olympics" and slammed the US for its decision to include openly gay athletes in its official Sochi delegation just to "demonstrate" that in their country gay rights have been established.
Army of international volunteers
Once a contest for volunteer positions of the Sochi-2014 Winter Olympics was announced, nearly 200,000 applications were filed from all regions of Russia and nearly 60 countries.
As a result, 25,000 young people were chosen to work at the Sochi Olympics as volunteers. This makes up over 35 percent of all the personnel at the Games.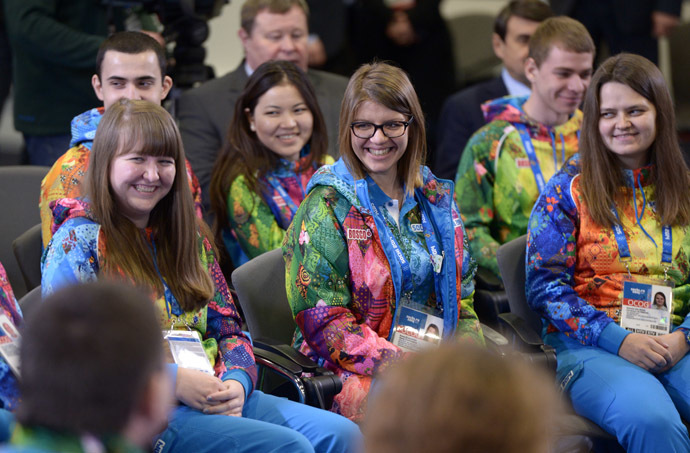 "We rely on you very much. Volunteers create the atmosphere of the Games," Putin told the volunteers in the Sochi's Krasnaya Polyana winter sports center. He added that the festive atmosphere at the sporting event and the holiday spirit of sportsmen and guests greatly depends on the volunteers.
"A sports tournament is a festival. Sporting competitions are always associated with emotions, with the inner turmoil of its participants, which one way or another is projected on staff and on you. You need to be aware of this, have a good sense of humor to balance all this within yourself and your soul, to show externally only positive emotions," the president said.
Russia's Black Sea resort city of Sochi hosts the Winter Olympics on February 7-23, with the Paralympics to follow on March 7-16.
You can share this story on social media: