If Berlusconi were gay he would never be on trial – Putin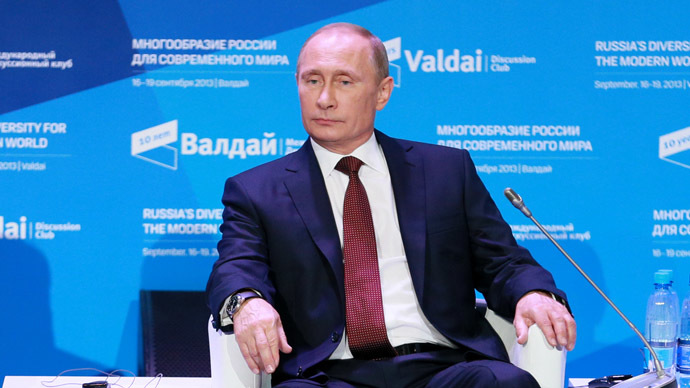 Vladimir Putin, traditionally sharp-tongued and prickly, spoke about Syria, gay rights, and democracy at the Valdai Club political forum. During the two hour discussion, the leader said he has "not ruled out" running for a fourth presidential term.
Putin addressed a wide range of topics at the Valdai International Discussion Club on Thursday, where over 200 leading politicians, experts, and journalists gathered for a global dialogue about Russia.
Russia's traditionalist heart
Putin highlighted traditionalism as the center for Russia's national identity.

"Without the values at the core of Christianity and other world religions, without moral norms that have been shaped over millennia, people will inevitably lose their human dignity," he stated.

The president criticized "Euro-Atlantic countries" where "any traditional identity, … including sexual identity, is rejected… There is a policy equating families with many children with same-sex families, belief in God with belief in Satan," he said.

"Any minority's right to be different must be respected, but the right of the majority must not be questioned," Putin added.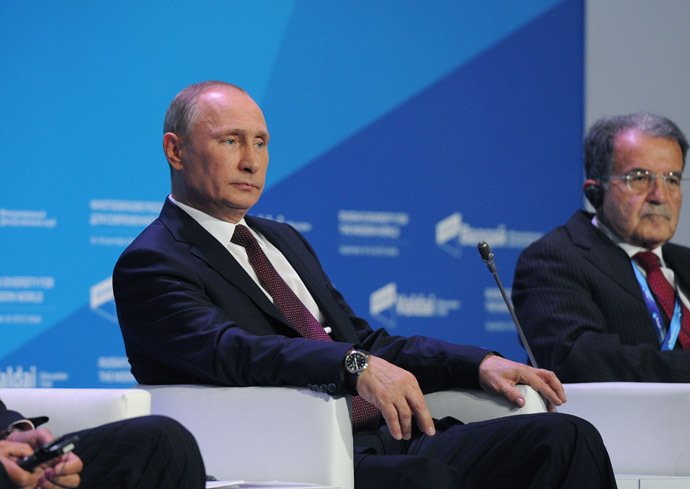 Commenting on the law banning gay propaganda, Putin said that Russia and Europe have demographic problems.

"Europeans are dying out. Don't you understand that? And same-sex marriages don't produce children. Do you want to survive by drawing migrants? But society cannot adapt so many migrants. Your choice in many countries is the way it is: recognition of same-sex marriage, adoption, etc. But let us make our own choice the way we see it for our country," Putin said.
The president added that some American states still have criminal liability for homosexuality.

"Why does everyone like to focus on Russia? You shouldn't fuel tensions here; there is nothing terrible here," he said.
President Putin also joked that his old friend Silvio Berlusconi, former Italian Prime Minister would not have faced trial if he was gay.

"Berlusconi faces trial for bedding women. If he was gay, no one would ever lay a finger on him," he said with a smile.

On vodka, caviar and Russian-European relations
Having put in a word for Silvio Berlusconi, Putin jokingly ticked off Romano Prodi, who he earlier asked to comment on Ukraine's choice between joining the Customs Union and signing an Association Agreement with the European Union.

"Do take note of what Romano has just said. He is not only an intellectual, an academic, a professor, but also a Eurocrat to the bone."

Putin responded to Prodi's remark that Europe and Russia "are now like vodka and caviar."

"But vodka and caviar are both Russian-made goods. You see, those Europeans are fond of a peculiar way of sharing, which is that first we share what you have, and then it's back to everybody for themselves," the Russian president said.

As Prodi suggested substituting "vodka and caviar" with "whiskey and soda," Putin replied by saying, "Actually, whiskey and soda is a lame, bizarre drink. Whiskey is something you should drink neat, otherwise it's just a waste of a quality product."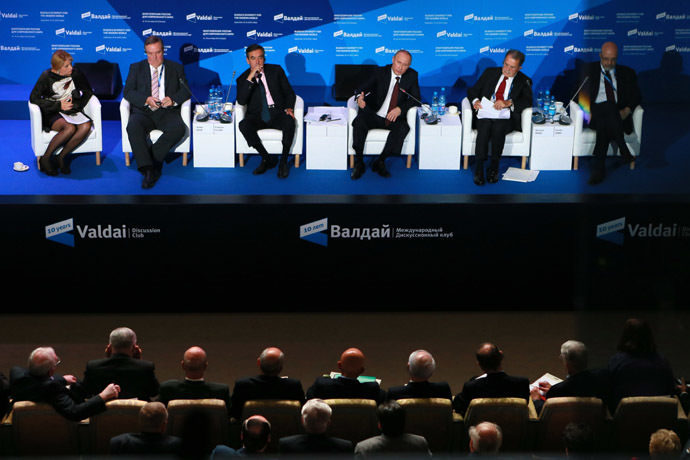 'Russia deserves best government'

Putin believes that Russia should have the best leadership possible, but expressed doubts that the American government could set such an example. 

"Russia definitely deserves the best kind of government possible. But is there such a thing as a perfect government in other countries, including the one you represent together with Senator McCain – that is a big and awkward question," Putin said in response to Russian-American political expert Nikolay Zlobin's query as to how he sees the relationship between power and society in Russia.
Putin recalled that it was twice in US history that a president was elected by the Electoral College without securing a plurality of the popular vote. 
"This is an evident flaw in the election procedure, which lies at the heart of American Democracy itself. This goes to say that any system has its downsides. And it might be that your system is no less flawed than ours, if not more."
Putin welcomes opposition
Russian President Vladimir Putin guardedly welcomed new political opposition leaders as he answered a question about political representation at the 10th annual meeting of the the Valdai Club, a Kremlin-backed international discussion forum in northwestern Russia. He referred to parties that currently do not even have a seat at the table and hinted at amnesty for protesters accused of clashing with police on Moscow's Bolotnaya Square.
"I expect bright leaders to emerge with us. The country needs them," Putin said during the question-answer session lasting over three hours after giving a speech.
"Neo-Slavophiles and neo-Westernizers, statists and the so-called liberals – all of society needs to work together to shape common development goals, to get rid of the habit of only hearing like-minded people and … dismissing any other point of view."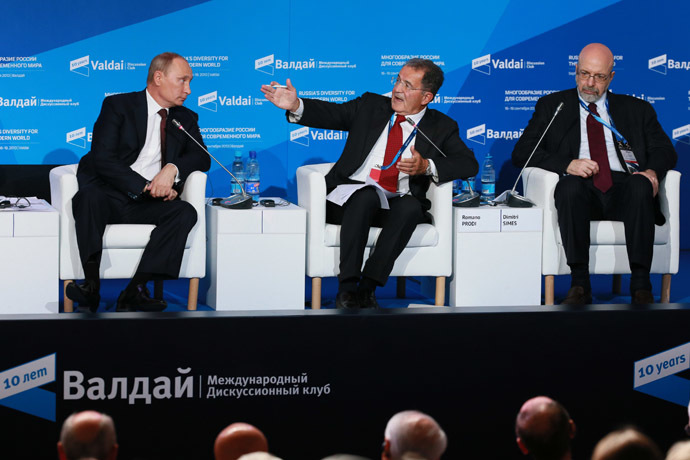 4th presidential term in the mix?
During the session, Putin also said that he is not excluding running for fourth term as president. During question-and-answer period, Putin asked French Prime Minister Francois Fillon whether the latter has plans to run for president.
Fillon agreed to answer only if Putin covers the same question.
Putin replied, "I don't exclude [the possibility]", to which Fillon followed up with "And I, too, don't exclude [the possibility]."
Linking Europe and Asia

The president also praised Eurasian integration at the meeting on Thursday, highlighting a planned Moscow-led political and economic bloc for the former Soviet republics to build links and capitalize.

"Eurasian integration is a chance for the post-Soviet space to become an independent center of global development, rather than the outskirts of Europe and Asia," Putin said.

He described the planned Eurasian Economic Union as "a project aimed at keeping the identity of peoples populating the historical Eurasian space in the new century and the new world."
The union is seen as a progression of the Moscow-led Customs Union involving Belarus, Kazakhstan and Russia, which was operational since January 1, 2012.

You can share this story on social media: