Opposition figure Yashin presents report on 'criminal connections' of ruling party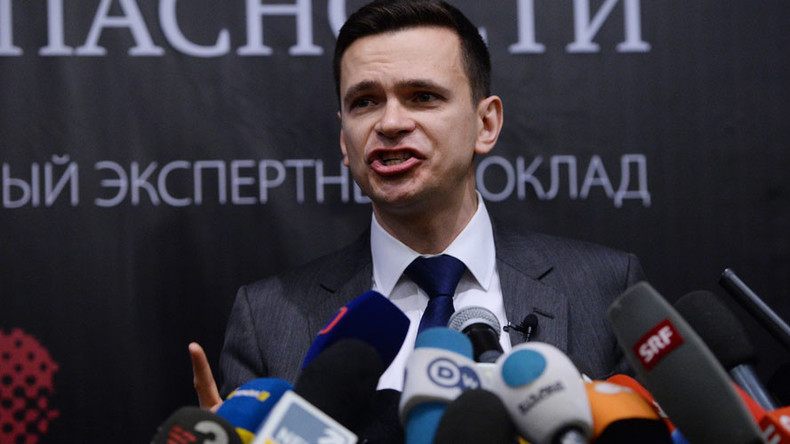 Opposition politician Ilya Yashin has presented a report detailing the alleged criminal connections of parliamentary majority party United Russia. The material is compiled of media reports on corruption cases, as well as several tenuous claims.
Yashin, the deputy chairman of the Party of People's Freedom (PARNAS), presented his 66-page work titled 'Criminal Russia Party' in Moscow on Tuesday.
The report was divided into several parts that described various former members of the United Russia party that had once occupied senior positions in the state power structure – from regional governors and federal ministers to town mayors and municipal deputies. Yashin himself admitted that he took all the information for his work from "open sources" and has not conducted any investigation of his own.
He also described the motive behind the project as the desire "to tell what is the real state of things."
READ MORE: 'Blather!' Chechen leader raps opposition's 'sensational' paper on Chechnya

The document includes several high-profile cases, such as the stories of the former head of the Komi Republic, Vyacheslav Gaizer, detained in 2015 on charges of running a criminal ring, former Sakhalin Governor Aleksandr Khoroshavin, detained in 2015 on suspicion of large-scale bribery, and the former mayor of the city of Makhachkala, Said Amirov, currently serving a life sentence for terrorism and contract killings.
However, Yashin's report also describes several people who have never faced charges and only became targets of mass media allegations, such as the governor of Pskov Region, Andrei Turchak, who supposedly ordered an attack on a critical reporter (the claims had never been proven), or former Moscow Mayor Yuri Luzhkov, who, according to Yashin, may have helped his wife Yelena Baturina to secure multi-billion construction contracts and become the richest woman in Russia.
Several of the people mentioned by Yashin really were members of the United Russia party at the time investigators uncovered their crimes, and the report does in places only tentatively suggest that those named could have connections to United Russia – such as with southern Russia mob boss Sergey Tsapok, who was convicted of ordering a mass murder in 2013 and died in custody in 2014. The reports about Tsapok's supposed United Russia membership were spread by Yashin himself in 2010 and United Russia immediately refuted them as groundless. Back then, Yashin promised to continue his investigation, but has not so far presented any proof of his claims.
Yashin also fails to mention that in most cases United Russia has immediately purged any personnel involved in crimes and scandals from its ranks, and has helped law enforcers to conduct investigations.
Luzhkov is one example, and he was sacked from his mayoral post by United Russia leader Dmitry Medvedev in 2010 and very soon after ended his United Russia membership and even became a vocal critic of the party's policies.
READ MORE: Russia to overcome corruption slowly but surely - Putin

Yashin's own party, PARNAS, has distanced from the report. In comments with RBC news agency, PARNAS deputy chairman Konstantin Merzlikin described it as "Yashin's own work" and said that the party had no intention of using the materials in the upcoming State Duma election campaign.
PARNAS also turned down Yashin's request to hold the presentation of the report in the party's office, saying it was too difficult to organize the event in the middle of the ongoing parliamentary campaign.
The deputy head of United Russia's executive committee, Konstantin Mazurovsky, told RBC that Yashin's paper "was not a report but rather a summary of some facts that the public has been aware of for a long time." He added that United Russia had always taken a strong stance on all issues concerning corruption and always had stricter demands for its members than even the criminal law – if law enforcers start a probe against a United Russia member, his or her membership in the party is automatically suspended. Mazurovsky added that the party had decided that people with a criminal record cannot represent it in elections or even primaries.