Russia to overcome corruption slowly but surely - Putin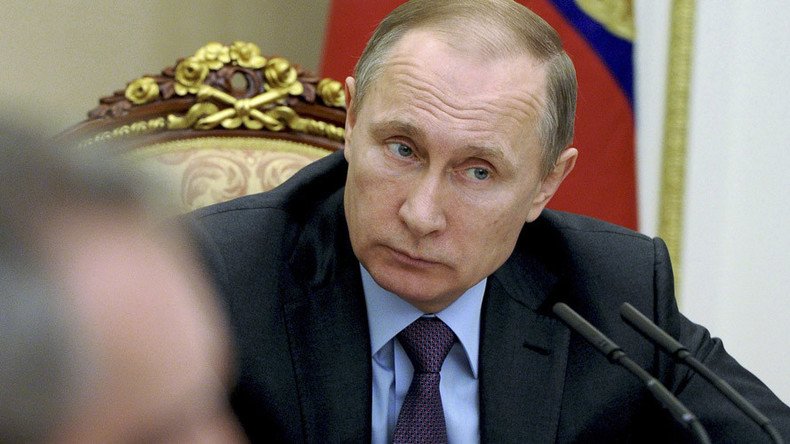 Fighting corruption is an extremely complicated task that requires time, but society must gradually fulfill it or face even bigger problems, President Vladimir Putin told officials on Tuesday.
"The question is not in achieving some brilliant victories in this sphere today or tomorrow, this is a very difficult task. But if we stop now, things will only get worse. We must move only forward," Putin said at the session of the Presidential Anti-Corruption Council.
READ MORE: Putin urges zero tolerance to corruption
The president urged the officials to be more active and use various legal mechanisms to confiscate the illegally-acquired property and return it to the state.
"According to statistics, of 15.5 billion rubles ($194 million) to be returned by court orders after corruption trials we have so far managed to return only 588 million rubles (over $7 million)," Putin said.
The Russian leader emphasized that this should be also done at an international level.
"We must return the assets that have been illegally or unlawfully transferred under different jurisdictions," he said. "Any attempts of bribery of Russian or foreign civil servants by commercial structures committed on the territory of foreign states must be cut short."

At the same time, the president noted that the Russian anti-corruption laws were matching the international standards and Russian state structures already had special mechanisms allowing them to uncover corruption at all levels.
Putin said that in the first nine months of 2015, 8,000 people were convicted in anti-corruption processes and about 11,000 people received remands at work for failing to follow anti-corruption standards.
Russia reformed its anti-corruption laws in in 2011 by introducing proportional fines for bribery on the initiative of then-President Dmitry Medvedev and as part of a pro-business liberalization of laws. However, after returning to the presidency and analyzing the situation, Putin criticized the move as ineffective and ordered various federal ministries to draft suggestions and plans to tackle the situation.
In spring 2014, Russian Prosecutor-General Yury Chaika proposed a bill making a prison term the sole punishment for anyone convicted of corruption, saying that compensatory punishment or fines were not a deterrent – one of the key points that provide the rule of law.
In April 2014, the president approved a nationwide anti-corruption program and in December of the same year Putin himself drafted a new anti-corruption bill, proposing correctional labor be used as punishment and a decrease in the amount of fines for minor offences.
READ Corruption rethink: Putin bill features more targeted approach to penalties
In addition, in August 2015 the Russian government has approved a legal amendment that, once passed, would allow Russian law enforcers to open administrative cases against foreign bribe-givers when that bribery damages the interests of the Russian Federation as a state.
You can share this story on social media: