Senator warns of foreign provocation targeting upcoming Russian polls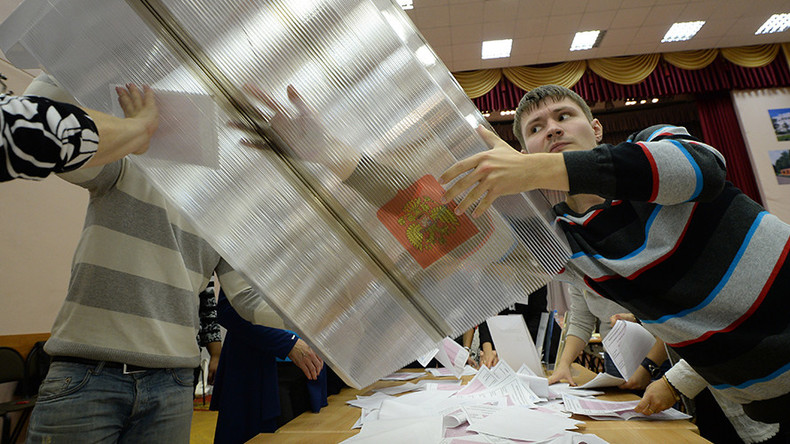 The chairman of Russia's Upper House Committee for International Relations has said he expects certain hostile foreign nations to launch another campaign aimed at blackening Russia's reputation in the period around September's parliamentary elections.
"Elections are due in three weeks and I have absolutely no doubt that ill-wishers across our borders will use the election campaign and the elections themselves as yet another excuse to discredit our country and present it as an outcast nation," senator Konsantin Kosachev said at the 'In Unity with Russia' international forum, currently taking place in Moscow.
READ MORE: Monitors from major intl groups to get invitations to Russian parliamentary polls

Kosachev also said he was certain that the State Duma elections scheduled for September 18 will be honest and free, and called the criticism levelled at the Russian political system by some in the West "inadequate and having nothing in common with the real situation in the country."
"We see that the course aimed at the so-called international isolation of Russia declared by the West has totally failed. This course is currently supported by a group of strong but not very numerous nations, and at the level of common people we definitely will not find any confrontation even in the Western countries," he said.
In February this year, State Duma speaker Sergey Naryshkin told the press that Russia would not invite representatives of the Parliamentary Assembly of the Council of Europe (PACE) to monitor the upcoming elections because of the body's continuing discrimination against the Russian delegation and the bias of the assembly's representatives. During his announcement, Naryshkin also explained that Russia believed many processes in PACE were managed from the United States, especially those concerning the group's relations with Russia, adding that Moscow had no intention to tolerate this.
However, in May this year the Russian Foreign Ministry announced that it had plans to invite representatives from four international political blocs and organizations to this year's parliamentary elections instead of PACE monitors. These groups are the Commonwealth of Independent States (CIS), the Shanghai Cooperation Organization (SCO), the Collective Security Treaty Organization (CSTO), and the OSCE's Office for Democratic Institutions and Human Rights (ODIHR).
The head of Russia's Central Elections Commission, Ella Pamfilova, told reporters that her agency planned to invite monitors from international associations of elections bodies, such as the Association of World Election Bodies as well as European, Asian and American associations of election organizers.
READ MORE: US election monitors to get personal invitation to Russian Duma polls
A member of the commission, Vasily Likhachev, revealed that Russia has already signed bilateral agreements with 27 nations, allowing their representatives to conduct monitoring at the State Duma elections. He also said that personal invitations will be sent to US monitors, adding that if and when these invitations are accepted, the potential monitors must reply so that the Central Elections Commission can clear the personnel and allow them to gain accreditation.