US election monitors to get personal invitation to Russian Duma polls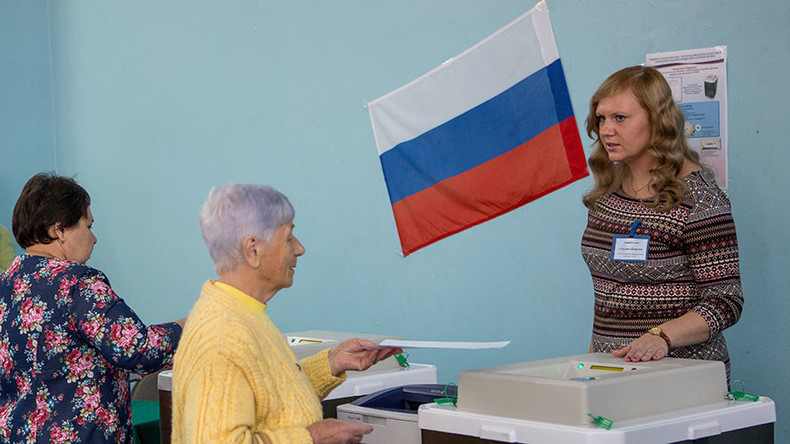 Personal invitations will be sent to US monitors for Russia's September parliamentary polls, with the possibility that Russian officials will attend this year's American presidential campaign, says a member of the Russian Central Elections Commission.
Vasily Likhachev told RIA Novosti that Russia had already signed bilateral agreements with 27 nations, allowing their representatives to conduct monitoring at the State Duma polls that will take place in mid-September.
The United States is not among these countries, but invitations could be extended to US citizens "on a personal basis" Likhachev said. If and when these invitations are accepted, the potential monitors must reply so that the Central Elections Commission can clear the invitation and gain accreditation, he explained.
READ MORE: Monitors from major intl groups to get invitations to Russian parliamentary polls

The official also said that some US representatives had already visited Russia as part of the monitoring mission of the OSCE Office for Democratic Institutions and Human Rights, but he noted that the Russian side would prefer bilateral cooperation with the United States.
Likhachev also said that when he had discussed the issue with the Russian ambassador to the United States, Sergey Kislyak, the ambassador asked him to send monitors to November's US presidential elections. It is not yet clear whether this would be a separate mission or if Russian monitors would be part of an OSCE mission, he said.
State Duma speaker Sergey Naryshkin has said that monitors from the United States would be welcomed at Russian polls, but added that such steps required mutuality.
"We have no secrets from anyone but of course we would like to see decent and honest people observing our elections. It is evident that there are decent and honest people in the United States, including among their parliamentarians, but still this issue needs to be worked on," RIA Novosti quoted Naryshkin as saying.
The Duma chief also told reporters that such steps should be mutual, adding that he personally had doubts about the possibility of such cooperation, given the experience that Russian monitors had with previous US elections.
"This is difficult to imagine if we recall some episodes from previous US polls when a state prosecutor threatened to arrest us if we did not keep a distance of at least 20 meters from a polling station," Naryshkin said.
In late May, the Russian Foreign Ministry announced that it plans to invite representatives of four international political blocs and organizations to this year's parliamentary elections. The invitations will be extended to representatives of the Commonwealth of Independent States (CIS), the Shanghai Cooperation Organization (SCO), the Collective Security Treaty Organization (CSTO) and the OSCE's Office for Democratic Institutions and Human Rights (ODIHR).
READ MORE: PACE monitors not expected at State Duma elections – top Russian MP
Previously, high-ranking Russian officials have promised that representatives of the Parliamentary Assembly of the Council of Europe (PACE) would be denied access to the September polls because of the ongoing infringement of the rights of the Russian delegation in this group.
In February this year, Naryshkin ruled out the participation of PACE monitors in the upcoming State Duma elections because of the body's continuing discrimination against the Russian delegation and the bias of the assembly's representatives.