There's only one right way to get people vaccinated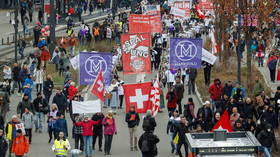 With protests rising over the prospect of more Covid lockdowns, it is clear European countries face some tough decisions. But using a carrot rather than a stick to get people double jabbed has to be a priority.
The Covid pandemic in Europe will simply not go away. Cases across the continent are on the rise again, and various governments have reacted by either reimposing partial or full lockdowns, which has led to a wave of protests in many capital cities.
On Monday, Austria became the first country in Europe to re-enter a full lockdown and it is widely believed that others will follow suit in the coming weeks. This is the fourth lockdown Austrians have had to endure since the pandemic began last year, and it seems that many have simply had enough and are determined to retain a semblance of normal life.
According to various sources, it is estimated that somewhere between 40,000 and 170,000 people were on the streets in Vienna over the weekend. The protests, however, were not just confined to the Austrian capital, as people were also out in force across Europe in Zagreb, Zurich, Rome, Brussels, Copenhagen and in many cities across the Netherlands. In some cases, the protests became violent and there were clashes with the authorities.
At present, there is no uniform policy across Europe. Whereas Austria has entered full lockdown, others are either tightening restrictions or just locking down those who are unvaccinated.
However, the one thing that many of the countries that are locked down or considering restrictions have in common is a low uptake in vaccines. In Austria, for example, only 66% of people are fully vaccinated, which is the lowest in Western Europe.
In neighbouring Slovakia, that number falls to 45%, and 80% of those in hospital with Covid at the moment are unvaccinated. Moreover, only 48% of Croats are fully vaccinated, and Bulgaria, which is also seeing infections rise rapidly, has only 24% of its population double jabbed.
The epicentre of the new outbreak seems to be Germany, where, in the past 24 hours alone, there have been another 30,000 of new cases of Covid. It has led the country's acting Health Minister Jens Spahn to say that "by the end of this winter pretty much everyone in Germany will have been vaccinated, recovered or died."
As a result of the surge in Covid cases, the German government is considering a lockdown for the unvaccinated. This is the same policy that is being mooted in some regions of Italy, and from yesterday, the Czech Republic and Slovakia have banned unvaccinated people from some shops and services, including pubs.
For me, this is where things get rather murky, as I am not convinced that dividing the vaccinated and unvaccinated can be justified. Forcing lockdowns only on the unvaccinated risks making them pariahs in their own communities.
Moreover, if only those who are not vaccinated are forced to wear masks, as has been suggested, then they will easily be identifiable. Europe has a very dark history of making people who are considered second-class citizens identifiable, making this an ethical minefield for the continent's politicians to navigate.
In England, the UK government has said that it will not be imposing another lockdown or mandatory vaccine passports. Health Secretary Sajid Javid stressed on Sunday that "we've said all along that we've got Plan A, and that's where we firmly are at the moment."
However, considering that Boris Johnson's government performs U-turns on a daily basis, I would take what is being said with a pinch of salt. Interestingly, Javid also warned that "if we needed to take further measures with Plan B then we would do so, but we're not at that point." For the record, Plan B includes mandatory vaccine passports, which will preclude the unvaccinated from a host of activities.
Now, I would like to make it clear that I am not an anti-vaxxer. I have had two jabs and will get my booster once I am eligible for it. I have also had Covid, and it is not a pleasant experience. Nevertheless, I have friends and family members who are determined not to have the vaccine, and that is their right. After all, it is their body and they – and they alone – should be able to decide what goes in it, not the state.
I believe that people should be encouraged to be vaccinated, but I would rather see the carrot used rather than the stick. And nor should those who are unvaccinated be cast out from society if they refuse to have the jab, either on medical or ethical grounds.
The most frightening aspect in all this for me is the idea of making the unvaccinated identifiable, as it has the potential of doing more harm than good. Moreover, I guarantee two things will happen: firstly, society, and even families, will become even more divided, and secondly there will be a roaring trade on the black market in counterfeit Covid passports and certification.
It is clear, however, that something must be done. Covid is spreading like a wildfire across Europe, which according to scientists increases the prospect of yet a new variant. Hospitals in those countries with growing numbers of Covid cases are rapidly reaching breaking point.
But getting the balance right between the protection of citizens and civil liberties is essential, and this is where the politics and the science often clash. It is a fine balancing act and for once I have some sympathy for the politicians, because one thing is for certain: things are only going to get worse until someone figures out a way of getting this new outbreak under control.
If you like this story, share it with a friend!
The statements, views and opinions expressed in this column are solely those of the author and do not necessarily represent those of RT.
You can share this story on social media: