The Sudan crisis lays bare the stakes of US-China competition in Africa... and doesn't augur well for Washington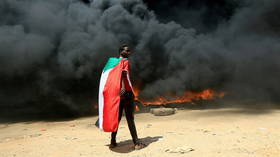 The military takeover in Khartoum seems likely to be the death knell for America's plan to bring the war-ravaged nation back into the West's orbit. African nations know who their most reliable partner is, and it's Beijing.
Sudan is a country in turmoil, yet again. Following a coup by the country's military against the provisional government, which had pledged to establish a democracy in the African nation following the collapse of Omar al-Bashir's autocratic rule in 2019, violent protests have rocked Khartoum and seen at least seven people killed. The US, among others, has opposed the overthrow, demanding a restoration of the country's constitutional government.
The return of the military to power is, to say the least, a hammer blow to Washington, which under Trump courted the Sudanese transitional government and made a diplomatic breakthrough, removing the country from the State Sponsors of Terrorism list and normalizing its relationship with Israel.
Also on rt.com
US' planned removal of Sudan from terrorism list is really an attempt to reduce Chinese influence and further isolate Iran
It's a nation that also has very close ties with China, and it has been one of Beijing's most important and loyal partners in Africa. Whilst these geopolitical considerations are not driving the current crisis, they do loom in the background as part of the ongoing struggle on the African continent between the US and China, as well as where things may eventually lead.
Why was a move towards democracy in Sudan overthrown? The country has, for most of its history, been highly divided and unstable, with weak civil institutions, leading to the legitimacy of the state being fragile and frequently challenged. In Middle East and North African states, military coups have been a common phenomenon, largely as the armed forces are the only institution with the power to hold the state together, especially in those countries beset by recurring ethnic and sectarian conflicts. Sudan has frequently suffered from civil war and broke into two in 2011.
As a result, the planned transition to democracy was always built upon sand and a fragile consensus. The West likes to believe that democracy is empowering and established purely through value statements and motivations alone, but this overly ideological and moralistic view undercuts the reality that it is built and secured upon socio-economic realities and a stable distribution of power. Sudan has none of these things, which has ended its hopes of becoming a democracy prematurely.
But equally significant are the geopolitical ramifications of all this. The coup has deposed a pro-Western government which had opened up ties with Israel, renouncing the 30-year Islamist-orientated reign of Bashir, which was accused of facilitating terrorism.
Yet this isn't so much a question about Sudan and Israel as it is of Washington and Beijing. During Bashir's rule, China was Sudan's largest provider of foreign assistance, humanitarian aid, and investment. It also dominated the country's strategic oil industry. When Sudan found itself $10 billion in debt to China, Beijing made the decision to write it off in 2018. Having been on the US State Sponsors of Terrorism list until just over a year ago, Khartoum was not eligible for any such support from the United States. However, the Biden administration has already put a pause on any new aid and implicitly threatened sanctions on the country.
Therefore, if the military clings on to power, it is almost inevitable that Sudan will fall back on relying on China, providing the country does not escalate back into a civil war or any other conflict in the process. This marks a blow to Washington's regional ambitions, as the US is slowly, yet obviously, attempting to ramp up the stakes against China throughout Africa. Recently, the US was accused of funding anti-China propaganda throughout Zimbabwe, offering "$1,000 for negative stories or speeches on China's influence."
This is not a baseless accusation. The propaganda is arguably part of the broader $300 million fund authorised by Congress, which intentionally aims to increase negative coverage of Beijing in target countries. Liberia, another African nation, suddenly appeared as a signatory to a Xinjiang UN criticism several days ago. Where did this come from? While that impoverished country is highly reliant on China, it seemingly believes it can get something from the West by doing Washington's bidding.
This kind of ploy is the obvious product of a US policy designed to ever more thwart China across the continent, even if the vast majority of African countries would be unwilling to help do that. There is no observable evidence yet of America having done so in Sudan, but the diplomatic breakthrough a year ago was an 'entry point' to better establish its presence and influence there. That is not to say a democratic Sudan would become an enemy of China, but it would have certainly been more balanced between the two superpowers.
America's aims with impoverished African nations like Sudan, which face persistent strife and turmoil, are often problematic; these states tend to bring in policies that inevitably put them on a collision course with the West. And therein lies Beijing's true and lasting advantage. African nations are close to China, as Sudan has been for most of its history, precisely because they receive guarantees on their national sovereignty through China's policy of non-interference – whereas the US clearly makes strict political demands and attaches 'strings' to its relationship.
Also on rt.com
Sudan's military fires 'live bullets' at protesters backing civilian govt, information ministry says, after forces stage coup
Sure, most African countries would think to themselves, why shouldn't we attract American investment? But it's a different scenario altogether when that investment is often premised on political compromises or leverage, which they don't like. Even with China, the US has never seen Africa as strategically crucial enough to back a 'useful dictatorship' there, as it has before in the Middle East or Latin America.
And that's precisely what is poised to happen in Sudan now. The moment the country descended back into political instability, the immediate and logical response of Washington was to put its relationship with Khartoum on hold, threaten sanctions and withdraw support, as it has also been doing over the Tigray crisis in nearby Ethiopia. Therefore, who can these African nations turn to for the most reliable and consistent support? Who won't upend their governments or force huge changes upon them in exchange for goods? China, of course. And providing the violence desists, it is fair to say the China-Sudan relationship will probably continue as normal, making it difficult for Washington to compete for the country's resources, such as oil, gas, and minerals, and its strategically attractive Red Sea ports. Ideological success in Sudan is pivotal for America's goals, and the early signs don't look too good for it.
Like this story? Share it with a friend!
The statements, views and opinions expressed in this column are solely those of the author and do not necessarily represent those of RT.
You can share this story on social media: