Why is Colin Powell venerated by liberals despite the fact he's a war criminal? Because he was rude about Trump, of course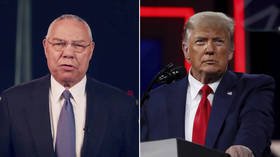 Establishment Democrats are perfectly happy to lavish praise on war-mongering Republicans just because they criticised Trump. Why is this? Because, though he did nothing about it, Trump questioned the military-industrial complex.
I don't take joy in the deaths of politicians. Whether it's the most disgusting human being imaginable or not, I find it hard to do so personally, although I understand why many people who have been victims of their policies might do so. At the same time, I do not subscribe to the idea that one shouldn't speak (or write) ill of the dead. A family member, maybe, but a politician? How else are we to prevent the rewriting of history?
Well, a rewriting of history is exactly what many in the political elite are trying to do in the aftermath of the passing of Colin Powell, the secretary of state from 2001-05. Rachel Maddow of MSNBC dedicated a portion of her show on 10/18 to gushing over Powell. She said that Powell had a "remarkable record of service to the United States" and had a political impact that was "profound," while at the same time arguing that "we are all more than the worst… we have ever done, right? In the case of Colin Powell, he was so much more than that terrible worst thing that he did."
Also on rt.com
Former US Secretary of State Colin Powell dies due to Covid-19 complications
What was the terrible thing that Maddow was referring to and arguing that we should gloss over? His impassioned 2003 speech to the United Nations Security Council where he presented false evidence in favor of invading the nation of Iraq. An invasion that cost the lives of thousands of Americans and millions of Iraqis. But the deaths of millions is nothing to worry about because Powell was "so much more" than that, in the words of Maddow. She is not the only liberal who has gushed over Powell since his death, with elites like Kerry Washington, Barbara Streisand, Kamala Harris, and Barack Obama all releasing statements tripping over themselves to show affection for an admitted war criminal. If his (later retracted) participation in the illegal destruction of Iraq was not enough, Powell has also been implicated in crimes against humanity in Vietnam, detailing in his own memoir the employment of chemical weapons.
Why is Powell so venerated by the liberal elites in spite of the fact that he's a war criminal and not even a member of their party? Well, because, apart from the fact that these types of offenses have never been particularly offensive to them, they love him because he was 'anti-Trump'. Powell called Trump a "national disgrace" and went on to urge people to vote for Clinton in 2016 and Biden in 2020.
Some liberals even went on to defend Powell from Trump after Trump released a statement on Powell's passing. Trump said, "Wonderful to see Colin Powell, who made big mistakes on Iraq and famously, so-called weapons of mass destruction, be treated in death so beautifully by the Fake News Media," before adding, "anyway rest in peace!" Liberal actor George Takei took to Twitter to say "Waiting for GOP leaders to condemn Trump's statement on the passing of former Secretary of State Colin Powell." What is it exactly that Takei wants Republicans to condemn Trump over? It is well established by now, even by Powell himself, that his role in the destruction of Iraq, as well as the lie of WMDs, were not exactly good things. Takei probably doesn't even know, he just knows that Powell didn't like Trump and that is an automatic pardon by the liberal elite.
Former Democratic candidate for Congress Kim Mangone tweeted that what Trump said was "slander," and to "Retweet if you think Trump is one of the worst human beings to ever walk the earth." I oppose Trump in 99% of what he does, and I find him to be a detestable human being for the crimes he has committed against the people of the US as well as the world, but to call the truth 'slander' and argue that saying a fact makes him "one of the worst human being to ever walk the earth" is laughable. It is especially insulting when the subject of the facts that Trump posted was in part responsible for the deaths, injuries, and displacement of millions.
The political establishment's veneration for detestable people simply because they are anti-Trump doesn't stop with Powell. George W. Bush, John McCain, Liz Cheney, and others have all been defended and accepted as one of their own by liberal establishment lackeys. Why is this? Because, for all his lack of action on the issue, Trump did actually question endless war and the military-industrial complex. Wars for profit, the military-industrial complex, and capitalism are issues one cannot even discuss according to the political establishment, and while Trump perpetuated these things once in office, his ability to say these things while galvanizing a political movement scared the elites.
Also on rt.com
Colin Powell could have been US President, but his loyalty to the Bush family overcame his sense of duty to the nation
The elite obsession with demonizing anything they deem 'populist' has led to strange establishment bedfellows such as McCain, who never saw a war he didn't like, referred to Vietnamese people as g***s, and called anti-war protesters "low life scum." Even self-described 'democratic socialist' Alexandria Ocasio-Cortez, who is seen as the most left possible in US political discourse, wrote of McCain: "John McCain's legacy represents an unparalleled example of human decency and American service. As an intern, I learned a lot about the power of humanity in government through his deep friendship with Sen. Kennedy. He meant so much, to so many. My prayers are with his family." Personally, I don't think war criminals represent human decency, and I am sure the people of Vietnam, Ukraine, Iraq, Afghanistan, and Syria alike would agree as they have all been victimized by McCain's blood thirst. I also find it curious how so many liberals attack Trump by calling him a fascist, yet in the same breath glorify McCain, who met with actual murderous neo-Nazis!
The real left needs to call out Powell, McCain, Cheney, Bush, and Trump alike as what they all are – war mongering (some less than others) enemies of the people who have done nothing good for the average person.
Like this story? Share it with a friend!
The statements, views and opinions expressed in this column are solely those of the author and do not necessarily represent those of RT.
You can share this story on social media: