US' planned removal of Sudan from terrorism list is really an attempt to reduce Chinese influence and further isolate Iran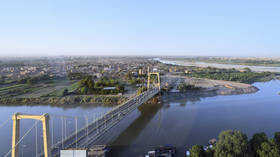 President Trump has confirmed that America will no longer consider Sudan a state sponsor of terrorism. While it's the African country that will benefit, the move has been driven by US concerns over China and Iran.
On Monday, it was announced that the United States was removing the North African nation of Sudan from its list of "state sponsors of terrorism," following the conclusion of what had been apparently years of negotiations between the two sides.
Khartoum has long held a troubled relationship with Washington, but as Donald Trump's administration has sought to make serious advances in the region, brokering peace deals in the Middle East, it has subsequently opened the door to a state it once deemed 'rogue'. Just a couple of months ago, US Secretary of State Mike Pompeo traveled on a symbolic 'first flight' from Israel to Sudan, and it was obvious what lay in store.
In the short term, Trump's dealings with Sudan may be viewed as an attempt to cement his legacy as a Middle East peacemaker. In the longer term, the move can be seen as part of the wider strategic goal of US foreign policy to resolve conflict in the region, isolate Iran further and allow priorities to be adjusted elsewhere. That would specifically mean toward East Asia and strategic competition with China, as well as on the African continent itself, where Khartoum has found itself a patron in Beijing, owing to its alienation alongside China.
While all this cannot, of course, be achieved instantaneously, it is obvious that Washington no longer sees value in rendering Sudan an adversary.
What is the US' 'state sponsors of terrorism' list? Essentially, it's Washington's ultimate political 'naughty step'. It does not correspond to 'actual' sponsors of terrorism on an objective evidence basis, but instead is used to target and ostracize governments which the Americans do not like.
For example, the countries which remain on the list are Iran, Syria and North Korea. But these countries are very obviously not 'sponsoring terrorism' against Western civilian populations, even if we account for the fact that the definition of the term is ultimately subjective. Sudan is now off that list, even though nothing has objectively changed, which should be a telling factor as to how it is used.
Why has Sudan been removed? First of all, the Trump administration has pursued a diplomatic blitz on the Arab-Israeli issue and sought to make decisive breakthroughs in furthering recognition of Israel and establishing diplomatic ties, initially with the United Arab Emirates, and then Bahrain.
Trump has undoubtedly been one of the most pro-Israel presidents of modern times, and has demonstrated this by recognizing Jerusalem as the nation's capital, slashing aid to the Palestinian authorities, ending President Obama's deal with Iran, and even passively tolerating plans by Israel PM Benjamin Netanyahu to potentially annex the West Bank.
Now, with an election upcoming, the president has ultimately sought to seal this legacy in stone and ensure that this foreign policy cannot be reversed by Joe Biden should he lose.
But still, out of all the countries in the Middle East and North Africa that the US could have worked with, why Sudan? Why not prioritize, say, Saudi Arabia or Iraq? The answer is strategy. Although part of the dynamic in Middle East politics, Sudan is an African nation, and Africa has in recent years featured higher on the US agenda as it seeks to compete with China on the continent.
And it just so happens that Khartoum has very strong ties with Beijing. Not even a month ago, China sent significant amounts of aid to Sudan, and it has been the largest recipient of Chinese financial assistance on the continent for several years. This relationship has been made all the easier because Sudan has been treated as a pariah state by Washington, so it has nobody else to turn to for support.
While this is not about to change anytime soon, the Trump administration hopes to break the impasse by resolving the issue which has been most divisive between the two countries: Israel. If normalization of relations can be achieved, the security tensions that currently exist will disappear.
Also on rt.com
Price too big to pay? Sudan rejects tying its removal from US terrorism list to fixing relations with Israel
This plays into the broader American goals behind the pro-peace Israeli effort – to effectively recreate the security environment in the region by ending the long-standing tensions between Israel and Arab nations, and therefore reduce the resistance to US preferences from certain countries.
These goals are motivated by three key desires of the Trump administration. Firstly, it wants to unite the region more broadly against Iran and accelerate its containment. Secondly, it aims to reduce its focus on the Middle East. And thirdly, building on the previous point, it is keen to tilt its diplomatic focus toward Asia, Africa and the competition with China.
Ultimately, Trump's bid to revive ties with Sudan is an attempt to kill multiple birds with one stone. There are many angles to consider, ranging from building his personal legacy, to pushing a pro-Israel agenda to how it fits into the bigger picture with Iran and China.
But what is clear is that it has been firmly decided ever so conveniently that the Sudanese are not considered 'terrorists' any more, and in the long run Washington will be looking to rebuild its ties with the country as it seeks to challenge China's unbridled dominance over it.
Think your friends would be interested? Share this story!
The statements, views and opinions expressed in this column are solely those of the author and do not necessarily represent those of RT.
You can share this story on social media: