Burger off, BoJo! Trying to persuade Brits to stop eating meat to ward off climate change is political suicide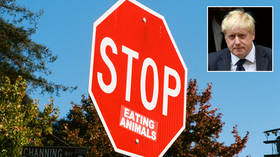 UK Prime Minister Boris Johnson has increasingly been embracing green policies, but the suggestion that Brits are to be pushed towards going veggie by heavy taxing of meat is a ridiculous – and dangerous – step too far.
According to a new UK government research paper, there needs to be "significant behavioural change" to combat the so-called 'climate crisis'. The document, titled 'Net Zero', suggests that in years to come, Brits will have to reduce their demand for high-carbon activities such as flying and – get this – eating meat!
PM Boris Johnson, who has been on a bizarre 'road to Damascus' climate conversion in recent times, must be drinking some strong herbal tea if he thinks a policy like eating less meat is going to go down well with the British public. Does he really think working-class Brits are going to give up their Saturday morning bacon butties for man-made climate change?
Also on rt.com
Boris Johnson's food policy strategist says meat tax 'may be necessary' but warns of FOOD RIOTS if brought in too soon – reports
If he does, he needs to get out of the Westminster bubble a bit more and speak to a few working-class folks. Moreover, he may also want to talk a bit more to his own voters, who don't even register climate change in their top four concerns.
I always thought that these ideas were on the peripheries of political discourse. I remember about a decade ago when ex-Beatle Sir Paul McCartney came to the European Parliament to lecture us about how we needed to eat less meat to prevent global warming.
Us UKIP MEPs laughed heartily at the time, and even more so when it was announced that Sir Paul was late because he was stuck in traffic from Brussels Airport. It was a case of do as I say, and not as I do.
So incredulous were we that me and my old mucker Godfrey Bloom organised a barbecue called 'All You Need is Meat' as a light-hearted protest. However, not for one second did any of us think these cranky ideas would ever be mainstream, never mind proposed by a Conservative government.
It seems, however, as if the UK's Department for Business knew that these proposals would go down like a bag of vomit with everyone beyond Guardian readers and metropolitan green luvvies. It quickly had the report pulled from the website and announced that "we have no plans whatsoever to dictate consumer behaviour in this way."
But this does not mean it's not going to happen. The document was written by something called the Behavioural Insights Unit, which is also known by insiders as the Nudge Unit… 'nudge' because this is the direction of travel.
Indeed, the report says, "looking at past government-led initiatives, significant societal behaviour changes related to, for instance, reductions in harm from smoking, increasing worker or motor vehicle safety or uptake of vaccinations have all involved taxes, bans, mandates and other regulatory measures beyond soft persuasion."
Now it's one thing bumping up the price of cigarettes to stop working-class people smoking, although the middle-class can still afford it, but it's another to tax meat to put it out of the reach of working people. Who do these do-gooders think they are? I bet they're not on the breadline!
And who would have thought that a Conservative government would even consider telling people what to eat, even if it is in the name of the latest climate fad? The Tories are meant to stand for a small state and personal responsibility; not state dictation or control. It goes against everything the party supposedly represents.
People did not vote Conservative in 2019 to get Green in 2021. Indeed, the Conservative manifesto only dedicated one page to net zero carbon emissions. Fast forward two years and it's all the government seems to talk about. It feels as if the voting public has been the victim of an elaborate confidence trick.
So, what has happened in that time to alter the PM's mindset? Well, first he has a new wife, who is an enthusiastic environmentalist and a vegetarian. Former Number 10 advisor Dominic Cummings has claimed that the new Mrs Johnson has undue influence over her husband. From what has been proposed, it seems as if Cummings may have a point.
Also on rt.com
As South Korea considers banning dog meat, who are the meat-munchers of the West to tell others what animal is OK to eat?
Secondly, Boris encountered a near death experience last year when he caught Covid. Could it be that his brush with his own mortality has made him rethink his priorities? All I do know is that he sounds more like a Green PM than a Conservative one.
I am not sure how long the Tory backbenchers will put up with all this. They must be at the end of their tether with their leader. Moreover, those Conservative MPs in 'Red Wall' seats, whose working-class constituents will be hurt most by new green taxes, must be fearing for their political futures.
There are those who suggest that President Joe Biden is suffering from cognitive decline, but it looks to many Conservative voting Brits as if Boris Johnson has completely lost his marbles. And with this latest proposal, swiftly deleted or not, it seems Brexit Boris has been replaced by Bonkers Beansprout Boris.
Think your friends would be interested? Share this story!
The statements, views and opinions expressed in this column are solely those of the author and do not necessarily represent those of RT.