BoJo's latest speech shows Britain's got a third-rate comedian for PM… but the real joke is there is no one to challenge him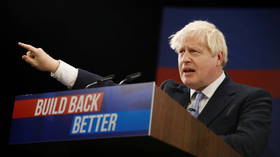 Showman Boris Johnson promised to be all things to all men in a party conference speech that had plenty of one-liners but little in concrete policy. Such is the paucity of opposition, though, that doesn't seem to matter anymore.
I don't believe a single word Boris Johnson says. Ever. And I never have. If this bloke promised me it was a Thursday in October and it was the year 2021, I'd make damn sure I checked my calendar first before I accepted it as a fact.
BoJo can conjure up a pithy turn of phrase at will and has an affable personality. He's high on humour and low on detail, or any kind of real commitment.
That's also pretty much the exact same definition of the man when he was 'on the road' as a journalist; high on humour, low on fact or any actual 'content'. And when penning a speech, he clearly just writes one of his Daily Telegraph columns and reads it out loud.
Also on rt.com
40 days to save the planet? Boris' green act is yet another unprincipled U-turn from a serial flip flopper
Buffoon Boris, with his befuddled blonde hair, took to the stage in front of the Conservative Party faithful in Manchester and did what he does best – indeed, arguably the only thing he can do. He entertained his audience with words. The crowd was already won over by a General Election landslide victory almost two years ago, warmed up and ready to go. Pithy phrase and a bit of humour, anyone? Ho, ho, ho, here we go! Remember, though, this bloke is actually the leader of a nuclear-armed nation.
BoJo began with a couple of easy targets, to get the juices going in that blue rinse crowd. Last year, the pandemic put the kibosh on the annual Tory Party love-in. So he started off by having a dig at the useless former opposition leader, Jeremy Corbyn, an unelectable throwback to the 1970s whose very presence made BoJo's breeze to power a formality. "It is the first time since the general election of 2019 when we finally sent that corduroyed cosmonaut into orbit where he belongs," he gloated.
"Corduroyed cosmonaut." Get it? Corduroys are so 1970s, and Corbyn was a bit of a communist – 'cosmonaut' is something of a Soviet word to an Anglo ear. Oh, Boris, you're a comedy genius and so clever, too… you know your history.
Then he made a joke at the expense of his fellow journalist and senior Tory Party figure Michael Gove, his brand new 'Levelling Up Minister'. (Whatever the hell this newly named post actually means in reality, it sounds suspiciously socialist and has yet to be properly explained). "Let's hear it for Jon Bon Govey. Living proof that we, you all, represent the most jiving, hip, happening and funkopolitan party in the world."
Gove, who is divorcing his Daily Mail columnist wife Sarah Vine, keeps getting caught on camera dad-dancing. He looks like a suburban bank manager or an accountant, and comparing him to the hair-sprayed singer Jon Bon Jovi is a bit of a leap, but go ahead, BoJo, you're on a roll. A rock 'n' roll, even.
Of course, he also had a dig at Jeremy Corbyn's replacement, the current Labour Party leader Sir Keir Starmer – or 'Captain Hindsight' as he likes to call him, on account of his Covid caution. Starmer was, he said, "like a seriously rattled bus conductor... pushed this way and that by a Corbynista mob of sellotape-spectacled sans-culottes, or the skipper of a cruise liner that has been captured by Somali pirates desperately trying to negotiate a change of course." And later: "if Columbus had listened to Captain Hindsight, he would have discovered Tenerife."
Weren't the 'sans-culottes' (meaning 'without breeches' in English) an extreme militant group during the French Revolution?
He had a dig at Labour over its response to the Australia-UK-US nuclear submarine pact (AUKUS) – "an idea so transparently right that the Labour conference voted overwhelmingly against it… and I know that there has been a certain raucous squaukus from the anti-AUKUS caucus."
Britain's Brexit negotiator, Lord Frost, was also conjured up by the Conservative Party's clown-in-chief. Frost, apparently, got the better of a man who now wants to be president of France, EU Brexit negotiator Michel Barnier. "Who is now calling for France to reprendre le controle? It's good old Michel Barnier. That's what happens if you spend a year trying to argue with Lord Frost, the greatest frost since the Great Frost of 1709."
He also, somehow, attacked cancel culture by invoking 11th-century Anglo-Saxon freedom fighter Hereward the Wake. "They really do want to rewrite our national story starting with Hereward the Woke."
Oh God, BoJo, please, can you read something other than a popular history book before next year's speech? Maybe his new wife Carrie, a quarter-century his junior, can get him a novel or two for Christmas. Or perhaps an idiot's guide to modern economics.
My granny used to say about this type of bloke: "He'll say owt (anything) but his prayers." Meaning, he'll tell you anything you want to hear without a thought for the details, or the cost.
And solid policy commitments, actual pledges? I didn't spot any. BoJo pretty much promised everything to everyone from every possible political hue and he also, of course, referenced Margaret Thatcher. But the mathematics of what he apparently wants to achieve – high spending yet low taxation – unfortunately don't add up. If they did, every politician would try to deliver it.
Also on rt.com
Britain's delusions that it could take on the Taliban alone are ludicrous - what are our empire-nostalgic MPs smoking?
It seems people lap all this guff up though. It's a vote winner and despite all the problems in Britain post-Brexit and in the aftermath of Covid, the Tories are ahead in the polls. Boris will probably breeze through the next election with another easy win. After all, what's the alternative? Starmer is most likely a far more honourable and honest man than BoJo. But aren't we all? Sir Keir is also a trifle dull, and not very engaging. He's a lawyer from his Superman quiff down to his sensible shoes, whereas BoJo is a born showman, a snake oil salesman.
There was 45 minutes worth of this stuff, the same kind of length as a set by a Saturday night comedian in a local working men's club on the other side of that so-called Labour red wall. Except, the folk up north wouldn't actually get half of BoJo's jokes.
But who'll be laughing come the next General Election?
Like this story? Share it with a friend!
The statements, views and opinions expressed in this column are solely those of the author and do not necessarily represent those of RT.
You can share this story on social media: