Super-rich diners enjoying steak at a trendy 'vegan' New York City restaurant is a perfect metaphor for these hypocritical times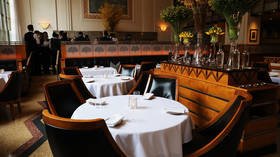 Another vain, left-wing exercise in wokery has been exposed as a fraud, with a 'secret meat room' for well-heeled carnivores being discovered at a famous New York City eatery which recently announced it was going 'plant-based'.
It would be difficult to imagine a better metaphor for these divisive times than a restaurant ingratiating itself with the climate-change doomsayers by publicly going 'vegan,' while, at the same time, serving foie gras, beef tenderloin and pork dishes to rich patrons as the carbon-rich planet burns just outside the window.
That plate of hypocrisy is being served up hot at Eleven Madison Park – dubbed 'Eleven Madison Pork' by critics – a three-Michelin-star restaurant in New York City that recently announced that it had joined the anti-meat bandwagon now taking the woke crowd by storm.
Also on rt.com
It's Greta Thunberg who seems to be at the helm in Germany. But that just signifies utopian promises, not REAL green progress
In an article that appeared in The Wall Street Journal back in May, Daniel Humm, the celebrated chef and owner of Eleven Madison Park (EMP), was treated to a full-page article advertising his almost biblical conversion to environmentally friendly cooking.
"Like most fine-dining chefs, Humm is best known for meat and seafood dishes," WSJ enthused with all of the marinated juices it could muster. "When it reopens on June 10, EMP will stop serving meat or seafood of any kind and make its dishes exclusively from plants – from vegetables, fruits and fungi." There was just one problem with that description: it was a bunch of baloney.
The 'fake'' news, coming after a 15-month Covid business shutdown, sent shockwaves through the planet's culinary community. Attentive readers, however, would have noticed in the twelfth paragraph – long after most had migrated over to the Sports section – the brief mention that EMP will continue to indulge its carnivores with meat dishes at a "private dining service."
Page Six, the gossip rag, described the service less tastefully as "a secret meat room for the mega-rich."
In other words, after paying cheap lip service to reducing mankind's carbon footprint, which would include a noxious biological function known among scientists as bovine flatulence ('cow farts' to the average Joe), thought to be a major contributor to Earth-warming methane gas, the wealthy will continue to dine exactly as they want while the rest of humanity is forced to pick up the tab.
Although much could be written about Humm's incredible hypocrisy – the world-renowned chef had previously lectured, like an overbearing Greta Thunberg acolyte, that the "current food system is simply not sustainable, in so many ways" – the real takeaway doggy bag here is how the world is being quickly divided into two diametrically opposed camps.
On one side of the railroad tracks are those citizens who are forced to adhere to the new rules and regulations being imposed amid talk of an approaching climate apocalypse, an unproven idea that has been talked about for decades; on the other side are the wealthy elite who can simply afford to shrug off the gloom and doom stories of environmental collapse as they live life high on the hog.
This isn't the only incidence of special privileges being conferred upon the upper crust of society. Consider the left's breathless devotion to their mask mandate, which they've ignored on so many occasions it's hard to understand why they continue with the charade. From Gavin Newsom appearing at a birthday party without the de rigueur face diaper, to San Francisco Mayor London Breed saying 'the spirit moved her' when she ignored her own regulations and went maskless at a crowded nightclub, the hypocrisy has become legion among liberals.
Perhaps the most disturbing sign of these twisted times, however, came during the Met Gala charity drive, when the stars and celebrities in attendance, totally unmasked, were attended to by faceless personnel and paparazzi throughout the event. Apparently the coronavirus knows which social class is vulnerable to infection and which one is not.
Glenn Greenwald summed up the lamentable sight, saying "the normalization of maskless elites attended to by faceless servants is grotesque."
And it is. Yet the "grotesque" only promises to get worse as the uneducated social justice warriors, like Miss Thunberg, 18, continue to scream 'climate change!' inside of a crowded planet. This collective hysteria is paving the way for a meatless future filled with yummy mealworm dishes and Dr. Frankenstein 3-D meat.
Also on rt.com
Playboy's gay male cover star is a sign the magazine should have died with dignity a long time ago
You can be certain, however, that none of those delicacies will ever adorn the menu of the world's "secret meat rooms" in the future, which looks set to be anything but appetizing, at least for those who do not count among the one percent. Why else would Bill Gates wish to become the biggest shareholder of agricultural land in the United States? The third-richest mogul on the planet now owns about 242,000 acres of farmland with assets totaling more than $690 million. Amid such startling trends, which is pricing average farmers out of the cattle-raising business altogether, it becomes clearer what kind of future these people have in store for us.
While the mega-rich sneak away to their secret back rooms to enjoy steak, the rest of humanity – if the incessant media hype is any indicator, and it should be – will have to grin and munch through meals made up of insects and plants, while adjusting their surgical masks between bites. Ironically, all in the name of 'saving our health and the environment.'
Think your friends would be interested? Share this story!
The statements, views and opinions expressed in this column are solely those of the author and do not necessarily represent those of RT.
You can share this story on social media: