France's political right is tearing itself apart and could be handing unloved Macron the keys to the Elysee for another four years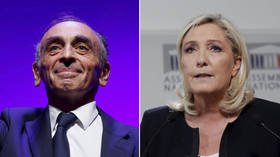 The once-leading candidate on France's far right, Marine Le Pen, is haemorrhaging support to a controversial TV presenter who wants to kick out two million immigrants and despises Islam, while the centre-right is also in turmoil.
It has been accepted wisdom in political circles for some time now that next year's French presidential election would be a straight fight between the sitting president, Emmanuel Macron, and the insurgent right-winger, Marine Le Pen.
But this no longer seems to be the case, as a controversial figure looks set to join the race: enter Eric Zemmour, an outspoken award-winning journalist, who is one of the most recognisable figures in France.
Also on rt.com
The weekend's elections show that Marine Le Pen will never achieve her dream of being French president
Until recently, Zemmour was a regular on French TV screens between 6-7pm on CNews, which has been dubbed the French Fox News. Moreover, at the moment he is promoting his new book 'La France n'a pas dit son dernier mot', or in English, 'France hasn't said its last word'.
Many see the book, which is topping bestseller lists in France, as his opening gambit for a tilt at the Elysee next year. In the book, Zemmour laments what he sees as the destruction of French culture and argues that immigrants must assimilate or leave. He also advocates withdrawing from the European Union.
Indeed, it is fair to say that Zemmour, who is of Algerian Jewish descent, holds a number of opinions that make Le Pen look like a moderate.
For example, he wants to see all non-French first names banned, with his focus firmly fixed on Mohammed, which, he claims, "amounts to colonising France." For the record, as of last year, Mohammed was the eighteenth most popular name for a baby boy in France.
Zemmour also wants to see the repatriation of two million foreigners and has described parts of Paris as being a "foreign enclave under the reign of Allah." He has twice been convicted of inciting racism. I could go on listing Zemmour's controversial statements, but I would swiftly run out of space.
He also thinks that Marine Le Pen has no chance of defeating Macron, saying that "Marine Le Pen would never win, and everyone in the National Rally knows it."
Le Pen is equally dismissive of Zemmour, recently claiming: "I'm always happy that there are extra candidates who start saying the things we've said for 20 years … there have always been marginal candidates."
Whether Le Pen's dismissive attitude is genuine or bravado is unclear. However, if she is not concerned, then she should be, as she has recently been tanking in the opinion polls. And it is clear that much of her support is transferring to Zemmour.
Indeed, opinion polls over the summer had Zemmour registering around 5% of the vote, but he has since risen to the mid-teens. The latest poll has Zemmour on 15% and rising.
Interestingly, as Zemmour's support has grown by 10%, Le Pen's has fallen by an almost identical number. Prior to the summer, support for her was around the 25% mark, yet she is now down to 16%, only 1% above Zemmour.
Moreover, Zemmour has not even declared his candidacy yet, claiming that he is still "thinking" about whether to allow his name to go forward on to the ballot paper. When – or indeed if – he eventually does declare, expect to see a further rise in the polls.
Many political commentators believe it is only a matter of time before he declares his candidacy, pointing to the facts that he has already taken office space in Paris and that funds are being raised in the capital.
And for a man who has not declared his candidacy, Zemmour seems to be making moves on the international stage. He recently attended the Demographic Summit in Budapest, which was hosted by Viktor Orban and was also attended by Mike Pence, the former US vice-president.
Also, the married 63-year-old was recently photographed in the arms of a 28-year-old female political adviser, yet this seems to have done nothing to dent his ratings. Only in France…
Zemmour's prospective candidancy has now received the backing of Jean-Marie Le Pen, the father of Marine. Le Pen senior said of Zemmour, "If Eric is the best-placed candidate in the nationalist camp, of course I will support him."
Whether Le Pen's support is a bane or boon for Zemmour is a moot point. The 93-year-old, who made it to the final round for the presidency in 2004, remains a divisive figure in France.
In backing Zemmour, Le Pen was also scathing about his own daughter, claiming that "Marine has abandoned her strongholds and Eric occupies her former terrain."
And it is not only the so-called 'far right' that is disunited; the traditional centre-right is also in a state of flux about how and when to select its candidate.
This was meant to happen at the end of September, although this has since been pushed back to December. Moreover, the system by which the candidate will be elected has changed, with an internal party convention replacing an open primary.
Also on rt.com
Make more babies! Orban's gang of 4 on EU collision course after rejecting immigration in favour of pro-family policies
It is now not clear whether the frontrunner, Xavier Bertrand, will take part in the convention. This plays into the hands of Michel Barnier, the EU's former Brexit negotiator and political chameleon, who retains support within the party.
Whilst the French right tears itself apart, Macron remains one of the most unpopular presidents in modern times, with his poll ratings anchored around 23%. Yet if the right does not get its house in order, and quickly, this unloved president could find his way back into the Elysee by default in only 187 days' time.
Like this story? Share it with a friend!
The statements, views and opinions expressed in this column are solely those of the author and do not necessarily represent those of RT.
You can share this story on social media: