Coal crisis reveals how energy supply has become a major problem for China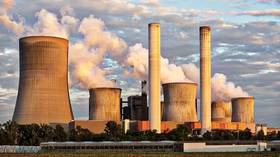 Access to energy has become one of China's major foreign policy considerations and recent events show why – it simply doesn't have sufficient resources of its own to power what has become the world's largest industrial hub.
The headlines have been stark in recent days: regions of China have been suffering from power shortages, with local governments being forced to ration electricity due to a lack of coal and increased demand pushing prices up.
The crisis is also a product of a power system fuelled by government subsidies that operate on a not-for-profit basis, alleviating the pressure on bill payers. This means that when commodity prices surge, they start making massive losses and so have to cut supply.
Also on rt.com
No, China's Belt & Road Initiative is not falling apart, this is just US propaganda, right on cue as Congress promised
The problem shines a light on one of China's biggest headaches – ensuring there is enough affordable power for a mega-industrial nation of more than 1.4 billion people, with demand soaring year after year as the country has grown.
And so the need for energy has become one of the biggest strategic motivations behind China's contemporary foreign policy, stretching across the Belt and Road Initiative, the South China Sea disputes, and even the alarming, if improbable, scenario of a potential conflict with the United States, which has initiated a policy of maritime encirclement around China's periphery, most aptly demonstrated by the new AUKUS deal with Australia and the United Kingdom.
Access to and supply of energy is one of the most important considerations in international strategy. Energy essentially functions as the nervous system for all elements of a country – without it there is no industry, no transport, no military and minimal ability for a society to function.
Without access to a means of generating electricity or attaining oil, a country is to all intents and purposes living in the Middle Ages. In the modern world, access to a stable, invulnerable supply of energy resources can be the difference between winning and losing a war.
In World War II, for example, one of the reasons Britain was able to hold out was because it was self-sufficient in coal reserves, and with the US on the western flank of the Atlantic, it was not cut off from oil imports either. In contrast, Nazi Germany, the continental-based enemy, was in a geographically vulnerable position and had all but lost the war once the Soviet Union overran the European oilfields of Hungary and Romania, crippling its war machine. 'Energy security' is an important criterion of a country's strategic strength and power projection.
China is not blessed with many advantages in this domain. It has the world's largest population and even though it has its own oil reserves, these do not satisfy domestic demand. And a pressing concern has been that the bulk of its energy imports – whether coal or oil – are imported via its maritime periphery, which is increasingly vulnerable as it is surrounded by hostile states.
As referenced in declassified documents from the Trump administration on America's Indo-Pacific Strategy, the US' objective in a conflict scenario would be to prevent China dominating the first and second island chains, which would amount to an attempt at maritime containment.
The current coal crisis illustrates squarely why this is a huge strategic vulnerability for China, because you can imagine what would happen if that supply of coal – or even oil – was completely cut off. Beijing has long been planning a contingency for this potential scenario, and this is why it has focused on alternative transcontinental routes through the Belt and Road Initiative, including in Pakistan, Myanmar, Laos, Thailand, Russia and Kazakhstan. It also explains why China is strengthening its military grip over the South China Sea, which contains abundant oil reserves, as well as doubling down on nuclear power and renewable energy patents. In a nutshell, China hopes to diversify its energy routes, and also become more energy independent. Beijing sees this as critical.
But the coal crisis reveals the extent of the work that is yet to be done. Despite China's pledges to reduce carbon emissions, its heavy industries and power stations continue to be dependent on coal. More than that, enormous amounts of it are being imported from the US, too. China has banned coal from Australia as part of its ongoing dispute with Canberra, which some might argue has hardly helped in the current crisis.
Now Beijing has commanded all coal mines within the country to maximize their output in order to drive down the price with increased supply, and is also accelerating imports. It seems obvious from these policies that climate considerations will be sacrificed in the short term because of fears of a negative impact on economic growth in the long term.
On the other hand, China could simply raise electricity bills to offset the rise in commodity prices as opposed to cutting production – yet that itself is a strain on the economy. The country's power bills continue to be significantly cheaper than the likes of Britain, where all the infrastructure is privately owned and run for profit.
Also on rt.com
In picking up the phone to Xi Jinping, has Biden just blinked first in the great showdown between America and China?
In conclusion, it is clear that energy continues to be one of China's potential weaknesses – a product of the country's demographic and geographic realities. The coal crisis has arrived at a timely moment, with the US and its allies stepping up the potential military threat to the country, intensifying the urgency for China to find its way out of relying on the world's signature fossil fuel and address the challenge of satisfying the growing power needs of the world's biggest industrial hub.
It won't be easy for sure, but how it handles these issues will help define how it offsets the challenge posed by the US – and that's why energy has become one of the country's biggest foreign policy considerations.
Like this story? Share it with a friend!
The statements, views and opinions expressed in this column are solely those of the author and do not necessarily represent those of RT.
You can share this story on social media: