In picking up the phone to Xi Jinping, has Biden just blinked first in the great showdown between America and China?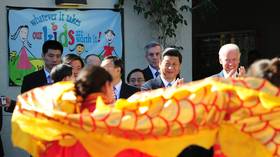 After months of diplomatic rows between the two countries, the US president has felt the need to de-escalate tensions by calling the Chinese leader directly. Beijing believes this shows it's now being treated as an equal power.
US President Joe Biden this week telephoned Chinese leader Xi Jinping. The call was the first direct contact between the two men since February. Fairly unremarkable, right? Not quite.
The exchange did not produce any solid commitments between the two countries, yet a White House readout of the conversation stated that the two countries had pledged "the responsibility of both nations to ensure competition does not veer into conflict," ensuring that no miscalculations taken place and that they will compete within stable boundaries. A de-escalation of sorts, even if in words only.
NEWS: Biden and Xi held their second phone call tonight. The discussion was initiated by President Biden after lower-level talks with PRC officials over the last few months were not fruitful and the U.S. got frustrated by Beijing's lack of serious engagement, per admin official.

— Jenny Leonard (@jendeben) September 10, 2021
Later, an anonymous US administration official commented that Biden had made the call because attempts to talk with China through lower-level officials kept failing. Recent summits between the US and China, involving Deputy Secretary of State Wendy Sherman and National Security Advisor Jake Sullivan, in Alaska and Tianjin respectively, had turned into public spats and a"war of words" between the two sides, resulting in a more hostile response from Beijing than anticipated. This mode of diplomacy was clearly not working, and as a result Biden had to go direct to his counterpart.
This is a small and subtle psychological and political scalp for Beijing, which, through the art of standing up to America, exploited a weakness in Biden which was not present in his predecessor Donald Trump. How so? China has, by tactfully making low-level diplomacy difficult, and reciprocating America's aggressive conduct during these meetings, forced Biden to go directly to Xi himself. This confers diplomatic capital and legitimacy on China, and has effectively forced Biden to deal with Xi as an equal, bypassing the 'Washington machine'. It's a scenario Biden had been eager to avoid but, through fear of destabilization, has been forced into.
In its diplomatic relationship with the United States, China no longer accepts being treated as inferior or subordinate, but, as part of its rise as a superpower, wants to be treated on an equal footing. Xi incorporated this position into his foreign policy stratagem as early as the Obama administration, when he spoke of a"new type of great power relations," and envisioned the US and China negotiating on equal footings as the two biggest global stakeholders. China will not accept being spoken down to by the US, but seeks leader-to-leader engagement to its own geopolitical advantage.
While Trump's individual and egocentric personality embraced the idea of forming strong personal relationships with leaders (before ties with Beijing fell off a cliff), Biden does not. When Trump once called Xi a "friend," Biden accused him of cosying up to "thugs."
Also on rt.com
China's US visit snub is because Biden is increasingly behaving like Trump
It is no surprise that throughout the opening months of his presidency, Biden has employed a strategy of "strategic dialogue" with China by sending officials to talk with their Chinese counterparts, and to try to garnish political capital from berating and lecturing them in public. This is what produced the contentious events in Alaska and Tianjin.
China pushed back hard in response to America's attitude, creating strategic uncertainty in the process and making the US view of China's senior leadership almost opaque. China initially sought to cancel a visit by Wendy Sherman to China, before renegotiating it. Then, when John Kerry came to town to negotiate on climate last week, Foreign Minister Wang Yi ambushed him in public and stated that the issue was not to be treated as an 'a la carte' detachment from the broader US-China relationship as a whole, making it clear that cooperation was not unconditional.
The tactics are clear: China is increasingly leveraging all dialogue in the relationship with Washington to block and disrupt Biden's selective and uncoordinated policy of, "We'll confront China here, but work with them there, as we please."
China essentially refused to give the US what it wanted in these low-level meetings and frequently hit back with a confrontational tone. The mode of relations Biden pursued, where the US would only talk to China on America's terms, was perceived by Beijing as a diplomatic insult, with Washington avoiding high-level engagement while using low-level engagement to hit them with a stick or make spurious demands.
This response has managed, surprisingly, to force Biden's hand. He phoned Xi. It's only a telephone conversation, yet Biden has blinked first and has been forced to approach Xi on the latter's terms. Why does this matter? Firstly, rather than attempting to dismiss China's leadership, it has made Biden confer upon it the concept of an 'equal'. Secondly, Beijing perceives that leader-to-leader engagement delivers more results than the structurally hostile and entrenched Washington, DC bureaucracy and officialdom (it's worth noting that Kim Jong-un utilized exactly the same strategy in courting Trump).
This method ensures it becomes a candid conversation, as opposed to a shouting match of political game-playing, and also it sends doubts to US allies. For example, the Global Times immediately sought to pitch the narrative that Biden had accepted Beijing's One China Policy towards Taiwan, thus giving the impression that Beijing is orientating Washington towards its own preferences (even if that isn't true).
None of the lower-level diplomatic meetings, irrespective of what's said behind closed doors, can deliver such political gains for China in the way a leader-to-leader conversation can. There were no lectures about Hong Kong, Tibet, Xinjiang, Covid-19, or "unfair economic practices" which dominated the previous meetings, but instead a pledge to try and respect each other's interests.
Also on rt.com
Is the US-China rivalry doomed to fall into the Thucydides Trap, meaning that war between them is inevitable?
From the act of one small phone call, China has just won a very subtle diplomatic victory over America. Leaders talk together all the time, of course, but this isn't a normal scenario given the political stakes. This kind of tactic would not have been possible under Trump, who would by now have resorted to a Twitter boasting match or creating a crisis to get attention.
But with Biden, Xi has exposed the US president's bottom line and his inner anxieties. Whilst Biden is less reckless than Trump, the saga also shows he buckles more quickly under pressure and is more risk averse. He wants to compete with China and no doubt wishes to prevail in that endeavour, but he seeks to do that somehow without a US-China "confrontation." Time will tell if that's achievable, but for the moment it is advantage Beijing.
Think your friends would be interested? Share this story!
The statements, views and opinions expressed in this column are solely those of the author and do not necessarily represent those of RT.
You can share this story on social media: