Biden's latest 'lab leak' report tells us nothing… but it won't stop the US blaming China for Covid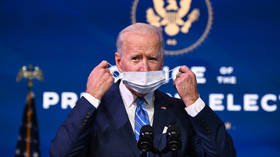 American intelligence has failed to come up with any evidence that the pandemic originated in a Wuhan lab. But the pressure mounting on Joe Biden ensures there will be no end to the never-ending 'China blame game'.
The 90 days that Joe Biden assigned US intelligence to investigate the origins of Covid-19 and the Wuhan Institute of Virology lab leak theory are up and, to nobody's surprise and as reported in the Wall Street Journal, the probe comes to no definitive conclusions.
Anyone with an ounce of common sense could have seen this coming, but do you think that this will be the end of it? That the blame game surrounding China is about to go away? Absolutely not. It's obvious even from the WSJ piece itself that the immediate narrative will be that China hasn't been sufficiently transparent. This has always been the administration's default position and, on this premise, demands for further investigation will inevitably follow. But of course, it is bizarre that China is expected to 'come clean' about a theory which is designed to incriminate it – and of course can never truly be proven because it's not true.
The report is bad news for Biden precisely because it delivers nothing, not least because this whole circus is being orchestrated to try to ease domestic pressures anyway. Republicans have long made their own mind up that there is significant evidence of a lab leak and even recently tried to present it in one of their own reports.
Also on rt.com
'Scapegoating China cannot whitewash the US': Beijing blasts Washington ahead of American report into Covid-19 origins
Although the theory was never taken especially seriously when Donald Trump was in office – primarily because it emerged from conspiracists rather than scientists – it has gained new currency as a means to discredit the Biden administration by linking the situation to the president's chief medical adviser Dr. Anthony Fauci amid suggestions 'the establishment' is complicit in it.
This partisan tit-for-tat has pushed the White House, as well as Fauci, towards contemplating the theory as serious out of political necessity, giving it a credibility it did not receive under Trump, as mainstream commenters typically dismissed everything he said.
This has had a ripple effect on the World Health Organization (WHO), which is feeling the heat from mounting US pressure and has suffered reputational damage from the narrative that it was apparently complicit with Beijing.
The intelligence report's lack of evidence and inability to prove anything will only intensify this situation, leading to inevitable accusations that Biden is 'whitewashing' the situation.
In this case, what does he do? Almost certainly, there will be more blame attached to China. He will accuse Beijing of failing to be transparent; of failing to demonstrate with clear proof the origins of the virus; claim there has been insufficient data provided on early cases; and push for allies to also put the pressure on China.
It is convenient for him to do so at this juncture, because he desperately needs a distraction to take the news cycle away from Afghanistan, where the calamity of the unfolding events has caused non-stop criticism of his presidency and prompted questions over the resilience of the American leadership.
Also on rt.com
'Not a blame game': WHO urges collaboration after Beijing rejects proposed second probe into Covid-19 origins
So, what better way for him to attempt to rescue his approval rating than by scapegoating China for Covid-19? The narrative will not be 'the report has disproven the lab leak'. Instead, it will be squarely that 'China has failed to cooperate with us' and therefore 'we don't know' what caused the virus. The lab leak theory will not be endorsed as blatantly as it has been by Trump and former Secretary of State Mike Pompeo, but it will be kept in the open by Biden and his colleagues to excuse themselves from culpability.
This means for the rest of the world, the true origins of Covid-19 and any relevant scientific information we might want to know are increasingly unlikely to be established because the situation has been toxified by America's political gerrymandering.
The Republicans operate on a 'post-truth' basis in the polarized atmosphere of US politics which is so emotionally charged that it now thrives on the proliferation of such theories. This creates cognitive dissonance towards a factual and scientific explanation, primarily because it will never come with the politicized drama, sensationalism and impetus of blame that one would accept. To put it bluntly, it would be complicated, boring and dull, as opposed to insinuating or incriminating. And that's not what people want to hear.
China, on the other hand, is not going to collaborate on any further investigation when it deems it will be done in bad faith. The results of a previous WHO trip to Wuhan have all but been dismissed, precisely because they did not meet the demands of the prevailing narrative and US domestic politics. This creates a stalemate and perpetuates mutual distrust, a vicious circle which sustains the belief Beijing is engaging in a 'cover-up'.
Also on rt.com
US VP Harris tells Vietnam to 'raise pressure' on Beijing, as Chinese media accuse Washington of sowing divisions in Asia
In conclusion, this report has found out nothing and has achieved nothing. It was never going to. It was commissioned for political reasons, not scientific ones. Are the CIA virologists and immunologists, after all? The lab-leak theory is a fantasy grounded in science fiction and James Bond-style discourses, and not in scientific reality. America's ongoing failure to come up with any answers, coupled with the relentless political pressure on Biden, means that we're never likely to definitively know what caused the pandemic. And so, the drama will roll on and on, with the US prolonging this never-ending China blame game.
Think your friends would be interested? Share this story!
The statements, views and opinions expressed in this column are solely those of the author and do not necessarily represent those of RT.
You can share this story on social media: