Make more babies! Orban's gang of 4 on EU collision course after rejecting immigration in favour of pro-family policies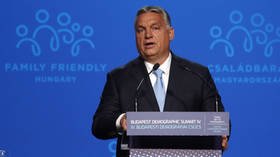 Four central European countries have declared declining birth rates – not climate change – to be their most pressing problem, but they definitely don't want it solved by Brussels' solution of opening the doors to migrants.
Central European leaders have met in Budapest for the Fourth Demographic Summit and signed a declaration stating that mass immigration is not the answer to Europe's declining birth rate.
The summit, which was hosted by Hungarian PM Viktor Orban, was attended by the leaders of the Czech Republic, Serbia, and Slovenia, plus Mike Pence, the former United States vice-president.
This will go down like a lead balloon in Brussels, particularly as Slovenia holds the rotating presidency of the European Council at the moment. The summit's resolution is also a direct challenge to the West's liberal ideals, where family values are traduced as "old-fashioned."
Also on rt.com
On migrants, it's one hypocritical EU rule for Lithuania and another for bogeyman Viktor Orban
Central Europe and the European Union are on a collision course when it comes to immigration. Rather than protect its borders from the coming Afghan refugee crisis, the EU seems intent on allowing hordes of people to come to the continent and then mandating member states to take their share.
This plan is obviously not acceptable to the leaders of Central Europe, and Orban referred to Brussels as the "weak link" in the chain with regards to immigration.
The EU's plan will undoubtedly have the support of liberal Western Europe, where immigration is generally viewed solely through the prism of economics. The International Monetary Fund (IMF), for example, has urged developed countries to throw open their borders to immigrants to offset their ageing populations.
The leaders of Central Europe, however, have rejected this route and instead believe that their ageing population problem can be overcome by encouraging their own people to have more children, and through the promotion of family values.
The Slovenian PM, Janez Jansa, said: "We need to make it easier for young people to start families. We need to support the family as the fundamental unit of society: we need to put the families first, since they are the bedrock of the state and a strong society."
At the heart of this debate is demographics, which the leaders of Central Europe argue is the pressing issue of our time. Serbian President Aleksandar Vucic, for example, questioned whether climate change was "really more important than demographic issues? Is it really more important than the future of our countries, the future of our nations?"
Unlike in Central Europe, culture and demographics are taboo subjects in the liberal democracies of the West. And when they are raised, those responsible are shouted down or, in some extreme cases, cancelled.
Take, for example, Tucker Carlson, the Fox News host, who is under fire for arguing that immigration is being encouraged by the Democrats to change the demographics of the country for electoral gain. There have been attempts to have Carlson cancelled, and he now stands accused of pushing white supremacist tropes and stoking up division.
But Carlson might be onto something, because something similar happened in the UK during the Tony Blair years. During that time, net immigration rose from 60,000 per year on average in the 1990s to frequently being over 250,000 a year by the mid-noughties.
Indeed, the public only became aware that this radical demographic change in the UK was done on purpose when Andrew Neather, a previously unknown adviser, let the mask slip in 2009.
Neather admitted that New Labour's plan all along was to "open up the UK to mass migration" and "to rub the Right's nose in diversity and render their arguments out of date."
We are constantly being told that introducing new cultures enriches society as a whole. And I actually agree, but only if they are introduced slowly and with compassion for the indigenous population.
But to alter the demographics of a society through a surge of unfettered immigration within the space of a decade, as Labour did in the UK, is both irresponsible and unfair.
People stopped recognising their own towns and cities, and I suspect that's why many communities in the north of England will never vote for the Labour Party ever again.
And this is precisely what the Central European leaders are attempting to protect themselves against. They do not want their towns and cities to become multicultural hotchpots overnight. They want to retain their own identity and protect their Christian heritage, and who are we to blame them for that?
Also on rt.com
Hungary is a successful Christian nation, that's why godless liberals slammed Tucker Carlson's meeting with 'tyrant' Viktor Orban
It must not be forgotten that these countries are always at the coal face of migration waves. The favoured route is through Turkey and into the Balkans, and what Orban and his cohorts do not want to see is a repeat of the refugee crisis of 2015-16.
That is why they are drawing a line in the sand, and why they are doing it now – for as Orban said, "no one can demand that we allow all that previous generations in our countries worked for to be undone by a flow of millions of migrants." The ball, as they say, is now firmly in Brussels' court.
If you like this story, share it with a friend!
The statements, views and opinions expressed in this column are solely those of the author and do not necessarily represent those of RT.
You can share this story on social media: