Students craving mask mandates are typical of the new breed of safety obsessives created by lockdown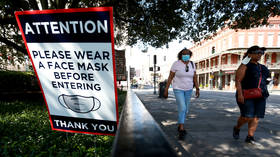 The enduring legacy of the pandemic may well be the growth of a section of society whose desire to be insulated from ALL risk is best illustrated by their performative mask-wearing. This spells danger for everyone's freedoms.
One of the most disturbing side-effects of the pandemic is an explosion in the number of people who have become addicted to safety. That is why a significant section of the public is reluctant to give up their lockdown lifestyle.

And it is also why, for some people, the wearing of masks into an indefinite future has become the new normal. For anyone who takes their freedom seriously, it is extremely difficult to watch a group of young students demanding that wearing a mask be made compulsory in their campus.
Also on rt.com
Lockdown is a new way of life: Many in UK see little value in freedom & public life – and that is a big problem
Earlier this month a group of graduate students at the University of Iowa did just that, organising a 'die-in protest' in order to force their institution to make the wearing of masks mandatory. At the heart of their protest was the "perpetual state of stress" caused by their university's 'lax Covid rules'.
Listen to Caleb Klipowitcz, one of the organisers of the 'die-in', leading the protestors in chants. "What do we want?" Klipowitcz shouted.
"Mask mandates!" they replied
"When do we want it?" he chanted
"Now!"
Once upon a time, student protestors had big dreams. They were idealistic and aimed to transform the world. Now their idealism does not stretch beyond creating a world where the wearing of a mask is the new normal.
One protestor, Rob Ascher, a post-graduate teacher, spoke about the anger he felt on his first day of class. "In the rhetoric department, I come in and there's not a single student wearing a mask," he said. "That ain't right. I go into my classroom. If it's a good day, half of my students are wearing a mask."
For Ascher, the sight of a maskless face is a source of anxiety. He obviously aspires to a world of total safety, where he is totally insulated from any risks.
That groups of university students have decided to lie on the pavement, pretending to be dead, in order to force their institution to issue an edict backing the compulsory wearing of masks speaks volumes about the deification of the value of safety in western societies.
Also on rt.com
Fetishising Covid-19 'burnout' has become another pandemic & is fuelling an opportunistic mental health industry
For many people, the wearing of a mask signals their virtue and identity. Some argue that wearing a mask differentiates you from uncaring men obsessed with their masculinity. According to one account in 'Scientific American', some men are worried that wearing a mask makes them look weak and their self-image is more important to them "than demonstrating responsible behaviour".
Those who refuse to wear a mask are sometimes condemned as 'pandemic deniers' or 'anti-maskers'. The term denial not only condemns, but also serves as a psychological diagnosis. Those 'in denial' about masks are not only irresponsible, they are also diagnosed as suffering from mental illness.
As a sociologist, I am continually astonished to discover that so many people have become comfortable with the very idea of masks. For them, the lockdown was not only a public health necessity, but also an acceptable way of life. Numerous colleagues have told me that they did not understand when I told them that I was going stir crazy and wanted my life back.
On many occasions, I was reassured that there was much that I could do 'to make life more comfortable' during lockdown. A section of society has embraced this outlook to the point that they have adopted a lockdown lifestyle.
For them, the wearing of a mask signals safety. And as far as they are concerned you can never be safe enough. The attitude of hyper-sensitivity to safety has influenced many people to integrate the mask into their way of life. Unfortunately, some of them have decided that their lifestyle should be made mandatory for others.
The mask-fascists are not prepared to allow others to make up their own mind as to whether or not they want to cover their face. They cannot comprehend what Johnathan Bartholomew, an anti 'die-in' protest student, meant when he said, "I'm not anti-mask. I'm not anti-science. I'm not anti-vaccine. But it comes down to freedom, and it's not just a slippery slope requiring a mask mandate, it's pushing us over the ledge. What's the point of having my life if I don't have the freedom to make my own decisions? I'd rather die if we can't have freedom." Bartholomew is absolutely right in highlighting the threat that compulsion represents to the exercise of individual freedom.
Also on rt.com
I understand why some people are nervous about a Covid vaccine, but open debate is the answer… NOT making immunisation compulsory
An obsession with safety has gained a powerful presence during the pandemic. Unfortunately, once safety becomes everything, the value of freedom diminishes.
Hopefully, the aspiration for freedom amongst our young will soon return. Otherwise, a very unpleasant lockdown-oriented lifestyle will become our new normal.
Like this story? Share it with a friend!
The statements, views and opinions expressed in this column are solely those of the author and do not necessarily represent those of RT.
You can share this story on social media: