Fetishising Covid-19 'burnout' has become another pandemic & is fuelling an opportunistic mental health industry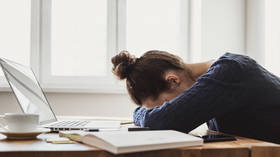 'Burnout' has been an increasingly common complaint for those working from home in lockdown. But it is a medically meaningless term, promoted by mental health entrepreneurs, that is reducing people's capabilities and ambitions.
'Burnout: Modern Affliction or Human Condition?' asks Jill Lepore in The New Yorker. She rightly points out that since the pandemic, burnout has become "the latest form of an enduring, exhausting complaint."
Individuals feeling troubled by the pressures of everyday life are now said to be suffering from burnout. Once the term burnout was invented in 1973, it took off and turned into a kind of cultural pandemic. By the 1990s, almost everyone claimed that they were burned out. Since the outbreak of Covid-19, the state of being burned out has become totally normalised as a condition associated with working at home.
It is frequently suggested that 'Zoom fatigue' and multitasking are mentally draining to the point that people burn out. Typically, mental health 'experts' claim that almost everyone working from home is heading for burnout. According to Glamour, 69% of employees are experiencing burnout symptoms while working from home.
It appears that mental health entrepreneurs are competing with one another to see who can get away with coming up with the most dramatic and alarming numbers of people who are burning out.
A Monster study in December 2020 discovered that 69% of remote employees experienced being burned out – apparently a 35% increase since early May. Another American study suggested 75% of workers were burned out. Thankfully – possibly due to the cold weather? – only half of Canadian workers experience daily burnout.
Anne Helen Petersen's book, 'Can't Even; How Millennials Became The Burnout Generation', gives the impression that an entire generation suffers from the affliction.
There is now a veritable industry devoted to providing self-help advice to burned-out people. The Harvard Business Review's 'HBR Guide to Beating Burnout' offers a synthesis of Anglo-American psycho-babble and reassuring management-speak. But if you really want to feel reassured that help is at hand, you could do worse than consult Chandler Kitchen's 'The Art of Doing Nothing: The No-Guilt Practical Burnout Recovery System for Busy Professionals'. After all, doing nothing is the preferred activity of the burnout advocate.
One of the advantages of the term burnout is that it can be used to describe virtually any unpleasant and uncomfortable experience. It is worth noting, however, that although the condition of being burnt out is now associated with working at home, in previous years it was linked to the stressful experience of commuting to the office. A previous study claimed that "if you commute more than 35 minutes a day, then you are at greater risk of work-related burnout."
Burnout has been diagnosed as a consequence of being forced to work long hours as well as an affliction linked to successful people, who simply do not know when to stop.
Also on rt.com
Suffered from anxiety or depression during lockdowns? Actually, you can blame Covid for that too!
During the 1980s and 1990s, ambitious people drew attention to their hard work by claiming to be burnt out. For some, it was a badge of honour that they wore on their sleeves. Others who felt uncomfortable with hard work and pressure were quick to justify their slothful attitude on the grounds that they were getting their work/life balance right and avoiding burnout.
Since the invention of the condition of 'academic burnout' to draw attention to the problem posed by 'prolonged study', students are also relieved of the guilt of not working hard. And in recent years, parents who take their childrearing too seriously often complain that they are burned out.
Typically, well-educated professionals are the ones who complain most about burnout. Reports on the conditions of work in universities often highlight the prevalence of burnout. Predictably we hear that "pandemic burnout is rampant in academia". It is academics and those in other 'high-status' occupations – and not people working in mines, factories or performing hard, physical work – who are supposedly burning out.
In case you are wondering, burnout is not recognised by serious health professionals as a medical condition. Despite the proliferation of newly discovered psychological diseases, burnout is not yet recognised as a mental disorder by the psychiatric establishment. The World Health Organization classifies burnout as an "occupational phenomenon".
WHO's description of burnout exposes its meaninglessness. It refers to "feeling of energy depletion" or "exhaustion", "increased mental distance from the job" and "negativism" or "cynicism" towards one's work. In other words, the natural emotions that many of us feel towards work are rebranded through the burnout narrative.
On probing into this putative condition, burnout turns into a pointless term that masquerades as a medical problem. Mental health entrepreneurs who promote burnout as our normal condition of life do a real disservice to society. Their branding of hard work and pressure as the cause of a medical condition lowers people's ambition about what can be achieved. Subjecting ourselves to pressure stretches us and potentially makes us stronger.
If people feel estranged from their work, it is because their employment does not endow their life with meaning. In that case don't bother to read a self-help book on burnout. Head down to the pub and have a good old chat with your mates, instead.
Like this story? Share it with a friend!
The statements, views and opinions expressed in this column are solely those of the author and do not necessarily represent those of RT.
You can share this story on social media: