Lockdown is a new way of life: Many in UK see little value in freedom & public life – and that is a big problem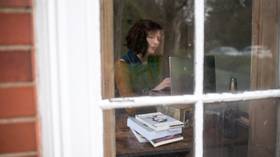 The government's use of scare tactics to convince people to comply with lockdown rules have worked too well, with many Britons now unwilling to go back to normal. And that is a symptom of a deep malaise affecting our society.
"I secretly pine for another lockdown," claims a commentator for The Guardian. Of course, there is nothing secret about publishing a lengthy statement about the benefits of a lockdown lifestyle. On the contrary, this advocate of lockdown culture puts forward an eloquent case for turning his Stockholm Syndrome into a virtue.
Also on rt.com
Lockdowns were deemed bad for our mental health. Now the psycho-babble industry's inventing anxiety about a return to normal life
Idealising the simpler life of living under lockdown, the Guardian's commentator paints a picture of domestic bliss with the "three people I adore the most in the world." He is worried that he will "no longer be able to watch a movie snuggled together beneath a blanket in the middle of a weekday, or dawdle over a long lunch around our table, or wander aimlessly through the woods behind our home for hours on end, with no commitments to rush home for."
What a life! No wonder the article's author praises the lockdown on the grounds that it "gave us permission to slow down, and to re-evaluate how we want to live when this is finally over."
Judging by recent reports, it seems that hundreds of thousands of British people have drawn similar conclusions and, upon re-evaluating their lives, have concluded that the lockdown is just too good to leave.
It is evident that employees have ignored Chancellor of the Exchequer Rishi Sunak's call to return to city-centre offices. Despite government advice and the arrival of Freedom Day, workers have chosen to stay at home; according to figures from Remit Consulting, the proportion of staff returning to the workplace remained stagnant at 11.7% at the end of July.
Business analysts hope that the numbers returning to work after the summer holiday will pick up because it is simply not possible to run offices at the current low levels of occupancy.
The reluctance to return to the office is highlighted by figures from the ONS, which suggest that, last month, the number of UK adults who travelled to work at least one day a week dropped from 61 to 57 percent.
The influence of the lockdown lifestyle is particularly pervasive in the civil service. Up to three out of every four civil servants are still working from home and, judging by statements made by their union leaders, they are quite happy to stay put in their bedrooms.
Is it any surprise that the civil service is fast becoming detached from its supposed ethos of public duty? Try getting anything done by the civil service: it takes at least 10 weeks to get a new passport, there is a huge wait for a driving licence and you can wait up to six months for a tax rebate. Home working may be good for some but not for ordinary members of the public, who are now facing a long delay in getting their hands on vital documents.
So how do we account for the reluctance of so many people to leave their home and embrace public life? When it comes to the office, there is an obvious element of opportunism and pragmatism. It is, after all, summertime and many workers will understandably grasp at any excuse to avoid going to work. They may feel that they deserve a longer-than-usual holiday, especially if they receive financial remuneration for 'working' at home.
However, there are also darker forces at work. Many people have internalised the relentless scare stories that they have been subjected to. Alarmist accounts about Covid have framed this crisis as a threat to human existence. Understandably, many members of the public fear social contact and therefore routinely avoid public gatherings and indoor interaction with others.
Now we know that official scare tactics have worked only too well and the government understands that levels of compliance with lockdown rules have exceeded its expectations. Consequently, they face the problem of getting the people they'd scared away back to work.
Unfortunately, people's understandable fears have also been reinforced and validated by public health and mental health professionals who continually warn about the psychological impact of returning to normal life.
The normalisation of a lockdown lifestyle is also encouraged by the media, which often presents the lockdown as an opportunity to reflect on what's important about life.
The implication of praising the lockdown for providing an opportunity to re-evaluate life is that there is something unnatural and unhealthy about working at a set and communal place of work. This message has gained considerable traction and has served to provide cultural legitimation for turning the lockdown into a lifestyle.
The influence of lockdown culture is a symptom of a deep malaise affecting society. It indicates that a significant section of society sees little value in freedom and public life. That is a serious problem for all of us.
Think your friends would be interested? Share this story!
The statements, views and opinions expressed in this column are solely those of the author and do not necessarily represent those of RT.
You can share this story on social media: