Pay 5% more tax to work from home after Covid has passed? You've gotta be joking...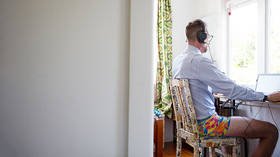 Experts' latest suggestion to raise money and help fund those who have lost their jobs is to tax people 5% for the 'privilege' of working from home after the pandemic. Dedicated WFHers must rise up against the diabolical idea.
To suggest a new tax should be imposed on those who choose to continue to work from home after this coronavirus pandemic storm has passed is an idea as hard to swallow as a gobful of Covid-19 phlegm.
A team of Deutsche Bank economists has suggested that those of us whose daily commute is from the bedroom to the spare room could be hit with a five percent tax for every day we choose to work remotely. The money raised could then be used to help fund lower-paid workers, and those in re-training who find themselves temporarily earning less than they were previously.
While accepting that some WFHers would be exempt – the self-employed, low-paid and those living in a country where the government has advised people to stay at home – surely, my dear German freunde, you must be off your gourds. This is what we elect our governments for.
But no, it seems they're serious. The thinking is that the £7 a day, for example, that someone would be taxed if they were on a salary of £35,000 wouldn't be missed anyway. After all, these jokers suggest, we would spend more than that on our commute and a sandwich from Pret a Manger.
Also on rt.com
Working from home? You need to be TAXED for the privilege, Deutsche Bank proposes
True. But even so, working from home is not free. It's easy to rack up plenty of expenses in running a home office with all the kit you need – PC, printer, robust internet connection, lighting and heating. No one passes the hat around for contributions towards these when you work in an office.
One economist says, "A big chunk of people have disconnected themselves from the face-to-face world yet are still leading a full economic life. That means remote workers are contributing less to the infrastructure of the economy whilst still receiving its benefits. That is a big problem for the economy."
Again, pure invention. Remember the olden days, pre-pandemic, when we paid tax on our earnings? Well, guess what? It's still the same now! And we're spending even more of our money on telecoms and energy, screwed unmercifully by domestic broadband suppliers just so we can stay in touch with colleagues on those irritating Zoom calls – I said UNMUTE! – while the kids simultaneously stream Disney Plus.
Sure, some things are very different. We're not using the car or public transport as much, but the green dividend we receive in return is one that will last, I'm certain, for years to come. We are saving the freakin' planet! Where's the thanks, the recognition, the plaque?
Also on rt.com
COVID-19 lockdowns are in lockstep with the 'Great Reset'
My one trip on public transport since February was curiously bearable, enhanced by the self-righteous glow I felt from eyeballing those among the few fellow commuters who were wearing facemasks incorrectly. Seriously? Put it OVER your nose! Why is that so hard?
It wasn't crowded, there were no discarded newspapers, no one got stuck in the doors, threw themselves on the tracks, or peed in the corner of the carriage. It was like a bullet train in Tokyo.
This ultimately pleasurable experience was largely down to one thing: it was virtually empty. Many of those who normally take the tube had abandoned the trip to WFH. If they were taxed for homeworking they might flood back to the Underground, like those big brown rats down there, and we'd return to travel torture, filth, noise, and overcrowding.
It's this quality of life element that you would never expect an economist and his spreadsheets to comprehend or factor into their tricksy Excel formulae.
But they have managed to calculate the potential tax gains, in some sort of parallel universe exercise where the plan to penalise those who WFH is implemented. And they estimate imposing a WFH tax in Germany would raise nearly £18 billion. The UK homeworkers would be paying around £7 billion into the pot, and in the US, the treasury would be looking at an extra £37 billion in its coffers.
Also on rt.com
Stop smoking, ditch the pyjamas, stay at your desk: how 'bossware' technology is secretly monitoring you working at home
If this ever amounted to anything, it would be a real kick in the guts for those of us who have spent years WFH, putting up with the snide "I see you're out of your PJs" remarks from fellow workers, and interruptions from offspring who consider every minute you spend indoors time you are free as a bird to argue, feed, and entertain them.
We pioneer WFHers have paved the way for wider acceptance from society. Don't believe those who claim things were heading that way anyway. They were not. And if most bosses could fill their office desks with Covid-free staff tomorrow, everyone would be back in an instant.
But we have made significant gains in our fight for recognition. The suspicions of inefficiency, of time-wasting, and of shirking have fallen away. Finally, in our struggle against prejudice, we are no longer automatically branded layabouts on the take, but instead regarded by many as valued contributors to the economy.
The idea of this tax, however, shows we still have some way to go. So kick off your slippers, change out of that sweatshirt, find an ironed shirt, and let's get organised. We could have a fight on our hands.
Think your friends would be interested? Share this story!
The statements, views and opinions expressed in this column are solely those of the author and do not necessarily represent those of RT.
You can share this story on social media: