Korma-gain? The word 'curry' proves too spicy for woke warriors who want it cancelled for connotations of British Colonialism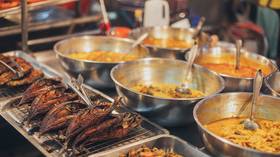 A California food blogger says the word 'curry' shouldn't be used to describe spicy-sauced dishes from Asia because of its colonial roots. But since everyone knows what the term means, I have a feeling this is a naan-starter.
Man, I don't know about you, but I could 'murder a Ruby'.
You know what I mean, right? A 'Ruby Murray': a curry. I like a bit of madras myself but the missus loves a korma. Sometimes I can handle a vindaloo, especially washed down with a fair few beers.
Also on rt.com
'What next?' Social media users livid as Californian food blogger tries to cancel 'curry,' claims name rooted in colonialism
Other nights – it's always nights, eating a spicy-hot Indian meal in the daytime is a sure sign of the curry amateur, or an iron gut – a dansak or balti is the way to go.
There's a myth that Indian meals are somehow Indian. They're not really. They're as English as Cockney rhyming slang. As British as fish 'n' chips or bangers and mash (that's sausages, mashed potatoes and gravy to the uninitiated). Yeah, curries tend to be made by folk of South Asian descent and it was made from their original ingredients but it was curried and blended to the English palette.
You'd struggle, for example, to find a decent chicken madras in the city of Madras (Chennai) from where it takes its name.
It all came from the evil colonial era for which all British people are now duty bound to apologize, to whip ourselves mercilessly for the sins of our forefathers. None of my relatives were part of the Raj though. But I must self-flagellate anyway, it's written within the New Law of Woke (updated daily).
The word 'curry' should be cancelled, and is plain old incorrect anyway. Take this lady, some food 'influencer' (i.e.: she writes a blog about food) called Chaheti Bansal. She's still young, at 27, maybe it's the youth that defines the difference between a bog-standard blogger and an 'influencer'.
"Curry shouldn't be all you think about when you think about South Asian food," she said. "The word curry does not exist in any South Asian language to my knowledge.
"Not in all cultures but specifically in Indian cuisine because I don't understand what that word means. There's a saying that the food in India changes every 100km and yet we're still using this umbrella term popularised by white people who couldn't be bothered to learn the actual names of our dishes. But we can still unlearn."
Historians reckon British officials misheard the Tamil word 'kari' that can translate to both 'blackened' and 'side dish'. Well, they also got 'Bombay' wrong – that was always actually a version of Mumbai to the locals. The Brits just used the Portuguese word for 'good bay'.
"South Asians can turn around and say, 'OK, if these British officers want curry, and I stand to profit, whether that's socially, politically, financially, then I set up a curry house,'" Ilyse Morgenstein Furest, an expert in South Asia at Vermont University, told NBC News.
Curries have been part of British culture since people of South Indian extraction moved to the UK and set up restaurants; sailors who had liked the food on their travels were the first customers. From the 1950s, restaurants sprung up to feed factory workers who had arrived from India.
Finally the average Joe and Joanne in the street realised they really liked the taste and 'Bob's your uncle' (the process was complete). Indian restaurants sprung up on every street, though they may have actually been Pakistani or Bangladeshi – nobody cared.
Also on rt.com
Why don't you get a JAB? What's gone wrong with rock 'n' roll when Offspring ousts drummer for… not getting Covid-19 vaccine
Ms Bansal, a California-based cook, added: "My partner is Sri Lankan, I have friends that are Malayali, friends that are Tamil, and yes they use the word curry. I enjoy their curry. Even their curry names have very specific traditional names paired with it, or it's referring to something very specific. But you shouldn't just lump all of our foods together under this term."
Well, exactly. But we will anyway, sorry. Sometimes my mates and I have a curry at a Chinese restaurant, and a Thai green curry is probably my single favourite meal in the whole world. And they actually DO make those in Thailand? As always with this dumb rewriting of the cultural imprint on the English language, it's just the usual woke nonsense.
Think your friends would be interested? Share this story!
The statements, views and opinions expressed in this column are solely those of the author and do not necessarily represent those of RT.
You can share this story on social media: