Why don't you get a JAB? What's gone wrong with rock 'n' roll when Offspring ousts drummer for… not getting Covid-19 vaccine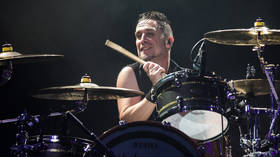 Even parking a Rolls Royce in a swimming pool didn't get Keith Moon sacked as drummer for The Who. But that era is done. And you know it must be over when The Offspring fire their drummer for refusing to get a Covid-19 jab.
Crusty old rockers like Eric Clapton know what it's all about, even after more than half a century on the road and untold riches. 'Rock' music is, or it should be, about rebellion. Non-conformity. And, most of all, RAGE. Rage against the machine, parents, school, the dole queue and crap career prospects, rejection, unrequited lust – whatever.
A healthy blast of anger or outrage gives many of the best tunes their juice. And, surely for every generation, there must be SOMETHING to be furious about. There must be something to RESIST.
It seems not. Not even Covid-19, awful political leadership and interminable lockdowns. Being in a band these days is a career choice the same as any other, with the same kind of corporate responsibilities that you might have when working for Google or Morgan Stanley bank.
Especially, for example, when it comes to getting coronavirus jabs.
Take Offspring. You may well know their tune 'Pretty Fly (For A White Guy)' and its opening refrain: "Give it to me baby, uh huh, uh huh!" The song is, I think, about a white bloke from Nebraska who thinks he's a black gangsta rapper 'Straight Outta Compton', LA.
There are LOADS of those people around these days, even more so now than in 1998 when that song was in the charts. They also had a hit with 'Why Don't You Get A Job?'.
Well, their drummer Pete Parada needs a new job now. He says he has been dumped by the band for – wait for it… refusing to get a Covid-19 vaccine. Rock 'n' roll baby! Those corporate rock wheels can't keep on rollin' without lots of lovely cash to grease their solid gold bearings.
Parada, in an Instagram post, explained how he had already had Covid-19 and was advised not to get the jab by his doctor due to his medical history. "Since I am unable to comply with what is increasingly becoming an industry mandate, it has recently been decided that I am unsafe to be around, in the studio, and on tour," he said. "I mention this because you won't be seeing me at these upcoming shows. I also want to share my story so that anyone else experiencing the agony and isolation of getting left behind right now knows they're not entirely alone.
"I need to state, unequivocally, that I support informed consent which necessitates choice unburdened by coercion. I don't find it ethical or wise to allow those with the most power (government, corporations, organizations, employers) to dictate medical procedures to those with the least power."
Personally, I think anti-vaxxers are dopes. But this dude doesn't sound like an anti-vaxxer to me, he actually sounds mildly rock n' roll. Free will, and all that. Plus, well, he had the dreaded virus already and it didn't kill him. A similar thing happened to UB40 singer Matt Hoy.
Also on rt.com
I think anti-vaxxers are nuts, but I HATE the fact I can't travel or even work without the jabs
It's all about the business though, you see. Loads of venues will demand proof of vaccination before letting concertgoers into a gig.
However, that didn't stop old-school rocker Eric Clapton from taking a stand. Clapton stated publicly that he wouldn't play at venues that require this proof: "I wish to say that I will not perform on any stage where there is a discriminated audience present. Unless there is provision made for all people to attend, I reserve the right to cancel the show."
Clapton could, I guess, have in the back of his mind the discrimination and segregation in the Deep South of the US, where the blues music he adores – and which gave him his living – was born. He then pointed to a link to his anti-lockdown song with Van Morrison, 'Stand and Deliver'. The non-vaccinated will be segregated out too.
Clapton reacted after British PM Boris Johnson said only the fully vaccinated would get by the doormen at nightclubs and music venues where a mass of people gather. "Your name ain't on the vac-list, mate, you ain't gettin' in." Clapton, though, isn't actually scheduled to play any gigs in the UK until May 2022. By then, this argument may have been put to bed by mass vaccination and herd immunity. But still, at least 'Slow Hand' actually took a stand. Taking a stand often means less cash, less adulation.
Also on rt.com
Guitarist Eric Clapton says he'll CANCEL shows at venues that 'discriminate' by requiring vaccination
The Rolling Stones go back on tour in the autumn and it's not clear if the ancient rockers have yet had both their vaccines – Mick, Keith and Ronnie are all in their 70s and Charlie Watts is 80. Even relatively new bass player Darryl Jones is 59. They would all have been first in the queue. Charlie won't be playing the US gigs due to a health issue.
Fans who bought tickets for their 'No Filter' tour, postponed by the pandemic, would be able to use them to get into the new shows. But… what if those fans don't have their name on the vac list, is Buster Bruiser on the door gonna let them in? Unlikely.
Plus, Mick Jagger doesn't think much of the anti-vaxxers. He even wrote a tune about it with Foo Fighters frontman (and former Nirvana drummer) Dave Grohl. Jagger sings "shooting the vaccine, Bill Gates is in my bloodstream" – a dig at conspiracy theorists who think it's all a ploy by the Microsoft frontman to log their every thought and bowel movement. The Foo Fighters, by the way, required concertgoers to prove they'd been double-jabbed before they could get into a recent sold-out gig at Madison Square Garden in New York City.
Former Oasis guitarist and songsmith Noel Gallagher railed against face masks and initially resisted getting the jab then, err, got one anyway.
It's all a bit soft, isn't it? Bland. Corporate. Dull. Where has that spirit of rebellion gone? Every other day I read about some rocker or rapper I have barely even heard of getting cancelled for something or other.
A punk rock style revolution is long overdue, if the rowdy rebels can make it through the self-censorship minefield or don't get cancelled by the woke mob for using the wrong pronouns.
I guess this is just the way it has to be with Covid-19, if the doorman at the club you're about to play won't let the drummer in because he's not been double-jabbed, what do you do? Take a stand or… just sack the drummer? If you're The Offspring, you ditch the man with the sticks.

Like this story? Share it with a friend!
The statements, views and opinions expressed in this column are solely those of the author and do not necessarily represent those of RT.
You can share this story on social media: