Joe Biden invoking his son Beau's death shows how out of touch he is with the consequences of his decisions as commander-in-chief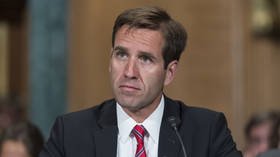 Six years ago, Beau Biden tragically died of brain cancer. In the intervening time, his honorable, but normal, service in the Delaware National Guard has been transformed by his dad into a myth insulting to real combat veterans.
One of the toughest jobs a president of the United States has is his role as commander-in-chief. Ordering the men and women who wear the uniform of the US military, and who have taken an oath to uphold and defend the Constitution of the United States against all enemies, into harm's way is no small thing.
This task is only exceeded by the need to explain this decision to the people and, more importantly, to the families and loved ones, following the death of one or more service members while carrying out the president's orders.
Joe Biden was called upon to carry out this daunting task when, on August 26, a suicide bomber took the lives of 13 US servicemembers while they were processing Afghan civilians as part of the evacuation out of Kabul, ordered by him on August 12. In a televised address to the nation, Biden praised the 13 fallen servicemembers as "heroes who have been engaged in a dangerous, selfless mission to save the lives of others."
The president then invoked the memory of his dead son, Beau, without mentioning his name. "Being the father of an Army major," Biden said, "who served for a year in Iraq and, before that, was in Kosovo as a US attorney for the better part of six months in the middle of a war... when he came home after a year in Iraq, he was diagnosed, like many, many coming home, with an aggressive and lethal cancer of the brain... who we lost." Beau Biden served in the Delaware National Guard where, in 2008-2009, he deployed to Iraq as part of Operation Iraqi Freedom. Beau died in 2015 from brain cancer.
During his campaign for president in 2020, Biden often spoke of his son's military service. One of the more memorable occasions came in September 2020, when The Atlantic published an explosive article accusing then-President Trump of calling fallen US servicemembers "losers and suckers" (many details of The Atlantic's story have since been debunked.)
Joe Biden was quick to attack Trump, again using Beau's service as a foil. "When my son volunteered and joined the United States military as the attorney general and went to Iraq for a year, won the Bronze Star and other commendations, he wasn't a sucker," Joe Biden responded, adding: "The servicemen and women he served with, particularly those who did not come home, were not 'losers'."
Also on rt.com
Biden doubles down on Afghanistan exit 'triumph' in belated, recycled and rambling speech
In an interview with ABC News that aired on August 20, Joe Biden again brought up Beau's service. When asked why the US could not have withdrawn from Afghanistan with dignity, Biden invoked Beau's service in a manner which sought to equate it with the present circumstances. "Look," Biden said, "that's like asking my deceased son Beau, who spent six months in Kosovo and a year in Iraq as a Navy captain and then major – I mean, as an Army major. And, you know, I'm sure he had regrets coming out of Afghanistan – I mean, out of Iraq. He had regrets to what's, how, how it's going. But the idea… what's the alternative? The alternative is why are we staying in Afghanistan? Why are we there?"
This effort to portray Beau Biden's service in Iraq as equivalent to what was transpiring in Afghanistan is not only factually flawed – when Beau returned home in 2009, he was not part of a defeated cohort returning from a lost war – but off-putting to many men and women who have served in Afghanistan. Many of them, together with their families, took umbrage at President Biden's glorification of his son's service at the expense of their own.
Mark Schmitz, the father of Marine Corps Lance Corporal Jared Schmidtz, one of 13 US servicemembers who died in the suicide bomb attack, noted that Joe Biden repeatedly brought up Beau during their meeting at Dover Air Force Base, where the remains of Jared and the other fallen had been returned to the United States. "When he just kept talking about his son so much it was just… my interest was lost in that. I was more focused on my own son than what happened with him and his son," Schmitz said. "I'm not trying to insult the president, but it just didn't seem that appropriate to spend that much time on his own son."
Beau Biden was commissioned in the Delaware National Guard at the age of 34. As a lawyer, Beau received a direct commission into the Judge Advocate General (JAG) Corps. The required training for this role amounts to around 18 weeks of training, most of which is academic, familiarising oneself with military law – although rudimentary military skills such as weapons handling, land navigation, and basic tactics are also covered. Beau successfully completed this training and was commissioned as a first lieutenant in 2003.
Beau was elected as Delaware's Attorney General in 2006. In 2008 his National Guard unit, the 261st Signals Brigade, was mobilized for service in Iraq. The Brigade deployed 110 of its members to serve as the headquarters element of what was known as the 261st Theater Tactical Signal Brigade, which comprised National Guard soldiers from other states along with some active-duty Army personnel. Beau's unit was based in Camp Victory, a sprawling compound that encompassed Saddam Hussein's Al-Faw Palace building and grounds.
Also on rt.com
'BURN IN HELL': Families of slain troops RAGE at Biden as Facebook suspends grieving mother after angry posts aimed at president
As an assistant staff judge advocate assigned to Headquarters and Services (H&S) Company, Beau Biden's actual workload was primarily administrative in nature. The brigade was tasked with providing command and control to assigned and attached units through the supervision of the installation, operation, and maintenance for theater communications systems. Put simply, the 261st Theater Tactical Signal Brigade was not a frontline combat unit.
As a result, the brigade, and therefore Beau, did not experience direct combat; no members were killed or wounded during their Iraqi deployment – a good thing. In an award ceremony at Al-Faw Palace in August 2009, five senior members of the 261st Brigade were presented
with the Bronze Star Medal for meritorious service. These included the brigade commander, Brigadier General Scott Chambers, a colonel, two lieutenant colonels, and the command sergeant major. "We have a lot of additional awards that will be presented at a later date to other members of the Task Force," Chambers said at the time. One of those awards was a Bronze Star Medal presented to Beau Biden.
It is not uncommon for the Bronze Star Medal to be awarded for meritorious service in a combat zone. Indeed, of the 102,345 Bronze Star Medals awarded during Operation Iraqi Freedom, only 2,459 were for acts of heroism. The remaining 99,886 were awarded for meritorious achievement. What Beau Biden did in Iraq to warrant the awarding of a Bronze Star Medal is not yet public information. But the fact that Biden was a captain at the time, and was handed the same award as his commanding general, implies that whatever service he provided had to have been spectacularly above and beyond what would normally be expected of a junior officer serving in a largely administrative capacity. What is certain is that it was not an act of valor.
All this begs the question as to why Joe Biden would continuously exaggerate Beau's Iraq service. Implying that the Bronze Star Medal was anything other than an inflated award for the normal performance of administrative duties given to the son of a sitting vice president is fanciful. Suggesting it could be linked to any action that resulted in anyone Beau served with in the brigade not coming home – 110 members of the 261st Brigade H&S Company deployed to Iraq in 2008, and 110 returned home in 2009 – is a fantasy.
The extent to which Beau Biden's service as a National Guard lawyer has been turned into a near-mythical experience cannot be understated. After his death from brain cancer in 2015, Army Chief of Staff Ray Odierno spoke at Beau's funeral service. "Beau Biden possessed the traits I have witnessed in only the greatest leaders," Odierno said. "Frankly, he was selfless to a fault. He had a natural charisma that few people possess." That a staff judge advocate of a National Guard unit could be lionized in such terms goes beyond parody, touching on a level of sycophancy exceeded only by Odierno's posthumous award of the Legion of Merit, an award normally reserved for general officers and colonels for exceptionally meritorious service.
Also on rt.com
The US will not cease its efforts to 'remake' other nations, the idea it is its mission to 'save' the world is etched into its DNA
The State of Delaware continued in this vein, awarding Beau the Delaware Distinguished Service Medal and the Conspicuous Service Cross, the highest honors the Delaware National Guard can present. Either Beau Biden was the military's greatest lawyer, or these awards were given solely because of his last name. The hero worship continued with Governor Markell naming Delaware's Armed Forces Reserved Center after the Delaware National Guard's most accomplished lawyer.
Shortly before his death in 2015, Beau Biden announced his intent to run for governor of Delaware. There can be little doubt that his exaggerated exploits during Operation Iraqi Freedom would have factored prominently in his campaign. After Beau's death, Joe Biden built on the legend he had created about Beau's life and accomplishments as the centerpiece to a memoir entitled 'Promise Me, Dad', based upon a conversation between Joe and Beau that may or may not have occurred, given Joe Biden's track record of imagined encounters.
This is the crux of the problem with Joe Biden's Beau complex. Unable to find solace in the simple fact that his son volunteered to serve honorably in a war zone when so many other Americans did not, Joe Biden felt the need to create in Beau what he himself lacked – a persona of larger-than-life military-style leadership and courage. Biden is famous for padding his own resume. But for veterans and active duty servicemembers alike, the exaggeration of Beau Biden's military accomplishments is a slap in the face for those who did put it all on the line in a capacity other than being the coddled son of a sitting vice president.
For those servicemen and women who stepped up to the line in a combatant capacity and met the enemy head-on, often paying the price with life and limb, to have a president burnish his own credentials on the strength of the pumped-up legacy of his deceased son goes beyond pathetic; it is insulting. The same holds for the families and friends of the fallen. As commander-in-chief, Joe Biden has a duty to honor those who fell carrying out orders he issued, and not use their sacrifice as another opportunity to promote the manufactured legend of a long-departed son.
Think your friends would be interested? Share this story!
The statements, views and opinions expressed in this column are solely those of the author and do not necessarily represent those of RT.
You can share this story on social media: