US and China are now battling for control of the world's big-data monsters and dragons – and it's not about money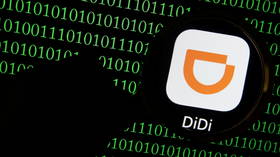 As the tech war between the United States and China heats up, the political controversy between who ought to own and control 'big data' has similarly ignited, and is now about to land a bombshell on Wall Street.
When Didi Chuxing, China's ride-hailing giant, launched its mega US IPO earlier this summer, it seemed like the perfect statement of what China hoped to achieve: a mega successful firm drawing in billions in foreign capital to propel its way upwards as a global brand.
Listing in New York City was the firm statement that the Beijing-based company had "made it" on the world stage, right? Despite the Trump and Biden administration unleashing a litany of "investment bans" targeted at Chinese companies of strategic interest which would force some firms to delist, Didi was standing strong, and the moaning of hawkish US senators like Marco Rubio, who objected to it, were seemingly dismissed as an irrelevance.
One might be forgiven for thinking that, in the midst of the US-China tech war, in which the US has sought to block the rise of Chinese technology and software on the global stage, this is precisely the kind outcome Xi Jinping wanted. A firm statement of China-led globalization, against the inwards and isolationist US, so lacking in confidence that it wanted to push Beijing out. Not quite.
Also on rt.com
China gives green light to new law protecting personal data amid privacy violation concerns
It's staggering to think with the massive regulatory crackdown by China's ruling party against big tech, that somehow Beijing and Marco Rubio are in fact, on the same page here.
Both don't want Chinese firms to list in the US and both see it as a threat to "national security" (albeit from different angles). Just about two days after the stock made its US debut, Beijing ultimately responded by ruthlessly purging Didi and banning new downloads of the app, stating it hadn't coordinated with authorities before it pushed for its listing.
Now, there is speculation that China might be prepared to restrict the overseas listings of such firms altogether. It cites data privacy. This is a curious argument to have, because on the flip side of the coin we've seen how such arguments have also been used to politically discredit Chinese firms themselves, such as Trump's unsuccessful attempt to ban TikTok and WeChat. The argument was the same: "it puts the private data of our users at risk."
The world we know today is a world of big data. These monopolistic services we use every single day, such as Google and Facebook, see information about us as a commodity, something to sell to advertisers as an astute way to perfectly target people down to the most minuscule detail and flog their products, too. If you like, 'we' the users are their product. This practice has become extremely controversial in tandem. As a signature example of how it works, google-search a particular product or thing and you'll find ads for it appearing on Facebook, or vice versa. Creepy, right? Yet, it's perfectly legitimate.
This is where geopolitics seeps in, big time. The Cambridge Analytica scandal of just a few years ago reminds us that this isn't just about making money, it's also a question of who else gets to see this data, who controls and regulates it, and how else it is used. Unfettered access to private information on millions of people is a critical resource which, it is argued, can be used for all kinds of nefarious political ends. It's now claimed in both Washington and Beijing that data is a "national security threat" of sorts: "What could our adversary find out about our population? What could they do with this information?"
Also on rt.com
China combs through online content that 'bad-mouths' its economy
China, of course, has more precedent on this than the US, which often uses this claim opportunistically while not seriously reining in its own big tech anyway. Beijing has long invoked what it calls the principle of "internet sovereignty"– whereby it states that a government has a national right to fully control the internet within its own domain, which of course involves censorship, too, and seemingly as its own social media ecosystem has developed, this premise has extended to sovereignty over personal data too. If Americans are perceived to have access to the personal data of over a billion Chinese people, it's a threat to national security.
Thus, if Chinese companies have access to personal data, then China is committed to regulating it in two capacities. Firstly, to prevent anti-monopolistic practices, it does not deem the rise of another "google" or "facebook" to be in the national interest. Secondly, a seemingly new-found principle is that no foreign investor should have a right to access this data. That is not to say that foreigners "cannot" invest in these companies, but certainly that they should not have access to such critical information in the process of doing so. That is, if you want to invest, you do it via China's rules, in China.
This process has undoubtedly been exacerbated by the growing mutual distrust between Washington and Beijing. It is an inevitable aspect of their technology war, a reminder that advocating tech decoupling is not a one-way process whereby it is simply Washington that throws China out, but works more so as a cycle, wherein growing hostility increasingly renders some form of engagement untenable. Thus, Beijing sometimes wants to throw America out, too. After all, it is no secret that tech firms based in the United States have a legal obligation to coordinate with the national security agency and hand over data.
Also on rt.com
Beijing blasts American exploitation and coercion as Huawei executive Meng Wanzhou's detention reaches 1,000 days
China never faced this problem until its own internet giants became global. Thus, Beijing seemingly sees a growing vulnerability in leaving its own population so readily exposed to potential US surveillance and snooping, especially if its own big-tech firms are being handled on Wall Street. But China could also be eyeing more value in foreign capital coming to its own firms within China, as opposed to in New York City, putting its national interest above the interests of a company. In a nutshell, though, China is invoking tougher sovereignty over its big tech and it's not a question as to how much money they can make. Thus, this push to "delist" firms from Wall Street unusually becomes a mutually desirable and reinforcing cycle.
Of course, the media do have a vested interest in pushing negativity about this, so it remains to be seen how far China will push these firms regarding delisting as it reshapes its regulatory environment, but it's hardly great news for Wall Street.
Think your friends would be interested? Share this story!
The statements, views and opinions expressed in this column are solely those of the author and do not necessarily represent those of RT.
You can share this story on social media: