'I was thrown in jail and a mental institution, then deported from Singapore… for not wearing a Covid-19 mask'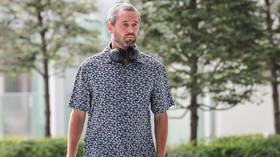 Don't like wearing masks? Neither does Benjamin Glynn. But his refusal to wear one, on account of his failure to accept Singapore's right to make them legally mandatory, saw him treated like a terrorist, as he tells RT.
The return leg of Benjamin Glynn's daily commute turned his life upside down. Violent arrests, a prison sentence and time in a mental institution followed, but he vowed, "I would do it all again, I don't regret anything."
Living in Singapore, the Brit and his partner decided to return home with their two kids, booking flights for May 31. On keen runner Glynn's final day at work, he went for a run with colleagues, followed by a few drinks. On the train home, a passenger videoed him not wearing a Covid mask – contrary to the local rules – and uploaded it to citizen journalism website Stomp.
Twenty-four hours later, he said, the police knocked on his door, demanding he come to the station. Glynn said, "I was happy to have a chat with them. I just thought it would be a conversation and I could go talk to them on the Monday, but they insisted they had to take me then. I objected to that, as it was so late; it was my daughter's fifth birthday. But that's when the nightmare began."
According to Glynn, things turned ugly, and officers used batons which led to an ambulance being called as he was, he says, bleeding from his knees, elbows and shoulders.
Glynn recalls he spent the rest of the weekend in holding cells, which he described as "horrendous." There was a concrete floor with no bedding and the lights were on constantly. Tiredness saw him hallucinating. He was finally granted bail.
The rest of the family flew to the UK, but he had to remain for a scheduled court date on July 23. And worse was to follow. He explained, "On July 19, five of them [police] came bursting into my room. I hid in the bathroom and recorded it on my phone. They gave me no choice and dragged me out."
It was at this point things turned "quite dark," Glynn claims. Bail was revoked; Glynn was back in the concrete police cells and then transferred to Changi prison, he said.
"I'm probably the only person in the history of Singapore who was happy about going to prison. I thought it can't be any worse. But I still had no bed, it was a thin bamboo mat on the floor and itchy blanket," he recalled.
Throughout all of this, Glynn insists that he had been clear – he admitted not wearing a mask on the train. But by now he was facing four charges; two of not wearing a mask, one for being a public nuisance and one for using threatening language to the police.
His account continues: "I admitted the whole time that it was me not wearing a mask. My defence was based on the law and who has jurisdiction over who. Is it a criminal action or is it a civil regulation breach?"
He accepts that employers have the legal right to tell their staff to wear masks, but does not agree the state can issue such demands legally. However, Glynn believed that, as a foreigner, he was exempt from Singapore's laws on wearing masks.
Several of his comments in court attracted attention, wrongly, he believes, giving the impression he wasn't taking his predicament seriously. That, Glynn points out, was despite him attending some appearances in handcuffs, ankle bracelets and while chained to a chair.
He added, "I was quite aware of the law and what a crime is, and isn't. But I just assumed that because Singapore was a British colony and the British set up their legal system, they would have some respect for common law. But it turns out they have absolutely zero recognition for the living man or living woman."
Also on rt.com
UK citizen set to be deported from Singapore after being handed prison sentence for refusing to wear a mask
Glynn alleges that asking the judge three times at one hearing to name which law states the public must wear masks seemingly angered the authorities, and that he was sent to the Institute of Mental Health for psychiatric assessment.
That was even tougher than Changi prison, where at least he was able to read and have personal items, the British expat said.
About that hospital stay, Glynn said "It was a horrible cell with a small grille, no windows, and I wasn't allowed anything – no toilet paper, books or toothbrush. I just had two weeks of staring at a wall in the isolation ward, where the really poorly people with mental problems are.
"This is how they deal with people who challenge their legal system and government, but it's not just in Singapore," the Briton alleged, "I'm sure people in other countries have also been accused of having mental problems if they refuse to comply with the Covid regulations."
Throughout the process, Glynn says, the judiciary offered him deals to plead guilty. But Glynn refused them all, explaining, "That's not really how justice works, you don't condemn someone to prison before the trial and sweet-talk them out of it."
In the end, he was found guilty on all charges but had served enough time, so was deported a few days later. And even that became a saga, he says, because as he was brought to the gate in shackles, KLM – with whom Glynn had bought his original ticket – refused to take him. Singapore Airlines did the same, but the British High Commission said he could travel on British Airways.
The nightmare ended when the British jet's wheels touched down at Heathrow, but Glynn feels he has been unfairly portrayed, particularly given that what sparked the secret video was him assisting an elderly gentleman onto the train, who had been struggling to breathe in his mask, he claims. After helping the man to a seat, Glynn was approached by others about not wearing one himself. "I've been treated in my opinion like some sort of terrorist and as a criminal," he believes.
Also on rt.com
Fukushima nuclear plant to construct UNDERSEA tunnel to release a million tons of treated water
While he would not wish to relive the incident, Glynn does feel it exposed bigger issues. He said, "It was unfortunate but I was standing up for my rights. I don't believe in wearing masks. I stood up for my rights not to wear a mask, which is recognised in every major country apart from Singapore by the sounds of it. My case has highlighted a lot of unfairness in the Singapore legal system."
And, while he claims he had been "psychologically tortured," he's keen to put it behind him, saying, "I'm not some crazy freedom fighter who wants to neglect my family or my career to keep on doing this."
Glynn has been lambasted in some quarters but has also received lots of messages of support. So, what does he take away from this bizarre experience?
"I think it showed Singapore is not safe, and the police have no respect or regard for human rights," he said.
After spending a week in the countryside since returning home, Glynn appears relaxed and ready to move on. He admitted, "It's just so good to be back on English soil and the land of the free."
Think your friends would be interested? Share this story!
The statements, views and opinions expressed in this column are solely those of the author and do not necessarily represent those of RT.
You can share this story on social media: