Schrödinger's terrorists: Washington warmongers suddenly worried about Al-Qaeda and ISIS, amid Afghanistan agony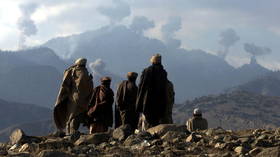 The US political establishment has suddenly rediscovered an interest in terrorist groups such as Al-Qaeda and ISIS-K, either as a cudgel to beat the White House with over the escape from Kabul, or an excuse to stay in Afghanistan.
The Biden administration can't seem to decide whether Al-Qaeda has been effectively eliminated – as President Joe Biden himself argued – or may still be in Afghanistan but not in numbers "significant enough to merit a threat to our homeland," as the Pentagon spokesman John Kirby put it recently.
Either way, the White House says, it's time for the US to leave Afghanistan – something most Americans don't actually disagree with, but have many questions about the way it's being done.
Also on rt.com
Biden says US & allies 'stand shoulder to shoulder' on Afghanistan – would not reveal how Americans get out of Kabul after Aug. 31
While brushing off Al-Qaeda, Biden has brought up another terrorist group, the so-called Islamic State Khorasan (ISIS-K). It is believed to be an offshoot of the Pakistani Taliban that pledged allegiance to Islamic State (IS, formerly ISIS) declared in Syria and Iraq in 2015. However, with that "caliphate" collapsing by the end of 2019, the group faded from attention.
Now Biden is bringing them up as a potential threat to thousands of US troops stationed at the Kabul airport, and a reason to speed up the evacuation and leave by August 31.
Meanwhile, both his supporters and his critics in the US media establishment are suddenly interested in Al-Qaeda again. "Afghanistan, Again, Becomes a Cradle for Jihadism–and Al Qaeda," blared the New Yorker on Monday. "Here's how the Taliban takeover of Afghanistan could affect al-Qaeda and the Islamic State," was the title of a Washington Post explainer.
Also on rt.com
NATO's vow to 'fight terrorism' while abandoning weapons to the Taliban is straight out of 'Police Academy' comedy, Moscow quips
Obviously, the neocon Dispatch would harp on about this – they're the people behind the original 'Global War on Terror' after all. Yet here's also the Daily Wire, running an opinion piece by a "counterterrorism and emerging technologies expert" and former Deloitte executive, arguing that "Biden just made the next 9/11 more likely." What gives?
The US invaded Afghanistan in 2001, claiming that the Taliban were allegedly providing sanctuary for Al-Qaeda, blamed for masterminding the 9/11 terrorist attacks in New York and Washington. By the end of that year, having failed to find Osama Bin Laden, the US mission shifted to "nation-building" and preparing for the invasion of Iraq. The Bush administration claimed Baghdad had "weapons of mass destruction" it was willing to share with Al-Qaeda, but that was a lie in every respect. Their invasion of Iraq in 2003 actually caused Al-Qaeda cells to arise, with one faction morphing into ISIS a decade later.
An Al-Qaeda presence was also cited as a pretext for US drone attacks and incursions into Yemen, as well as support for the disastrous Saudi-led invasion of that country on the Arabian Peninsula, which began in 2015 and is still ongoing.
Wrong — the biggest boost to Al Qaeda was all the international support given to the Al Qaeda-laced "Syrian rebels." The Al Qaeda affiliate in Syria had many more Al Qaeda fighters than in Afghanistan. https://t.co/PhbDF7xzpp

— Max Abrahms (@MaxAbrahms) August 24, 2021
Meanwhile, the US ended up allied with Al-Qaeda affiliates in Syria, presenting them as "moderate rebels" against the government in Damascus it sought to overthrow. When the Russian intervention turned the tide of that war, the US set up a Kurdish-led militia to fight IS instead.
Today, the "moderates" are basically a proxy force for NATO member Turkey, reduced to only a part of Syria's Idlib province. Ironically, this is where the IS leader al-Baghdadi was hiding when he was tracked down and killed by US commandos in 2019 – just like Bin Laden turned out to be in Pakistan in 2011.
There were no calls to invade or bomb the nuclear-armed Pakistan, of course, just as there were no calls to invade Idlib. Quite the contrary, the US has championed "humanitarian aid" for the province and sought to block any push by Damascus to reintegrate the territory, still hoping for regime change in Syria.
Also on rt.com
Western powers are using aid as a cover to keep a terrorist-ruled Syrian region afloat…just because it's anti-Assad
Biden's argument that the war in Afghanistan should have ended with Bin Laden's demise is objectively true. What makes it cynical, however, is that he's saying so now – and not back in 2011, or for the next five years he was Barack Obama's VP.
That's because there was still mileage to be had from the "global war on terror," even though its stated objective had been achieved by that point. The open-ended fight against "evil" has served as a pretext for the US to invade, bomb and occupy a number of countries around the world – and enrich the Pentagon contractors in the process. That's why one can't resist the impression that all this talk about ISIS-K and Al-Qaeda right now is just an excuse – first for leaving Afghanistan and then for sending in drones and special forces later.
ISIS-K is invoked to justify Biden's withdrawal deadline and will later be used to explain why US military must maintain a presence via drone/proxy/special forces https://t.co/3MwtSSPXIE

— Max Blumenthal (@MaxBlumenthal) August 24, 2021
Like the proverbial cat the physicist Erwin Schrödinger used to illustrate a concept in quantum physics, these terrorist groups are both real and phantom menace at the same time. One moment they are irrelevant, the next they are a serious threat; both on the brink of defeat and suddenly everywhere – but always a justification for more "defense" spending, more spying, more war, more empire.
Biden's botched bug-out from Afghanistan won't change that one bit.
Think your friends would be interested? Share this story!
The statements, views and opinions expressed in this column are solely those of the author and do not necessarily represent those of RT.
You can share this story on social media: