OnlyFans' incoming porn ban isn't a victory for morality, it's just a bad business decision as someone else will pick up the slack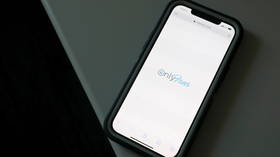 After the subscription site announced it will ban porn in October, some are celebrating it as a mainstream rejection of porn. In reality, someone else is going to fill that space, because our culture still craves adult content.
Whether people like it or not, pornography is a big business in the modern day. It's impossible to count the number of adult websites out there, and sex work of all types continues to be popular in the digital space. With the invention of the website OnlyFans, many adult performers, from porn stars to cam girls to erotic cosplayers, found a new way to gain revenue for themselves by charging for a more personal style of explicit material. That may change for many of them very soon.
Starting in October, the company is going to stop creators from posting material with sexually explicit content on the website. Nudity is still allowed, provided it's consistent with the new policies. The website has over 130 million users and saw a ton of growth during the pandemic when single and lonely people weren't able to go out and find partners. Republican Arizona Representative Paul Gosar applauded the move, and Reddit's r/NoFap did as well.
Also on rt.com
Dirty money? OnlyFans to ditch sexually explicit content to please skittish investors
However, if they think this is going to be the catalyst for mainstream porn rejection, they've got another thing coming.
Though I'm no fan of the porn industry, I'm not going to pretend that I don't understand its appeal and financial success. Sex sells, and this is one of the most literal applications of that phrase short of actual prostitution (which isn't known as the 'world's oldest occupation' for nothing). Given how much people seem to either enjoy the content or simply just get addicted to it, there's no way that this is going to really benefit the culture. The main reason being that someone else is just going to pick up the slack.
As of right now, it wouldn't surprise me if there are websites out there that are looking to appeal to the sex workers that have been making money hand over fist by selling their own sexually explicit content. More than likely, someone out there with coding experience and a desire to get into the adult industry is already crafting a brand new website that does everything that OnlyFans did before it decided it wanted to try to attract outside investors.
Also on rt.com
Founder of Russian feminist punk protest band Pussy Riot reveals new career as dominatrix & joins OnlyFans to sell raunchy snaps
The thing about American culture is that we don't really see these sorts of things as negative. Cultural shifts are not brought about just because one website decides to change direction. We Americans have a relatively free market, and as such it's not hard for another business to start up and pick up the slack that somebody else is dropping. Americans as a whole would have to start rejecting the idea of even watching pornography in the first place for adult content demand to drop.
As a former Chicago denizen, the only event that I think compares to what would need to happen is the day disco died. People are going to have to start deleting their accounts en masse because they're sick of what's going to happen to them if they continue to indulge in these things. Right now we're just not sick of the excess, and that's something that needs to come organically. We may see a day in the future where people want to get back to a sense of emotional monogamy, but OnlyFans making a bad business decision is certainly not that day.
If you like this story, share it with a friend!
The statements, views and opinions expressed in this column are solely those of the author and do not necessarily represent those of RT.
You can share this story on social media: