Dirty money? OnlyFans to ditch sexually explicit content to please skittish investors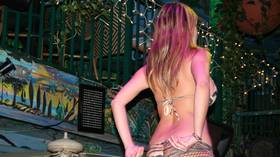 OnlyFans, the subscription site where users pay to receive (typically nude) photos and videos, has seemingly sabotaged its own market by announcing it will no longer permit sexually explicit content on its platform.
The platform, almost exclusively dedicated to sexualized photos and videos, has announced it will no longer allow users to post any "sexually explicit conduct" come October.
However, it said, creators will still be able to post nude photos and videos – as long as they are "consistent with OnlyFans' policy."
"In order to ensure the long-term sustainability of our platform, and to continue to host an inclusive community of creators and fans, we must evolve our content guidelines," OnlyFans told Bloomberg on Thursday.
Also on rt.com
'I don't want to say how much': Gamer becomes latest female star to admit she's coining it in through adult content on OnlyFans
The site, which has a whopping 130 million users, is not limited to pornographic content, but its name is synonymous with selling nude photos, and business has been booming – OnlyFans did more than $2 billion in sales last year. It's expected to more than double that amount this year, assuming the ban on sexually explicit conduct doesn't chill sales. The site receives 20% of each transaction, and some top creators are rumored to be making in the area of $20 million monthly.
Unfortunately for sex workers who've found a safe (or safer) place to ply their trade on OnlyFans, it's precisely that financial success that is throwing a wrench into the machine. The company is attempting to raise money from outside investors, valuing itself at $1 billion, and those investors – as well as its payment processors and other financial intermediaries – are apparently concerned about the stigma accompanying sex work.
It's unclear why they would invest in a site known for subscription-based pornography if they are spooked by sexually explicit conduct, but OnlyFans' "acceptable use policy" addresses countless possible legal issues, from the use of underage performers to the appearance of individuals who haven't consented to being filmed. Advertising or promoting escort services, prostitution, or sex trafficking is also banned, suggesting that OnlyFans is trying to avoid the fates of Backpage and Craigslist Personals, both shut down for allegedly promoting sex trafficking.
Also on rt.com
'The OnlyFans Championship!' Fans enthralled as combat queens VanZant & Ostovich face off ahead of bare-knuckle showdown (VIDEO)
The platform has attracted actresses, athletes, and social media influencers, along with 'regular' people who have found it a lucrative way to supplement their income without having to do any real work. The New York Post was criticized for exposing a paramedic's OnlyFans "side hustle" in December, potentially putting her job at risk during the Covid-19 pandemic, and sports stars have been mocked for taking to the platform only to make more money there than they might in a match.
Even Rachel Dolezal, the 'black' woman who infamously made 'transracial' a thing when she was exposed as having faked being black for a decade, has jumped on the OnlyFans bandwagon – though her decision to join on Wednesday seems particularly ill-timed, given Thursday's announcement. Dolezal's content as she describes it would still be allowed under the new rules, however, given the raciest thing she plans to post is apparently "foot pics."
Rachel Dolezal: I'm starting an only fans with things like foot pics! Only Fans not even 24hrs later: alright we are absolutely done with porn forever pic.twitter.com/unvXpWppo8

— Wes Gobar (@wgobar) August 19, 2021
It's not clear who will be placed in charge of drawing the line between 'sexually explicit' content and that which is nude but acceptable, given that one of the primary motivations for signing up to an individual's OnlyFans account is in hope of seeing the person nude or engaged in some sort of sexual activity. Many on social media questioned the site's longevity under such circumstances, likening it to other sites which flopped after making similarly drastic changes.
If you wanna know how bad this OnlyFans thing is gonna be for them, keep in mind Tumblr was valued at over a billion dollars in 2013 and right now is valued at less than 3 million.

— Fuya Kawahara Hate Club President (@mrfeelswildride) August 19, 2021
Like this story? Share it with a friend!
You can share this story on social media: