Forget Prince Harry's 'truth'… the real truth about his memoir is that it will ignore his startling, unearned privilege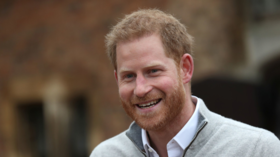 A new book from the Duke of Sussex promises to reveal all about his relationship with the royal family. While it may be 'his truth,' it will tell us nothing about the structural inequality that facilitates his wealth and power.
The news that Prince Harry is about to write his own book – a 'heartfelt memoir,' apparently – will surprise no one.
The British royal family are big business and the book will attract worldwide interest – particularly if the relationships Harry has with his family, the British press and his wife and children play a large part in his story.
Or rather than 'his story,' should that be 'his truth,' as Harry, Meghan and new best friend Oprah Winfrey might say? All, no doubt, relayed through a ghost writer to ensure he doesn't actually come across like the privileged fool everyone knows he is.
I'd also extend that description to the rest of the Royal Family, as I take no side in the civil war between the Duke and Duchess of Sussex and House of Windsor. At best, I find the royal family the circus to the ever dwindling bread the rest of us have access to, and at worst a cruel and nasty institution structuring the whole class system for all of the parasites below them to feed off the working class.
Also on rt.com
Are you calling us dumb? Proud Scots defend Dumbarton after Harry & Meghan reject royal title for their son
However, the most important point about Harry's foray into authorship is that it is another example of how rich and powerful people always get to tell their own stories, and those stories mostly go unchallenged, as it is 'their truth.'
As we all know, the individual narrative is king – the 'it's all about me' culture leaves no room for critiquing the structural and institutional nature of contemporary life. It's as if postmodernism, that much-maligned social theory – the tearing down of thought and critique about collective identities and recognising such things as specific class and power interests – has quietly been taken as a given.
As the late sociologist Ulrich Beck once wrote "we are the authors of our own biographies" – the old divisions and power relations that structure inequality can be overcome by a good story and 'telling your truth.'
This really hit home to me when I read Nicole Aschoff's 2015 book 'New Prophets of Capital'. As with all good books, the arguments have made an impact long after I finished reading.
It's worth recalling them when considering Prince Harry's new project and the fashion for the rich and powerful in 'telling their truth.' Aschoff shows how the elite tell the rest of us that 'anyone can become anything' – and we are supposed to transcend structural inequality and unfair disadvantages just by believing in ourselves, working hard and unlocking some sort of hidden talent most probably don't realise is even there.
It's the ultimate neo-liberal self-help fairytale, one that is personally destructive to the rest of us who have to live daily with injustice, inequality and being exploited by this ridiculous narrative.
I wonder how Prince Harry's story might go, as he can't really fit into the self-help narrative of rags to riches – rather his arc is more riches to riches. From royal palace to Santa Barbara mansion, the story doesn't really leave a lot of room for the rest of us to emulate in 'trying harder,' 'working harder,' or 'realising our potential.'
Instead, I think Harry's book will be an inversion of the Cinderella neo-liberal self-help story, with the message that even really rich, powerful, white men have feelings, too. They are just as sad and confused as the rest of us struggling with the pandemic, or poverty, or grief.
Also on rt.com
Is the Duchess of Sussex's new book, 'The Bench', really all that bad? Oh yeah, it's awful. Even my kids hate it
These stories of the personal struggles and real truths of the powerful – which purposefully turn a blind eye to all structural inequalities and unearned advantages – are the peak political statements we have in a contemporary Instagrammed and tweeted world, where every hardship can be airbrushed out and every complexity ignored.
A more worthwhile exercise would be listening to the 'truths' of Britain's working class. I have been collecting their stories of class inequality in Britain for 20 years, and until those experiences and narratives are understood and listened to, I have little time or interest in knowing another rich man's truth. Publishers out there should get off their arses and find the radical stories that can really enrich our society, and leave the Little Lord and Lady Fauntleroy stories to Hello! magazine.
Think your friends would be interested? Share this story!
The statements, views and opinions expressed in this column are solely those of the author and do not necessarily represent those of RT.
You can share this story on social media: