Is the Duchess of Sussex's new book, 'The Bench', really all that bad? Oh yeah, it's awful. Even my kids hate it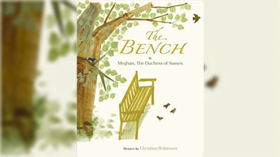 The first literary outing by Prince Harry's wife has been panned by the British press. But they were bound to hate it, because they hate her. But 'The Bench' is a kids book, so RT.com found a pair of junior literary critics.
"The Duchess of Sussex's semi-literate vanity project leaves Harry holding the baby."
Ouch! This is, quite possibly, the most brutal and scathing book review I've ever read.
Also on rt.com
'Woke McCarthyism' or right decision? Telegraph sacks columnist after her 'racist' joke about Harry & Meghan's baby sparked furore
But it was to be expected, I guess, as that was in the Daily Telegraph and the Telegraph is just about as establishment an organ as you get in the UK, alongside The Times.
And did The Times like it, then? Nope. Their reviewer said the book was "lacking a good story and basic rhythm... Rather than entertainment for children, this reads as a self-help manual for needy parents."
The British press truly despise the Duchess of Sussex, nee Meghan Markle, though. They're not exactly her audience. It's hard to sit on the fence – on the bench even, if you will – when it comes to Prince Harry's wife.
I like to think of myself as a live-and-let-live, liberal kinda guy. I have never met Ms. Meg and have no reason to dislike the woman. Frankly, I don't give half a damn about her or her husband. Yet, it does seem to me that she's trying to monetize the monarchy and the fact she married some dopey Prince kicked open a vast number of doors – career opportunities.
Here's the thing though, the monarchy doesn't belong to her nor Prince Harry. It doesn't even belong to the Queen, though she is about as good as a modern monarch can ever be. There'll never be another.
It belongs to the British people. So, Meg is kinda creaming – freeloading – off of us all.
Also on rt.com
'Utter scum': UK journalist slammed for suggesting Harry & Meghan should have named baby after George Floyd
But, then again, what else is she supposed to do – be a puppet or a slave? Marrying into the Windsors is the same as entering a cage, it's spangly and made of solid gold. But it's still a cage. She must have known what she was getting into though, right?
On balance, I am more irritated by the ginger Prince himself these days. He's like that old mate, you know? The guy who used to be first in the pub and first to buy a round, the first to slam back a tequila. And the first to make a dodgy joke or off-colour comment, maybe dress up as a Nazi – for a laugh – that sort of thing.
Then this old mate, this fun guy – one of the lads – he met his vegan future wife at Glastonbury or somewhere and 'poof!' The bloke went up in a puff of woke smoke. Never to be seen again.
Prince Harry is a former military man who flew an Apache helicopter and killed people – presumably brown-faced people – in Afghanistan. This old soldier has fallen face first into that pile of perilously fascist woke dung, as have so many others in recent times.
Meg, it seems to me, currently keeps Prince Harry's balls in her purse. But that's his fault, not hers.
Also on rt.com
Candace Owens tells 'special snowflake' Naomi Osaka to quit tennis… only to backtrack after star withdraws from French Open
Anyway, how to get an unbiased opinion of this book then? That's not an easy task.
I have two kids. It's a kids' book. They haven't heard of Meg nor Prince Harry. On account of not living in the UK and their dad having precisely zero interest in the Sussexes or the royals and never once having brought up their names. Ever.
The Amazon delivery dude knocked at the door just now and delivered the book, so I sat down right away on our sofa – we don't have a bench – with my daughter to my left and my son to my right. We opened the book.
"Nice pictures," said my boy.
"That owl – is it an owl?" said my girl. "It's a bit big, it's about the size of a plane!"
Sorry Duchess, but that is about as good as this review is gonna get.
"Papa?" said my son. "What's 'the bench' got to do with anything?"
"Dunno son."
"It's a bit boring," said my girl. "What's the story?"
"Dunno petal, I don't think there is one…"
And that's precisely the problem with the book. It isn't actually about anything at all. The bench is a place where dads sit with their boys. Err? And? I don't actually own a bench, I don't feel the need. Does the doorstep count? We kick a ball out there all the time.
Anyway, back to the book. This bit of rhyme confused my offspring, it's set in type over an image of a father and son on a bench that could well be Central Park in New York City: "You'll sit on this bench. As his giving tree…"
Also on rt.com
'Woke-ravaged world': Piers Morgan likens 'cynical' Naomi Osaka to Meghan & Harry after tennis ace's sister admits she 'f*cked up'
"Papa?"
"Yes, son."
"What does that mean?"
"No idea son. We'll have to ring the Duchess and ask her."
The book's mindless woke nonsense – to me, technically an adult – soon becomes very, very irritating. Putting different ethnicities – a man and his son in turbans, a rasta kinda dude and his son in the moonlight – on a bench tells us precisely... nothing. All the man in the wheelchair putting boots on his son tells us, is that there are men in wheelchairs in the world. Yup, there are. And?
What's the STORY? Who is it actually ABOUT?
"Why are that dad and his son wearing ballet tutus?" asked my boy.
"Dunno. Like, maybe, 'it's alright to wear a tutu if you're a boy.'"
"Papa?"
"Yes son."
"I don't wanna wear a tutu."
"You don't have to, son, but if you do – I won't be joining you."
"Is it a little girl or a little boy?" asked my daughter.
"I really don't know."
A few pages later – thank the Lord, it is a very thin book – there's an illustration of a ginger-haired soldier coming back from somewhere with his military backpack and chucking his son in the air – his tearful wife at the kitchen window.
Presumably this is Mr. and Mrs. Sussex and their boy Archie Mountbatten-Windsor. This was before Lilibet's arrival. Prince Harry, though, left the military a year before he and Meghan even met. She can chalk that one up to 'artistic license.'
"And here in the window. I'll have tears of joy... Looking out at My Love. And our beautiful boy."
It must have taken you weeks – months even – Meghan, mate, to come up with that one. Rhyming joy with boy – genius, truly.
"Papa?"
"Yes, offspring?"
"It's a bit crap, this book, isn't it?"
"Don't use bad words! But…"
My kids grew up on illustrated stories like 'The Gruffalo' and 'The Gruffalo's Child' and 'The Stick Man' and all that, books by Julia Donaldson. Those books actually contain a thing called a 'story'.
As any parent who has conjured up a bedtime yarn from thin air will tell you, it's a deceptively difficult thing to do – construct one of those tales on the hoof and keep a four-year-old's attention. Especially when you're half asleep yourself.
My kids also love Roald Dahl. Again though, the bloke knew how to tell a STORY.
'The Bench' has no story, it serves no purpose. It proves the Duchess of Sussex has no talent, at least not as a storyteller.
If you don't believe me. Then the end bit is all that's required, let the Duchess herself prove that point. The final illustration is a ginger-haired dad and his boy plus a dog and some chickens – and that's probably Meg on the other page tending shrubs that look eerily like graves: "Right there on your bench. The place you'll call home... With daddy and son ... Where you'll never be 'lone."
Ouch, oh dear. You what, Meg? What's next? A potboiler romance? A play?
And this normal happy family crap, come on – I mean, really? Do you honestly reckon Prince Harry and family can stroll anywhere without armed security and a trail of hiding photographers? Do you think they pop down the supermarket? When was the last time you slept in an actual palace with actual butlers and servants?
Also on rt.com
Prince Harry's navel gazing narcissism in 'The Me You Can't See' is no aid to his, or anyone's, mental health
Somebody out there please, let's test this out. Spend 45 minutes – certainly no more than an hour – knocking out a book for kids, get a mate with some water colours to do some artwork. Then send it to literary agents and publishers in London and New York under your own name and await the pro-forma rejection emails in which these literary types insist they read your masterpiece but it 'isn't quite right for our list.'
Then, and this is the crucial part, go and snag yourself a spare prince. Have a globally televised royal wedding and walk back up the aisle with a new title – the Duchess of Woke. Then submit that very same work again and wait by the phone with a pencil and a big piece of paper. And await those juicy offers...
Like this story? Share it with a friend!
The statements, views and opinions expressed in this column are solely those of the author and do not necessarily represent those of RT.
You can share this story on social media: