Are you calling us dumb? Proud Scots defend Dumbarton after Harry & Meghan reject royal title for their son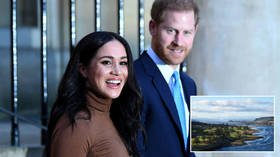 In another PR blunder, the Duke and Duchess of Sussex are reported to have turned down the Earl of Dumbarton title for son Archie, because he'd be teased by Americans. And Dumbarton's locals aren't happy, as RT found out.
The Scots are proud people. I should know, I'm one of them.
Scotland is a small nation, which is in the unusual situation of being beholden to the British Parliament in Westminster, even though it has its own devolved administration in the capital, Edinburgh.
However, small does not mean passive, as Prince Harry and Meghan Markle have discovered following their reported decision to reject the title Earl of Dumbarton for their son, Archie. This is apparently because it contains the world 'dumb', which could be used to bully him in the US, where the family live.
Yes, really.
Also on rt.com
Prince Harry & Meghan turned down 'Earl of Dumbarton' title for son as it had 'dumb' in name – media
As you might expect, the news has not gone down well in Dumbarton. Most readers outside of the UK will never have heard of it. But allow me to paint you a picture of a blue-collar town located in the west of Scotland that oozes history and spirit and which 17,000 people are happy to call home.
It was there, in 1305, that William Wallace (who Mel Gibson played in 'Braveheart') spent one of his final nights before beginning a 17-day journey in chains through England. Ultimately, he was hung until almost dead through strangulation; revived; emasculated; then his intestines and other internal organs were drawn from his body before being burned.
His body was quartered and Wallace's head was put on a spike at London Bridge. However, his warrior spirit lives on among Dumbarton's locals.
Jonathan Rainey was born in the town and ran in the Scottish Parliamentary Elections earlier this year for the Libertarian Party. He told RT, "I say to the Earl of Wokeness and his rather bossy piece-of-work wife: If youse wanted to move to Dumbarton, be prepared from the mega roasting youse will never forget. Youse will probably want to move out as soon as youse unpack your bags here."
And that's not all he wanted to tell the duke and duchess about their decision. He added, "I did find it quite insulting. We're not dumb people, far from that… but let's face it, you do find idiots everywhere you go whether it be in the rest of Scotland, the rest of the UK or even in other places like Ireland, Europe, everywhere."
Also on rt.com
Is the Duchess of Sussex's new book, 'The Bench', really all that bad? Oh yeah, it's awful. Even my kids hate it
Another historical icon, Mary Queen of Scots, also sheltered in Dumbarton, while the famous Cutty Sark was constructed there and it was renowned for its glassmaking and whisky production. But the town is not stuck in the past. Baron McFall of Alcluith, the current Lord Speaker of Britain's House of Lords, comes from Dumbarton. He left school at 15 without any qualifications and has managed to work his way up to the highest political office. That never-say-die spirit and attitude chimes with Kelly McGeachy, also from the town.
She too has been irritated by the reports, and said, "Dumbarton is steeped in history and the people who live here are second to none. It has a fantastic food bank that helps the less fortunate and that says it all about the people of Dumbarton. It's a pity that Harry and his wife only see negatives about this area."
Not everyone was offended by the snub, though. Retired theatre nurse Bernadette Brown told RT, "I didn't find it insulting as I don't think Harry is very bright and doesn't realise how 'dumb' – excuse the pun – he sounds. Maybe if the Markles were to visit Dumbarton they might change their minds."
But Bernadette did feel bad for the people from the area who may take the news personally. She said, "Like most of the people from the west of Scotland the people here are friendly and mainly working class. I'm sure other members of the royal family would be welcomed, as they have been in the past. But Harry and Meghan seem to be polarising now, because of their behaviour, which is sad. I really don't think they would receive a warm Scottish welcome."
Also on rt.com
Does Meghan Markle's faux-naivety about the reality of royal life suggest a 2024 presidential run, or just Hollywood neuroticism?
All things considered, it can be racked up as another Harry and Meghan PR blunder. They want to detach themselves from the royal establishment and that's their prerogative. But indulging in silly games from their lavish mansion in California shows a chronic lack of awareness.
The Earl of Dumbarton is only a title after all and makes no real difference to the wealth and privilege Archie will enjoy. But working-class people often don't have much apart from their identity and pride, so to denigrate where they come from, even if it was unintentional, is a major mistake.
Maybe the point can best be made by a quote from Mel Gibson as William Wallace, who will forever be synonymous with Dumbarton. He said, "There's a difference between us. You think the people of this country exist to provide you with position. I think your position exists to provide those people with freedom."
Harry and Meghan should take that on board.
The life they live and profile they enjoy is built on the backs of people from towns like Dumbarton. So why disrespect them?
Like this story? Share it with a friend!
The statements, views and opinions expressed in this column are solely those of the author and do not necessarily represent those of RT.
You can share this story on social media: