Does Meghan Markle's faux-naivety about the reality of royal life suggest a 2024 presidential run, or just Hollywood neuroticism?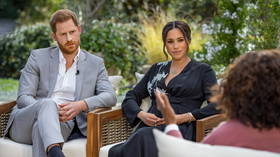 Britain's Prince Harry and his wife have hogged the headlines ever since they announced 'Megzit', their exile from the royal family. The Democrats have been quick to embrace her – so is this all about her political ambitions?
Markle's ulterior motives in leaving London – the actress clearly wants more power than the royal family was ever willing to give to this interloper – may take Prince Harry by surprise, should he ever question them. But she's already got him isolated enough from anything resembling real life, with a baby to dote on (and another on the way), no hordes of photographers (yet), and that big fat multi-year Netflix deal the pair inked last year.
But now that the exiled royals are staying in the US, where family breakups are a dime a dozen, what's next? The only quasi-royalty that exists in Washington DC funds itself through an endlessly revolving door, swapping out private- and public-sector jobs between former intelligence officials turned government contractors – and back to those juicy consulting jobs. Nepotism is growing as a parallel force, but it remains more discussed than actually witnessed.
Also on rt.com
Prince Harry's complaints about 'racist' press ignore the fact that the UK media and royals have propped each other up for years
With Markle's strengths, such as they are, lying within the acting realm alone, she would be wise to make friends among the US government if she doesn't want to end up back on a C-list television series.
Despite whining for the last year about being treated unfairly by tabloids whose job it is to treat everyone as unfairly as possible, she clearly hasn't 'gone off' publicity altogether. Markle might have been pouring on the self-pitying charm in the early weeks of their marriage – whether simply to ensure a favorable relationship with the public or to try to ingratiate herself with the powerful – but since the royals' obsessive fans have begun seeing the 'Suits' actress as some sort of Yoko Ono figure, breaking up the beloved 'band' (or family in this case), that self-pity has come to represent an outside part of her and Harry's identity.
Indeed, it's not immediately clear why the UK still has a monarchy, given how expensive (and thronged with scandal from the Jeffrey Epstein/Prince Andrew fallout) it is. Queen Elizabeth II may never have uttered a memorable or significant phrase – to a camera, at least – and the scandalous exploits of these royal relics aboard the Lolita Express almost seem like an anemic effort to bolster the family's dwindling relevance in a society where politicians are considered a lower form of life.
Also on rt.com
Wayne Dupree: Listening to privileged, cosseted people like Meghan & Harry whining about injustice just makes me so nauseous
In Markle's heartstring-yanking interview this week on 'Oprah', she 'confessed' to feeling "suicidal" while precious Archie floated around her uterus. Worse, she claimed, the palace staff advised her against seeking help for the issue, even though she was pregnant at the time. And they apparently dared speculate as to what color skin her son might turn out to have.
Dragging those issues out into the open apparently made Buckingham Palace uncomfortable enough to issue a public statement regarding the tales of woe. Highlighting "the issues raised, particularly that of race," the royals apparently realized they were about to miss the Woke Train if they didn't at least pay lip service to the notion of cancelling some high-level servant.
While these revelations have already cost one public critic his TV job, the announcement (like many of her claims) is unverifiable without more detail than she gives. For this case, it doesn't matter in the slightest – merely searching for "Meghan Markle suicidal" gets page after page of phony empathy and sycophantic insistence over how Markle's single TV appearance has changed"the way we talk about suicide" completely.
Markle may not yet be thinking of throwing her hat into the presidential ring for 2024 (this may be too early even for her), but she is clearly angling to increase her personal influence – perhaps studying up on what government positions come with 'real power' (hint: not the elected ones), and she has clearly already begun flexing political muscles.
Also on rt.com
The latest episode of the vapid Harry and Meghan saga shows they've replaced the Kardashians as the world's biggest reality show
In addition to joining a fervent crowd of snitches who succeeded in forcing the resignation of 'Good Morning Britain' host Piers Morgan from the ITV program with a written complaint after the presenter publicly questioned the reality of Markle's claimed suicidal tendencies, she even managed to pry a defensive response out of the Biden administration's press secretary, Jen Psaki.
Perhaps the clearest sign of political ambitions came in the form of a vote of confidence from failed presidential candidate Hillary Clinton, who slammed Markle's critics' "outrageous" behavior and their refusal to support "a young woman who was just trying to live her life." Presumably, now that Bill Clinton is no longer seeking elected office, Hillary can do the right thing and come clean with apologies to all the women he harmed – that is, when pigs fly.
Also on rt.com
Candace Owens backs Piers Morgan, slams 'leftist narcissist' Meghan Markle & questions racism allegations
At least one Democratic political strategist has made public his opinion that Markle's behavior resembles that of a political candidate trying to position themselves for a shot at office. Strategist Mike Trujillo told the UK's Times newspaper that the actress was "putting her toe in the water," describing Markle's unveiling of a foundation to raise awareness about "racial and economic justice in the tech sector" – all hot button topics from which it is quite easy to virtue-signal.
Indeed, by picking a project seemingly tailored to match the ongoing international discussion of online "hate" (or censorship) so beloved by celebrities, the actress is shrewdly offering up her own reputational capital in order to benefit from that of others. Who better than an actress to offer up one bottle after another of crocodile tears, only to be opened in case of microaggressions?
Think your friends would be interested? Share this story!
The statements, views and opinions expressed in this column are solely those of the author and do not necessarily represent those of RT.
You can share this story on social media: