Wayne Dupree: Listening to privileged, cosseted people like Meghan & Harry whining about injustice just makes me so nauseous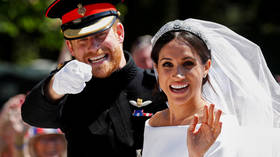 I hoped that the much-heralded union between the Prince and the actress would only be positive for them and world – but nothing, apparently, is ever quite good enough for our pampered, self-indulgent American princess.
It was such a fairytale. A beautiful black American actress falling in love with a dashing white British prince, their high-profile romance and wedding blowing away the cobwebs of a staid, stuffy royal family and heralding a new inclusive, multi-racial dawn.
I had high hopes Meghan and Harry would be role models for the monarchy and use their wealth and connections/social circles to make a positive difference to the world.
Less than three years on, and that dream lies shattered.
I cringe when I think about where they've ended up and I'm sad at the impact they'll never have. Such an opportunity lost. I actually couldn't watch their full interview with Oprah Winfrey on Sunday night, because, well, ultra-wealthy, spoilt people complaining about the beds they've made for themselves just makes me angry.
Say what you will about the long-suffering British Queen, Elizabeth II, but I believe she has been effective in her role, largely due to her ability to separate her own feelings from how she comports herself daily. The Queen is not prone to talking about herself, or whingeing about her lot – sadly her grandson and his wife are just the opposite. Silence is a virtue in all walks of life, not just in aristocratic circles.
Meghan has said she didn't know what she was getting into when she married into the royal family, or what would be expected of her. My question to that is, why? As a professional actress for many years, who had to prepare for her scenes, and as a blogger who wrote many articles, she was familiar with research and preparation. Why didn't she do more background checks to understand what she was getting into by marrying Harry? Like looking at what happened to his mother, Diana, for example? It just seems extremely odd.
First, you have a lavish wedding costing millions of pounds, paid for by other people, then you go live in a nice home, redecorated at someone else's vast expense to your specifications, with a large staff to help you through the day.
Then, claiming to be a victim, you go to Canada, where you stay in a lovely home (again, at someone else's expense), then decide that's not good enough, so fly on a private plane to Southern California to live in someone else's lavish home, and they thoughtfully provide security in addition to lodging.
Then you buy a $14.5 million home (how?) in one of the most exclusive coastal communities in America. But still, you appear on prime-time TV to bemoan your lot, say woe is me, and blame your in-laws for messing up your life. Really?
Meanwhile, back in the real world, businesses are going bankrupt, children are starving and not being educated, Uighur people are being forced to endure re-education, families are being besieged and blown up in Yemen, Syria and Iraq, and a whole host of other evils are happening.
I won't be feeling sorry for these two who have gamed the system for millions while the pandemic and subsequent lockdowns have left far better people homeless and struggling – it's a nauseating display of selfishness and narcissism.
I have read many books about the royal family over the years, and I have to say that Prince Charles, Harry's father, has been dealt a tragic set of cards – he is never in the right place at the right time, but always in the wrong one.
Also on rt.com
Prince Harry is tacky and treacherous, but why should we expect any different from a member of Britain's royal family?
When I listen to the clips of Meghan and Harry from Sunday's interview, I'm reminded of the scene in 'Jerry Maguire' featuring a crying athlete bemoaning that "the media don't understand the pressures $54 million comes with." Yeah, he didn't get any sympathy either.
I have little doubt that Meghan dove into her role as a royal with the same zeal that Bishop Michael Curry dove into his fiery sermon on her wedding day; two Americans looking to shake up the stuffy British aristocracy. The difference was that the bishop went back home. Meghan stayed and likely discovered a time limit on the courtesy extended to those who veer too far off-script.
If Meghan truly had no idea what life would be like, as she said in the interview, shame on her and shame on Harry. The Queen should never have approved of their marriage. Didn't Meghan learn anything from Prince Andrew's marriage to the commoner, Sarah Ferguson, aka Fergie?
No one will ever know what really went wrong. Was it the stultifying royal family's hand that strangled Meghan's hopes, or was this return to California her plan all along – that she married "for richer or richer", and was not prepared to do the hard graft that royal duty required?
I am sure you are asking yourself, why do we Americans pay attention to overseas royalty at all?
I watch many in our culture calling for a "strong president" and strong leaders to make people do what's right. Our society includes many people who are basically directionless and are starved for leaders to tell them how to behave.
I think a lot of that has to do with the denigration of religion and the nuclear family today. Self-direction and personal responsibility are no longer respected in the way they were when Americans were perplexed by other nations' obsession with royalty.
So there are lessons to be learned about leadership, about self-sacrifice, and about how nations are ruled. For all our republic's faults (and we've seen a lot of them recently), I'd prefer to be able to rid ourselves of rotten leaders every four years, than have one super-rich family sitting at the top of the pile as their hereditary right forever.
As for Meghan and Harry, I, for one, wouldn't be disappointed to never again hear about this extremely wealthy and privileged pair of people whining about their alleged mistreatment as they live in a luxury very few people will ever experience.
How about they stay out of the headlines until they can't make the payment on their mortgage (if they know what this even is) or keep clothes on their kids? That should safely keep them quiet for a few decades. Such self-indulgent ninnies: they had it all, and it was just oh, poor things, so hard on them. Let's move on to real people and real problems.
I wish all involved in this sordid mess the best. Family is everything; I hope time can heal these very public wounds.
Think your friends would be interested? Share this story!
The statements, views and opinions expressed in this column are solely those of the author and do not necessarily represent those of RT.
You can share this story on social media: