China's crackdown on Didi following its Wall St IPO shows that billionaires don't run the show in Beijing - unlike in Washington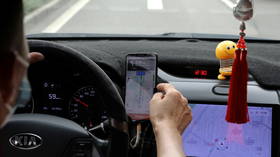 The CPC's willingness to censure Chinese tech firms, rather than allow them to run riot, is in stark contrast to America, where congress still insists on treating Silicon Valley's mega-corporations with kid gloves.
When a video of Mark Zuckerberg went viral on the internet showing the Facebook tycoon riding an electric surfboard while flying an American flag, it symbolized a great deal of sentiment around contemporary 'big tech,' as it is known. Mark's cringeworthy Independence Day stunt illustrates his longing for patriotic acceptance in a society that has become increasingly sceptical of the motivations and actions of mega firms such as his, whose global expanse has seen them reach billions of people and shape our lives in profound new ways.
Yet Zuckerberg could be in a worse position, as a multi-billionaire social media tycoon, had he instead incurred the wrath not of Washington D.C, but the Communist Party of China (CPC) who has in the past year clamped down on China's own 'big tech' with an iron fist. Last Friday, I wrote of the extraordinary rise of China as a global tech giant, pointing towards the success of ByteDance's products worldwide, and of course Didi's Mammoth New York IPO listing. In an era of geopolitical competition, investment bans and "decoupling" surely for a Chinese brand to make it on Wall Street was a sign it had 'made it' globally and avoided the ire of Washington politics.
Also on rt.com
Will a new wave of software & social media giants help China own the internet?
But that wasn't who they had to fear and, within days of the listing, the story took a very strange twist. On Sunday night China announced a massive crackdown on the taxi app, accusing it of abusing customers' data, citing that very listing in the US as one of the reasons. With the stroke of a pen, authorities banned the service from new downloads across all its app-stores, sending its shares sinking and jeopardizing its expansion in the short term. This is not the first crackdown it's made on 'big tech' so to speak, it's recently gone after Alibaba, Ant Financial, Meituan delivery and Tencent, to some degree. Big Tech is rising in China but, compared to America where the likes of Zuckerberg and Jeff Bezos are seen as wielding unprecedented power, big tech does not actually rule China.
China has the highest number of billionaires in the world. With such a scale of wealth, these days it's easy to question if it is truly a Communist country, when even flamboyant billionaires like Jack Ma are members of the party. But this underestimates what the Xi era has sought to achieve, the rekindling of the party's power against the country's wealth and society, consolidating the Party State system and ensuring that ultimately nothing contravenes its authority. Everyone, even the wealthiest in society, does not set the rules but play by them. Xi's crackdown on Big Tech follows the same spirit as his previous anti-corruption push. This power arrangement ultimately defines the difference between China's socialist-market economy and what is otherwise a capitalist state such as America.
As a result, Beijing is happy to see its firms successful but sees spiralling and growing Big Tech monopolies as a political liability, and, unlike the United States, has the power to punish these firms as they please. Mark Zuckerberg has had to testify to congress a few times, but can you imagine the White House banning downloads of Facebook to make him kneel politically? He wouldn't be needing to do such dumb stunts to prove his loyalty.
But this is also tied to the growing geopolitical competition between the two powers. We know that suspicion of Chinese companies has surged in the US, often for unfounded reasons, but what the Didi saga shows is that this feeling is mutual. Having targeted the firm precisely for listing on New York, its IPO had come amid tighter scrutiny and rules for the regulation of Chinese companies to list on US stock exchanges, which has led Chinese regulators to question whether it had made politically unacceptable concessions to the US to get a listing so easily. Remember, the political sentiment in Washington is to try and push Chinese companies off the exchanges if they don't play by their interests. Didi, of course, isn't a military or strategic firm, it's just a Chinese Uber, but what did it do? There's questions as to whether it is posing a risk to China's own information security or information.
Also on rt.com
Scanning digital health QR code becomes OBLIGATORY for passengers using ride-hailing services in Beijing
Herein, the roles have been reversed. Whilst typically the US has been the one seen as leading the "decoupling" of the two sides, not least when it comes to tech-related manners, in this case it's China in the driving seat. Beijing perceives one of its tech giants listing in the US in the prism of political risk, when, neutrally speaking, this would otherwise be heralded as a huge commercial success, yet that is not the case. China is prioritizing political sovereignty over the success of Big Tech, the money it makes really does not matter and it's wielding the hammer against its tech oligarchs one by one. Critics may see this as an overextension of Beijing's power, but arguably this is not tyranny, because the elephant in the room is that Big Tech should be tightly regulated and controlled.
To round off, one should ask any ordinary American, left or right wing, if they would be actually opposed to the likes of Zuckerberg, Bezos and Jack Dorsey being treated in the same way? Does his silly flag stunt win confidence that he's acting in the interests of ordinary Americans? Probably not. A digital economy is a great thing, China has embraced this with an increasing level of success and is arguably lightyears ahead of the US in e-commerce. But the political ramifications are equally massive and there's the question of such firms running riot with the power they have over people's data. Beijing demonstrates in this case why it is still a socialist state, where billionaires are kept in check, by taking them to task and reminding people they don't run the show here.
Like this story? Share it with a friend!
The statements, views and opinions expressed in this column are solely those of the author and do not necessarily represent those of RT.
You can share this story on social media: