If Labour lose the Batley and Spen by-election, it'll be the end for Keir Starmer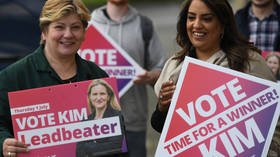 UK Labour Party faces an existential crisis if they lose Thursday's by-election in Yorkshire, and their leader may well be the casualty. But replacing him won't solve the bigger issue: in 2021, what does Labour actually stand for?
It is rare that a British by-election has the potential to have national ramifications. The Batley and Spen by-election on Thursday is one of those unusual occasions. If the Labour Party loses, it will probably be the end of Keir Starmer's short leadership. A loss will also bring to the fore the ideological battle now taking place within Labour, and expose the disconnection that exists between the party and its voters.
Also on rt.com
Five years after the Brexit referendum, we have an imperfect deal from an imperfect PM, but I'm still sure we made the right call
To put it bluntly, Labour should not be losing seats like Batley and Spen – especially when it's in opposition and the country has been through a pandemic. Indeed, if it can't hold a northern seat such as this one, then it's difficult to see where Labour can win, outside of the big cities.
The Batley and Spen constituency was only created in 1983. For the first 14 years, it was in Conservative possession. All that changed in 1997, when Tony Blair swept to power, and since then, the seat's been in Labour hands. The constituency earned notoriety in 2016 when Jo Cox, the local MP, was murdered by an extremist. Labour retained the seat in the subsequent by-election and held it in 2017 and again in 2019, with a majority of 3,525. The current by-election has been triggered because the sitting MP, Tracy Brabin, was elected as mayor of West Yorkshire back in May.
Labour's candidate in the by-election is Kim Leadbeater, Jo Cox's sister. The ties that she has to the constituency should ensure a routine victory. But we're not living in normal times, and this is no normal by-election. The Conservatives proved both at the 2019 general election and in Hartlepool in May that they can now win in traditional Labour heartlands, and pollsters are predicting a Tory victory.
Added into the mix is George Galloway. I've seen Galloway's operation up close, when he won the Bradford West by-election back in 2012. He quietly built support in the constituency, and then, like a bolt from the blue, he emerged victorious. We were all stunned, and even those of us on the ground didn't see it coming. I can't see this happening in Batley and Spen, but only a fool would rule it out. Galloway will undoubtedly eat into the Labour vote, however, making it all the more difficult for his former party to emerge victorious.
Unsurprisingly, the by-election is now turning nasty. Labour alleges their canvassers have been pelted with eggs and assaulted, the Conservatives are claiming Labour's campaign literature is racist, and Galloway's being accused of being a spoiler whose candidacy is paid for by Russia. It's all pretty unedifying stuff, and it only serves to turn people off both politicians and politics in general.
Also on rt.com
George Galloway: In 50 years in the rough & tumble of British politics, I've never been in as poisonous a campaign as this one
When so much is at stake, though, it's inevitable that by-elections turn into political cesspits. Threats are made, lies are spread and, on occasion, the police are forced to intervene. I have some experience of how out of hand by-elections can get when so much is on the line. Back in early 2017, I was the candidate in a bitterly fought by-election in Stoke-on-Trent, which, if I had won, would probably have resulted in Jeremy Corbyn, the then Labour leader, losing his job.
In the event, I failed to win and Corbyn survived, but the by-election itself was a horrible experience, and I hated every single second of it. Nigel Farage once said to me that "politics brings out the best and the worst of people". From experience, closely fought by-elections always reveal the latter.
If the Conservatives win in Batley and Spen, it will once again reveal how Brexit has altered Britain's political landscape. No one could have foreseen how quickly things would change, with the Tories becoming the party of England's northern workers. A victory will also prove that Boris Johnson truly is "the Teflon Prime Minister". Indeed, to win a by-election in Labour's northern heartland after the Matt Hancock affair would be a remarkable feat.
If Labour lose the by-election, then its inability to appeal to its traditional northern base will be further exposed. It will also inevitably lead to questions about Starmer's leadership. With the party languishing 11% behind the Tories in the national polls, many will conclude it's time to push the ejector-seat button on Starmer. But will changing the leader achieve anything? I'm not so sure, because Labour's problems go far deeper than just their choice of leader.
Labour's major issue is that it's two parties in one: a curious mix of metropolitan liberals and hard-line socialists. Starmer is therefore stuck between a rock and hard place, and is in the process of being crushed. Over recent years, in the eyes of many, Labour has ceased to be the voice of the working class and instead transformed into the party of the metropolis and of students. This was highlighted by its attitude to Brexit voters, who were dismissed as bigots and racists. But what many Labour politicians failed to realise is that they were abusing many of their own core voters, and they are now reaping what they sowed.
Also on rt.com
Ex-PM Gordon Brown's call for Britain to rejoin the EU proves there's still a risk to Brexit
Indeed, a party in the midst of an ideological battle between metropolitan liberals and hard-line socialists is not going to appeal to socially conservative working-class voters, who were once the bedrock of Labour's support. Starmer's being pulled in both directions by these two factions, and in the process, is pleasing no one. The socialists are furious because they believe that Starmer is dismantling Corbynism; the metropolitan liberals, or the Blairites, want him to rid the party of the hard-left image of the Corbyn era. It's a toxic situation, and if Labour loses in Batley and Spen, this chasm will be further exposed.
In the not-too-distant future, there will come a crunch point. Difficult decisions will have to be taken, and the party will have to decide what it is and who it wants to appeal to. Moreover, there can be only one victor in this battle, because the Labour Party cannot be all things to all men. Removing Starmer will only paper over the cracks and temporarily postpone the inevitable ideological clash, however. For Labour, it would be better if this collision came sooner rather than later, because the very future of the party depends on it. A loss in Batley and Spen may well be the catalyst.
Like this story? Share it with a friend!
The statements, views and opinions expressed in this column are solely those of the author and do not necessarily represent those of RT.
You can share this story on social media: