George Galloway: In 50 years in the rough & tumble of British politics, I've never been in as poisonous a campaign as this one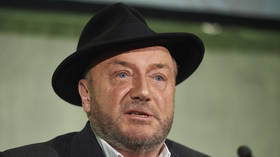 I've been vilified, condemned, had a fake photo circulated of me holding a gun, and even my HAT has been accused of being intimidating! It's why I know I am on course for victory in next week's by-election.
The lamestream media have descended on our campaign like a herd of locusts. That means we're winning.
Since the Mail on Sunday reported all strategists agree that I am "eating the Labour vote alive," the horror of the establishment at the possibility of my actually winning the Batley and Spen parliamentary by-election next week, and the near certainty of my relegating Labour to third place in their own seat, in a by-election of their own choosing, the cat has been amongst the pigeons.
The fluttering in the dovecotes has crescendoed to a clamour of smearing of me that is of unprecedented proportions. And, trust me, I've seen a lot in 50 years of frontline politics.
I travelled the land with Tony Benn in the 70s and 80's when in one universe he was the country's most loved leader and in another parallel one he was, quite literally, insane. Driven so, it was seriously claimed, by his excess tea-drinking. This, written by hacks who sank alcohol in Fleet St wineries from especially early hours.
As an honorary member of the National Union of Mineworkers for the last 40 years, I still recall the hysterical hatred fanned by Britain's political class at the mining communities' last stand under Arthur Scargill.
As a long-time associate of Jeremy Corbyn, I watched his brief leadership being torn to pieces by the enemy within and without in a frenzy of falsehood.
And as a fellow campaigner for Brexit, I saw the ridiculous caricature of opposition to a capitalist trading-block painted as "far-right," even "fascist."
Now the poison-carpet is being rolled out for me.
Also on rt.com
Fat Britannia: PM Johnson targets UK's childhood obesity pandemic with ban on junk food TV adverts before 9pm
I trended for days on social media as hordes of the trendiest liberals were deployed to paint ME as "far-right." Me, the boy born in a slum, who grew up in a council house, a former factory-worker, a fellow-traveller with Benn from 1973, a 50-year trades unionist, the leader of the Workers Party of Britain, "far-right." Ridiculous tripe.
In fact, they've never met anyone with more radical economic and foreign policy positions than me. But personal pronouns are where the struggle is now. Transmania. Sex, gender, and the endless infatuation with race. That's where it's at.
Oh, that and the worship of the EU and NATO, hatred of Russia and China, and support for imperialist sanctions and war.
Now the heavy weaponry has had to be deployed against me – television. I've gone years scarcely appearing on British television; now, like London buses, they're all coming along at once. Not that one can tell the difference between the channels.
All have the same purpose. Not to understand why thousands of people are going to vote for me. Still less to explain that to their viewers. No recognition that I have been six-times elected to Parliament, three times against the odds, two of which from outside the big parties. Just the endless repetition of the same fake premises and slurs – including my work for RT; one asked me yesterday if Russia was funding my campaign.
Another said my campaign posters were "dictatorial" and my fedora HAT somehow intimidating!
More insidiously, someone faked a photograph of me holding a gun and circulated it on social media. How sick do you have to be to do that at any time, let alone in a by-election where the sister of one of the candidates was murdered after being shot and stabbed?
In more than 50 years in British politics, I've never seen them in such a flap a whole week from polling day.
But the quote in the Mail yesterday summed it all up rather well: "Galloway is the threat. Labour are f**ked."
Not a bad epitaph.
Like this story? Share it with a friend!
The statements, views and opinions expressed in this column are solely those of the author and do not necessarily represent those of RT.
You can share this story on social media: