Cuba's vaccine development success should be the impetus to lift sanctions and end the embargo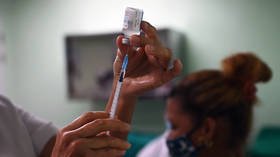 Despite battling the pandemic while under a US-imposed siege, Cuba managed to contain its outbreak and develop its own highly effective vaccine candidates. The US should accept Cuba as its own nation and normalize relations.
Cuban officials announced on Monday that its homegrown, three-shot Abdala vaccine has proven to be 92.28% effective in its final stage of clinical trials. The announcement follows similar news over the weekend, when another Cuban-developed vaccine candidate, Soberana 2, was announced to be 62% effective with just two of its three doses.
This is a huge milestone for Cuba. Its biotech industry is wholly self-reliant because of the decades-spanning US embargo placed on the country for the express purpose of crippling its economy. Cuba's Covid-19 vaccine development, coupled with all of its success over the years in biotech, prove that the embargo is not working; that is, it's not advancing "democracy" or "human rights" (code for regime change) in the country.
However, new sanctions introduced by the administration of former President Donald Trump that were introduced because Cuba is a "state sponsor of terror," (a complete and utter lie) are only making things unnecessarily difficult. For example, it's been reported that Cuba is facing a syringe shortage because of its already bogged-down manufacturing base stemming from the embargo in conjunction with the fact that the Trump sanctions make it more difficult for Cuba to buy syringes from foreign manufacturers that are already facing huge orders from richer countries.
At the same time, the embargo and sanctions will inevitably hurt other countries with regards to their battle against the novel coronavirus. That's because Cuba, a country with a population of just over 11 million, announced that it would produce 100 million doses for people in other countries, all of them in the Global South, struggling to acquire vaccines. However, since Cuba doesn't have the manufacturing capacity to produce all these vaccines it means it would need help from other countries, such as Canada or those in the European Union.
Thanks to the Trump "state sponsor" listing, these countries are unable to assist Cuba in producing these vaccines that would end up in the arms of the world's poorest. At the end of February, Sir Ron Saunders, Antigua and Barbuda's ambassador to the US and the OAS, called on President Joe Biden to reverse these sanctions imposed on Cuba by his predecessor in a column.
He wrote, "One of the most unfounded measures against Cuba is its listing, in the last days of Trump's administration, as a sponsor of terrorism. The critics of this listing have rightly pointed out that it is unjustified and serves no purpose other than to further cripple the Cuban economy. More particularly, it will hamper deals between Cuba and other countries. Governments of Cuba's closest neighbours, including CARICOM, have called for its reversal."
So far, however, after a review process Biden renewed the sanctions in May on the grounds that Cuba is "not cooperating" with anti-terror efforts, which is, again, a complete and utter lie. If anything, Cuba may be one of the largest victims of international terrorism (from the United States) in history and has always cooperated without exception to advancing global solidarity and peace.
That's why, for example, Cuba supported revolutionary movements around the world in the 20th century that helped liberate the world's most exploited peoples from tyranny. It's also why, at this stage of history, Cuban medical brigades have received numerous Nobel Peace Prize nominations through the years, including many during the COVID-19 pandemic, for their valiant efforts in helping the world's most downtrodden people.
Also on rt.com
Venezuela accuses US of blocking its access to Covax vaccines with sanctions
Cuba's vaccine development and plans to produce these vaccines for those most in need around the world are merely an extension of Cuba's undying spirit of internationalism and solidarity. That's why attempts to make Cuba "free" through embargoes and sanctions will never work, because the Cuban people are undoubtedly more free and prosperous now when compared to their oppression under the heels of American imperialism; that is, when they were kept illiterate, uneducated, homeless and starving.
Biden should take a note from the playbook of former President Barack Obama, whom he served under as vice president, and get back to the drawing board on Cuba-US relations. The US has nothing to gain at this point from keeping alive this pathetic Cold War policy against Cuba and is only hurting the world, and itself, by keeping it up.
If anything, the success of Cuba's vaccine candidates and its desire to produce millions of doses for Global South nations should be the impetus to make progress on this issue since it's such a terrible look for the US, which is launching a global PR campaign to prove it isn't as bad as many people in poorer countries think.
Like this story? Share it with a friend!
The statements, views and opinions expressed in this column are solely those of the author and do not necessarily represent those of RT.
You can share this story on social media: