Ex-PM Gordon Brown's call for Britain to rejoin the EU proves there's still a risk to Brexit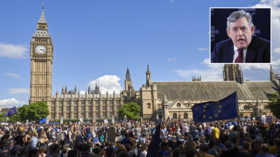 Rather than deride former UK prime minister Gordon Brown as a political dinosaur fighting the battles of yesteryear, or simply ignoring him, Brexiteers must take seriously the possibility of Britain one day rejoining the EU.
The ex-PM announced in a speech last week that he believed Britain should rejoin the European Union. He also declared he would never 'give up' campaigning for it. I have to say, I hold a grudging respect for Brown for openly stating his opinion, even though I profoundly disagree with him. His openness, in many ways, is refreshing – especially when compared to the majority of Labour MPs, who also want to rejoin the EU but dare not admit it.
Many Brexiteers laugh off statements such as Brown's, viewing them as the bitter ramblings of Remainers who have never accepted the result of the Brexit referendum. They also quite rightly point to the fact that, if Britain did rejoin the EU, it would be handing over the power to make its own laws and conduct its own trade deals to the unelected European Commission.
However, regardless of the obvious logic in their arguments, for a number of reasons, I would urge fellow Brexiteers to be cautious about Brown's pronouncement. First, Brown's view is in line with that of the majority of the Labour Party's membership. A poll taken in April revealed that 59 per cent of Labour members want the party to openly campaign for Britain to rejoin the EU.
In contrast, the current leader of the Labour Party, Sir Keir Starmer, wants his party to 'move on' from Brexit and discuss domestic issues. However, his leadership is presently hanging by a thread, and a loss in the up-and-coming Batley and Spen by-election could be the end. Moreover, as political parties are often driven by the opinions of their members, I would not be surprised to see a new Labour leader adopt a more stridently pro-EU stance in the not-too-distant future.
Also on rt.com
Labour's humiliating defeat signals its death, and Keir Starmer, not Jeremy Corbyn, is the man with its blood on his hands
I would also encourage Brexiteers to remember the history of the anti-EU movement. When I started campaigning for Britain to leave the EU nearly 20 years ago, it was regarded as a fringe issue, just as rejoining is today. Indeed, mainstream politicians back then wouldn't have dared utter the view that Britain should leave the bloc, as it would have been the end of their political career.
However, through determination and hard work, we managed to make the issue popular, and those same politicians who'd previously refused to back the idea of an independent Britain suddenly became leading Brexit campaigners. I can guarantee that if rejoining the EU became a popular cause, then similar fickle politicians would swiftly jump on the bandwagon.
I would also point to opinion polls showing the country remains divided over whether Brexit is a good or bad thing. Indeed, polls tracked since 2016 show that a slender majority of people think Brexit has not been in the interests of the country. Now, we know opinion polls are not always accurate, as proven by Boris Johnson's landslide general election victory in 2019, but it would be remiss of Brexiteers simply to discount them.
That same election also revealed the fault line in the country regarding Brexit. Johnson's Conservatives swept to victory almost everywhere in England except for big cities such as London, Manchester and Liverpool. These metropolitan hubs, all of which voted Remain in 2016, tend to be more ethnically diverse and have a large student body, and there are many in their populations that have not accepted the result of the referendum. Add into the mix Scotland, which is run by the rabidly pro-EU Scottish National Party, which has retained a Brussels office, and it is clear that Brexit remains a bone of contention.
Also on rt.com
Obsessed with his place in history, EU negotiator Barnier's Brexit diaries reveal reaching an amicable deal was never a goal
The only way Brexit will regress as an issue is if Johnson's government makes it a success. At the moment, things are looking good: trade deals are being struck across the globe and the vaccine rollout, which was only possible because Britain left the European Medicines Agency, has been exemplary. Moreover, every time the EU is deemed to be unreasonable, as it was over the vaccines in April, or now over the Northern Ireland Protocol, the campaign for Britain to rejoin the bloc is weakened.
Brexiteers must neither rest on their laurels nor be hubristic, however. The threat to Brexit is still out there and it is real. Gordon Brown's intervention last week should serve as a timely reminder that those who want Britain to rejoin the EU are waiting in the wings, they are organising, and they are ready to pounce. Brexiteers must be equally ready.
Think your friends would be interested? Share this story!
The statements, views and opinions expressed in this column are solely those of the author and do not necessarily represent those of RT.